---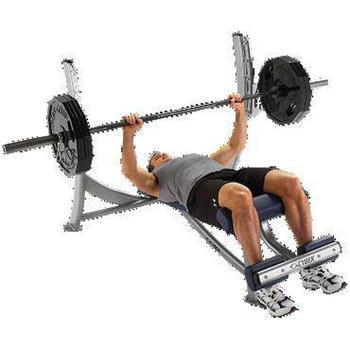 Cybex International of Medway, Mass., is recalling about 400 Olympic Decline free weight benches
The frame on the bench can collapse forward onto the user, posing an impact injury hazard.
The firm has received 10 reports of frames breaking near the weld point. No injuries have been reported.
This recall involves the Olympic Decline free weight bench with model numbers 16060, 16061, 16062 and 16063. The bench consists of a steel frame with an upholstered pad on which the user rests his/her back, and a rack on which the user can engage a 7-foot bar with its weight plates when the user completes the exercise routine.
On all of these models the upholstered pad is configured at a 15 degree angle so that, in use, the user's back and shoulders are lower than the user's thighs and knees. A decal bearing the unit's model and serial number is affixed to the tube near where the user's feet are placed when using the unit. The recalled benches have serial numbers C1208 through K0915, which represent manufacture dates of December 2008 through September 2015. "Cybex" is printed on the benches.
The benches, manufactured in the U.S., were sold by the Cybex direct sales force or its distributors directly to gyms nationwide from December 2008 through September 2015 for about $1,100.
What to do
Consumers should immediately stop using the recalled benches and contact Cybex to arrange to return the weight bench and for a free replacement unit. Cybex is directly contacting owners of the recalled benches.
Consumers may contact Cybex toll-free at 888-462-9239 from 8 a.m. to 5 p.m. (ET) Monday through Friday or online at www.cybexintl.com and click on Support for more information.  
---