---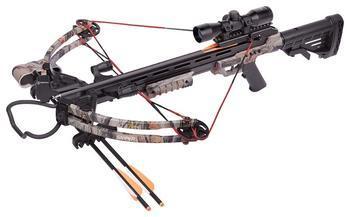 Crosman Corporation of Bloomfield, N.Y., is recalling about 1,400 rope cocking devices for Centerpoint Sniper 370 Crossbows.
Tabs on the hooks attaching the rope cocking device to the crossbow string can bind as the device is pulled back, causing the hooks to break and the rope to recoil, posing a risk of injury, including laceration.
The company has received three reports of broken hooks on the rope cocking device, including one report of a facial laceration.
This recall involves rope cocking devices shipped by Crosman Corporation with Centerpoint Sniper 370 crossbows with serial numbers beginning with "015." The serial number is printed on the right side of the crossbow above the trigger.
The Centerpoint Sniper 370 crossbow has a camouflaged stock and measures 36.5 inches long. The rope cocking device is a rope with a black plastic "T" shaped handle at each end. A pair of black plastic tabbed hooks are connected to the rope. The rope cocking device measures 45 inches from handle to handle.
The words "CENTERPOINT" and "SNIPER 370" are printed on the crossbow's frame.
The cocking devices, manufactured in Taiwan, were sold at Academy, Cabela's and other stores nationwide and online at Amazon.com, Crosman.com and Sportsmansguide.com from December 2015 through June 2016 for about $350.
What to do
Consumers should immediately stop using the recalled rope cocking device and contact Crosman to receive instructions on returning it for a replacement rope cocking device without tabs. Crosman has contacted all known purchasers.
Consumers may contact Crosman Corporation toll-free at 866-583-7340 any time or online at https://www.crosman.com/safety-guidelines/safety-notices/rope-cocking-device-recall. 
---