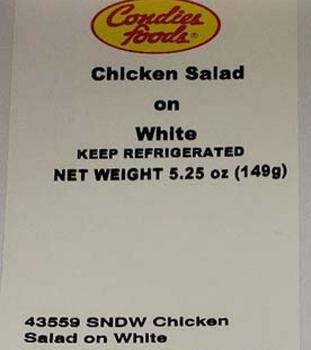 Condies Foods of Kearns, Utah, is recalling 165 units of roll chicken salad on a croissant and SNDW chicken sandwiches on white.
The products may contain soy, an allergen not declared on the label.
There have been no documented illnesses to date.
The following items, shipped to Coremark Distribution centers and sold in 18 stores throughout Utah, are being recalled:
Roll chicken salad on croissant single item# 43237 Label UPC: 50777445351
SNDW chicken sandwich on white single item# 43559 Label UPC: 50777444804
Both items have code dates "USE THRU" 03/6/2020 – 05/6/2020, and "USE THRU" 03/6/2020 05/2/2020.
What to do
Customers who purchased the recalled products should not consume them, but return them to the stores where purchased it.
Consumers with questions may contact the company at (801) 969-1448 ext 108 Monday through Friday from 7:30am – 6:00pm (MST).