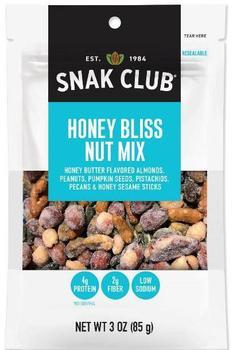 Century Snacks of Commerce, Calif., is recalling all packages of Snak Club Honey Bliss Nut Mix.
The product contains milk, an allergen not declared on the label.
No illnesses have been reported in connection with this recall.
The following products are being recalled:
Product Name
Net Wt.
UPC

Snak Club Honey

Bliss Nut Mix

3-oz.

pouch

0 87076

21152 3

Snak Club Honey

Bliss Nut Mix

5.75-oz.

pouch

0 87076

51152 4
The recalled product was sold under the Snak Club brand in retail stores in Alabama, Arizona, California, Colorado, District of Columbia, Florida, Georgia, Illinois, Indiana, Iowa, Kansas, Kentucky, Minnesota, Mississippi, Missouri, Nebraska, Nevada, New Hampshire, New York, North Carolina, Ohio, Oklahoma, Oregon, Pennsylvania, Tennessee, Texas, Utah, Virginia, Washington and Wisconsin.
What to do
Customers who purchased the recalled product and are allergic to milk should not consume it, but retain the package and contact Century Snacks at (32) 430-5012 Ext 542 Monday through Friday, 8:00 AM to 4:00 PM (PST), or by email at QualityDept@centurysnacks.com for a refund.