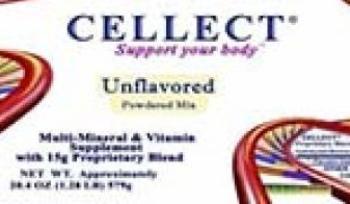 Cellect Products Inc. and Oglethorpe Ltd. are recalling one lot of Cellect Unflavored Powder & Essentials Factor Cell Synergy Unflavored Powder.
The product has unsafe levels of arsenic and lead.
Taking more than two servings daily of the product, used as a multi-mineral & vitamin supplement, could result in an accumulation of lead in the body over time. Too much of it can cause serious and sometimes permanent adverse health consequences.
Long-term exposure to inorganic arsenic has been associated with skin disorders and increased risks for skin, bladder and lung cancers.
There are no reports of adverse events related to this recall to date.
The recalled product, with lot #041907 and a manufactured (MFG) date of 05/20/2019 stamped on the bottom, was sold retail and through the internet in the U.S., and to individual customers in Canada, United Kingdom, Netherlands, Switzerland, France, Croatia, Romania, Russia, Australia, New Zealand, South Korea, Singapore, China, India, Thailand and Japan.
What to do
Customers who purchased the recalled product should stop using and return it to place of purchase for a replacement or a refund.
Consumers with questions may contact the firm at (631) 509-5316, Monday – Friday, 11am – 5pm (ET), or by email at request@cellect.org.