---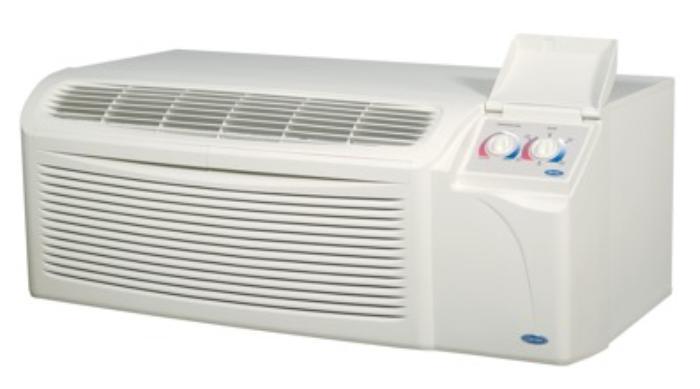 Carrier Corporation of Jupiter, Fla., is expanding its earlier recalls of Packaged Terminal Air Conditioners (PTAC) and Packaged Terminal Heat Pumps (PTHP).
Another 94,000 are being recalled in addition to the 285,000 recalled in December 2015, 185,000 recalled in November 2007.
The power cord plug can overheat, posing a fire hazard.
The company has received 14 additional reports of overheating. No injuries have been reported in the additional incidents.
This expanded recall involves Packaged Terminal Air Conditioners (PTAC) and Packaged Terminal Heat Pumps (PTHP) sold under the Bryant, Carrier and Fast brand names. Recalled units include those with original power cords and those that received a replacement power cord as part of the 2007 recall.
The recalled units have capacities of 7,000; 9,000; 12,000 and 15,000 BTUs and plug into 208/230 volt, 20 amp outlets. The following brands and models are being recalled:
Carrier models 52CE, 52CQ, 52PE, 52PQ, 52PC, 52ME, 53MQ;
Bryant models 840, 841, and 842; and
Fast models 840, 841, and 842.
Model and serial numbers are located on the ratings/data plate on the right front of the unit, underneath the removable front panel. A complete list of the serial numbers involved in this recall is available by calling Carrier or at www.carrier.com.
The air Conditioners and heat pumps, manufactured in Mexico and China, were sold at HVAC dealers and factory-direct sales nationwide from January 2002, through December 2009, for between $425 and $675.
What to do
Consumers should stop using and unplug the recalled units and contact Carrier to receive a free replacement cord.
Consumers may contact Carrier at 800-761-8492 from 8 a.m. to 6 p.m. (ET) Monday through Friday or online at http://www.carrier.com and click on Important Product Safety Recall for more information.
---