---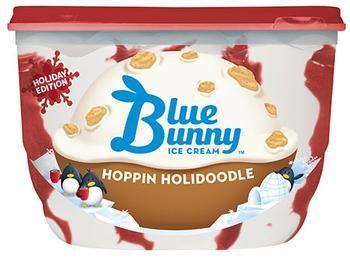 Blue Bunny Ice Cream is recalling flavors sold at retail outlets because they contain snickerdoodle cookie dough pieces recalled by the supplier, Aspen Hills, due to potential contamination with Listeria monocytogenes. Wells has received no reports of illness attributable to this product.
Only Hoppin' Holidoodle ice cream with the following lot numbers and best if used by dates are included in this recall. The recalled product is a seasonal holiday flavor with very limited geographic distribution in six states. Consumers should check the side of their ice cream packages to check for the following lot numbers and best if used by dates:
Product Name
Size
UPC, Lot #, Best Used by Date
States Distributed
Blue Bunny Hoppin'
Holidoodle
Ice Cream
46 fluid ounces

 

UPC 070640014644
LOT 60001 MM 19115 6228
BEST IF USED BY 02/13/18
UPC 070640014651
(High altitude)
LOT 60001 MM 19115 6229
BEST IF USED BY 02/14/18
NE, OK, KS, MO, AZ TX
No other Blue Bunny product is included in this recall.
Listeria monocytogenes is an organism that can cause serious and sometimes fatal infections in young children, frail or elderly people, and others with weakened immune systems. Although healthy individuals may suffer only short-term symptoms such as high fever, severe headache, stiffness, nausea, abdominal pain, and diarrhea, Listeria monocytogenes infection can cause miscarriages and stillbirths among pregnant women.
Consumers with product matching lot numbers and best if used by dates should return the products to the retail outlets where purchased for a full refund. Anyone requiring more information should telephone Wells Enterprises, Inc. consumer affairs at 1-800-331-0830.
---