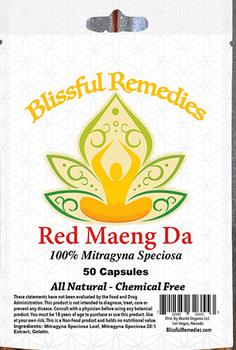 Blissful Remedies is recalling one lot of kratom ( mitragyn a speciosa) powder products.
The product may be contaminated with Salmonella.
There are no reports to date of adverse events related to this recall.
The following products, manufactured, processed, packed and/or held, between March 1, 2018, and April 30, 2018, lot #12710 with expiration 03/2019 embedded on the top of package, are being recalled:
Products Label
Size
Packaging
Red Maeng Da (100% Mitragyna 
Speciosa)
50 capsules
White Foil Pouches
Gold Series Ultra Enhanced Indo 
(100% Mitragyna Speciosa)
50 capsules
White Foil Pouches
Kratom+CBD., CBD infused
Maeng Da
50 capsules
White Foil Pouches
The recalled products sold in retail stores in Alaska, Arizona, California, Florida, Georgia, Hawaii, Illinois, Kansas, Kentucky, Connecticut, Massachusetts, Michigan, Minnesota, Missouri, Mississippi, Nebraska, New Jersey, New Mexico, New York, Ohio, Oklahoma, Pennsylvania, Puerto Rico, South Dakota, Texas and Virginia.
What to do
Customers who purchased the recalled products should return them to the company cor credit or discard them.
Consumers with questions may contact the company at (800) 435-8533, 9 am – 6 pm (CT), Monday through Friday or by email at fdarecall@blissfulremedies.com.