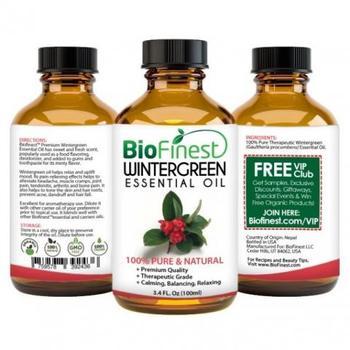 BioFinest of Lindon, Utah, is recalling about 20 bottles of BioFinest Wintergreen Essential Oil.
The product, which contains methyl salicylate, is not child resistant, posing a risk of poisoning if the contents are swallowed by young children.
No incidents or injuries are reported.
This recall involves 1/3-fl.oz (10 mL) and 3.3-fl. oz (100 mL) amber glass bottles with black caps of BioFinest Wintergreen Essential Oil. The 100 mL bottles include a dropper.
The white label on the bottle displays the BioFinest logo, product name and the volume amount of the bottle. The UPC codes 759578392443 (10 mL) and 759578392436 (100 mL) are printed on the bottle's label.
The oils, manufactured in Germany, were sold online at Biofinest.com from July 2019, through December 2019, for about $11.
What to do
Consumers should immediately store the product in a safe location out of reach of children. Contact BioFinest for instructions on how to dispose of the product and receive a full refund. Biofinest is contacting all known purchasers directly.
Consumers may contact BioFinest toll-free at (888)-726-5171 from 10 a.m. to 5 p.m. (MT) Monday through Friday, by email at support@biofinest.com, or online at www.biofinest.com for more information.