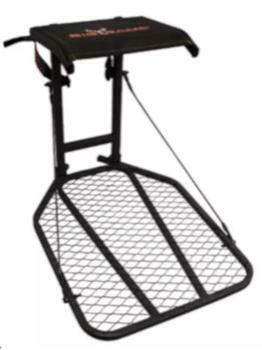 Big GameTreestands of Irving, Texas, is recalling about 1,030 The Captain Hang-on Treestands (2021 Batch #2M-0121).
The crimps of the plastic-coated cables can slip during use, causing the standing platform to release. This could create a falling hazard that leads to injury.
The firm has received 10 reports of the treestand cables releasing and causing consumers to fall. Two injuries have been reported.
This recall involves The Captain Hang-on Treestands, model BGM-FP0050 with serial/batch number 2M-0121 only.
This is a Hang-on style treestand used to hunt from elevation. It is black with a flip back seat imprinted with the name "Big Game Treestands" and a foot rest.
The model is identified on the product box and in the product instruction manual. Serial/Batch number "2M-0121" is located on a metal plate riveted to the frame support.
The tree stands, manufactured in China, were sold nationwide at Dick's Sporting Goods, Al & Bobs Sports, Hilltop Sports, The Sportsmen, Perfect 10 Outdoors, Vanderbilt's # 817, VF Sports, Westbury Ace Hardware, Rocky's Great Outdoors, Backwoods Boys, Native Outdoors Warehouse, Simpson Manning Hardware, Simpson Plaza Hardware, The Co-Op, R & L Archery, Keystone Country Store, Thruway Sports # 27 and Overland Park Scheel from August through October 2021 for between $60 and $80.
What to do
Consumers should immediately stop using the recalled treestands and contact Big Game Treestands to receive either replacement cables or to return the treestand for a full refund. Big Game Treestands is contacting all known consumers directly.
To receive replacement cables, the company said it will set up a pick-up time for the original cables and deliver replacement cables to consumers' addresses. If a full refund is requested, the consumer will be asked to mail back the entire treestand using a pre-paid label that will be provided at no cost.
Consumers may contact ​Big Game Treestands toll-free at (877) 343-8211 between 9:30 a.m. and 4:30 p.m. (CT) Monday through Friday, or online at https://www.biggametreestands.com. Consumers can click on "Recall Notice – The Captain Hang-on Treestand" at the top of the company's webpage for more information.