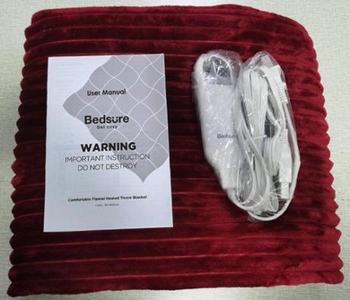 Bedshe International of Walnut, Calif., is recalling about 350,000 Bedsure electric heating blankets and pads.
The controller for the blankets and pads can malfunction, posing fire and thermal burn hazards.
The firm has received 137 reports of the blankets and pads catching fire, burning, melting and overheating in consumers' homes, causing minor property damage.
These include 17 reports of burn injuries, including one report of second-degree burns.
This recall involves Bedsure electric heating blankets models in throw, twin and full sizes made of flannel and/or sherpa in the following sizes: 50" x 60," 62" x 84" and 72" x 84."
The blankets were sold in beige, black, blue, blue plaid, brown, gray (light and dark), gray plaid, green (dark), navy, red, red plaid and red plaid (cream), depending on the size and model.
The electric heating pads were sold in the following sizes: 12" x 24", 24" x 22" and 24" x 33"and colors: brown, gray and teal.
The electric blankets and pads are controlled by a white cord with a white digital controller unit. The electric blanket with model BS-LV0A has a white non-digital controller unit with the name and symbol of Bedsure on the controller.
A list of the recalled model numbers, on a white label on the back of the blanket and heating pads and back side of the controller and also on the consumer's Orders History page, may be found here.
The electric blankets and pads, manufactured in China, were sold online at Amazon.com and BedsureHome.com from August through November 2022, for between $25 and $110.
What to do
Consumers should immediately stop using the recalled electric heating blankets and pads and contact Bedsure for a full refund.
Consumers must have possession of the unit and submit photos of the recalled unit following the instructions provided during registration at www.safety.bedsurehome.com to receive their refund. The firm is contacting all known purchasers.
Consumers may contact Bedsure toll-free at (855) 888-9966 from 9 a.m. to 5 p.m. (ET) Monday through Friday, by email at safety@bedsurehome.com or online at https://safety.bedsurehome.com for more information.