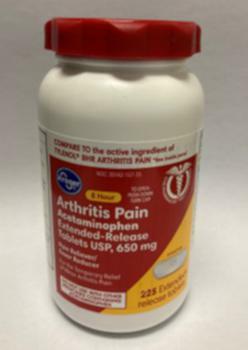 Aurohealth of East Windsor, N.J., is recalling about 25,660 bottles of Kroger Arthritis Pain Acetaminophen.
The packaging of the product is not child-resistant, posing a risk of poisoning if the contents are swallowed by young children.
No incidents or injuries have been reported.
This recall involves the Kroger brand acetaminophen. The red, white, and yellow label states Kroger, Acetaminophen, Arthritis Pain, Extended-Release, Tablets USP, 650 mg, 225 extended-release tablets. The bottle has a red continuous thread gear closure.
UPC number 04126001284 and lot numbers P2100890, P2100891, P2100992 (each with expiration date Aug-2023), and P2101010 (with expiration date Apr-2023) are included in this recall. The UPC number, lot number, and expiration date are printed near the drug facts panel on the label on the back of the bottle.
The acetaminophen, manufactured in India, was sold at Baker's, City Market, Dillons, Dillons Marketplace, Fred Meyer, Fry's Food and Drug, Fry's Marketplace, Fry's Mercado, Gerbes, JayC, JayC Food Plus, King Soopers, King Soopers Fresh Fare, King Soopers Marketplace, Kroger, Kroger Fresh Fare, Kroger Marketplace, Mariano's, Metro Market, Payless Super Market, Pick 'n Save, Pick 'n Save Marketplace, Quality Food Center (QFC), Smith's, and Smith's Marketplace stores nationwide from December 2021, through March 2022, for between $14 and $17.
What to do
Consumers should immediately store the recalled product in a safe location out of the reach and sight of children.
Customers can contact Kroger for information on how to properly dispose of the product and receive a full refund.
Consumers may contact Kroger at 800-576-4377 from 7 a.m. to 12 a.m. (ET) Monday through Friday, from 7 a.m. to 9:30 p.m. (ET) Saturday and Sunday, or online for more information.