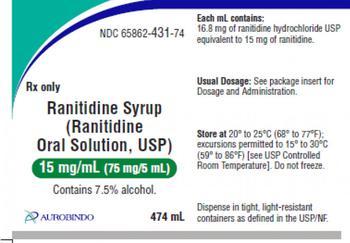 Aurobindo Pharma USA is recalling one lot of Ranitidine tablets, 37 lots of Ranitidine capsules and Ranitidine syrup.
The products, used to treat heartburn associated with acid indigestion and sour stomach brought on by eating or drinking certain foods and beverages, are contaminated with N-Nitrosodimethylamine (NDMA), a probable human carcinogen, above levels established by the FDA.
The firm as not received any reports of adverse events to date.
The following products, which are packaged in bottles, are being recalled:
Product Name
NDC
Batch Number
Exp. Date
Ranitidine Tablets 150mg
55910-092-79
NBSB19001DA3
Feb-2021
Ranitidine Capsules 150mg
59651-144-60
RA1518001-A
Jul-2020
RA1518002-A
Jul-2020
59651-144-05
RA1518002-B
Jul-2020
RA1518003-A
Jul-2020
RA1518004-A
Aug-2020
RA1518005-A
Aug-2020
59651-144-60
RA1518005-B
Aug-2020
RA1518006-A
Aug-2020
59651-144-05
RA1518007-A
Sep 2020
RA1518008-A
Sep 2020
RA1518009-A
Sep 2020
RA1518010-A
Oct 2020
RA1518011-A
Nov 2020
RA1518012-A
Nov 2020
RA1518013-A
Nov 2020
RA1518014-A
Nov 2020
RA1518015-A
Nov 2020
59651-144-60
RA1519003-A
May-2021
59651-144-05
RA1519003-B
May 2021
RA1519004-A
May 2021
Ranitidine Capsules 300mg
59651-145-30
RA3018001-A
Jul-2020
RA3018002-A
Jul-2020
RA3018003-A
Jul-2020
RA3018004-A
Aug-2020
RA3018005-A
Aug-2020
RA3018006-A
Aug-2020
RA3018007-A
Sep-2020
RA3018008-A
Sep-2020
RA3018009-A
Sep-2020
RA3018010-A
Oct-2020
RA3019001-A
Jan 2021
RA3019002-A
Jan 2021
RA3019003-A
May-2021
Ranitidine Syrup (Ranitidine Oral Solution, USP)  15 mg/mL (75 mg/5 mL)
65862-431-74
UI1519001-A
May-2021
UI1519002-A
May-2021
UI1519003-A
May-2021
UI1519004-A
May-2021
The recalled products can be identified by checking the product name, manufacturer details and batch or lot number on the bottle containing these products.
They were distributed nationwide to Aurobindo Pharma USA, Inc. and AuroHealth wholesale and distributor customers from September 28, 2018, through September 19, 2019.
What to do
Patients should continue taking their medication and contact their pharmacist or physician who can advise them about an alternative treatment prior to returning their medication.
Consumers with questions regarding the return of this product may contact Qualanex at (888) 504-2014 from 7:00 am to 4:00 pm (CST) Monday – Friday or by email at recall@qualanex.com.