---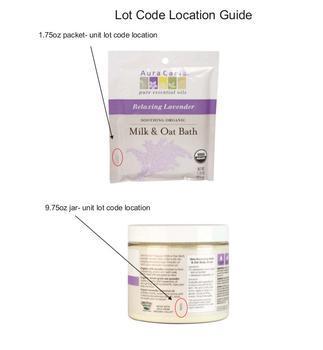 Frontier Co-op is recalling Aura Cacia Milk & Oat Bath.
Food and Drug Administration testing revealed an elevated microorganism count in the product. While cosmetic products are not required to be sterile, an elevated microorganism count indicates that the product could pose a hazard to health.
No illnesses have been associated with this product to date.
The following product, sold to distributors, retailers and consumers online and in stores in all 50 states and some parts of Canada, is being recalled:
| UPC | Description | Recalled Lot |
| --- | --- | --- |
| 0-51381-90307-7 | 1.75 ounce packet Lavender Milk and Oat Bath | 5289 |
| 0-51381-90317-6 | 9.75 ounce jar Lavender Milk and Oat Bath | 5296 |
| 0-51381-30307-5 | 49.6g Lavender Milk and Oat Bath (Canadian Distribution Only) | 5281 |
The lot number for the 1.75-oz. and 49.6-g. packets is embossed in the seam on the side of the packet. For the 9.75-oz. jar, the lot number is printed on the back of the label or stickered on the bottom of the jar.
What to do
Consumers who purchased the recalled product may contact Frontier Co-op with any questions or to inquire about replacement or reimbursement at 1-800-669-3275 Monday through Friday from 8:00 a.m. to 5:00 p.m. (CT).
---