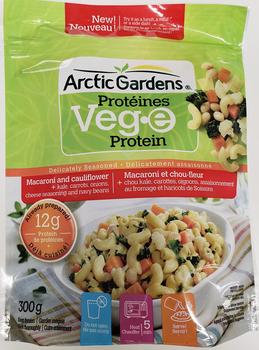 Bonduelle Canada is recalling Arctic Garden brand Veg-e Protein products.
Defective packaging may allow pieces of the plastic zipper to fall into the product during microwaving.
The following products, sold in the Canadian provinces of New Brunswick, Ontario and Quebec, are being recalled:
Brand Name
Common Name
Size
Code(s) on Product
UPC
Arctic Gardens
Veg-e Protein – Macaroni and Cauliflower

300 g

H 8087 M


H 8088 M
H 8186 M
H 8187 M

0 55686

21031 1

Arctic Gardens
Veg-e Protein – Orzo and Green Chick Peas

300 g

H 8184 M
H 8185 M
H 8186 M
H 8264 M
0 55686 21032 8
Arctic Gardens
Veg-e Protein – Quinoa and Soy Beans

300 g

H 8103 R
H 8158 R
H 8159 R
0 55686 21033 5
What to do
Customers who purchased the recalled products should not consume them, but discard them or return them the store where purchased.
Consumers with questions may contact Bonduelle Canada at (888) 990-266 or online at www.arcticgardens.ca.