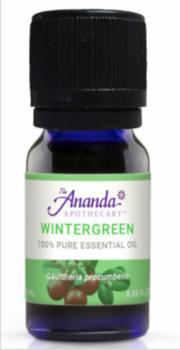 Ananda Apothecary of Boulder, Colo., is recalling about 275 bottles of Wintergreen 100% Pure Essential Oil, Sweet Birch 100% Pure Essential Oil, Super Soother Pure Essential Oil Blend and Breathe Deep Pure Essential Oil Blend.
The packaging of the products, which contain methyl salicylate, is not child resistant, posing a risk of poisoning.
No incidents or injuries are reported.
This recall involves Wintergreen, Sweet Birch, Super Soother Blend and Breath Deep Blend Pure Essential Oils in amber glass bottles with black continuous thread closures.
The white and green/blue label includes the Ananda Apothecary logo, product name, and the volume size of the bottle.
The table lists the volume sizes for the products and lot numbers which is listed on the top left corner of the label.   
Pure Essential Oils

Volume Sizes (mL)

Lot Numbers

Wintergreen 

0.5, 10, 30, 60, 120

SAK138WIN
SAG019WIN

SAL249WIN

Sweet Birch 

0.5, 10, 30, 60, 120

PEC199BIR

Super Soother Blend

5, 10, 30

BLB259SSR
BLF059SSR

BLJ089SSR

Breathe Deep Blend

10, 30

BLB089BRD

BLE289BRD

BLH279BRD

BLJ239BRD

BLL059BRD
The oils, manufactured in the U.S., were sold exclusively at Anandaessentialoils.com from July 2019, through February 2020, between $2 and $100.
What to do
Consumers should immediately store the product in a safe location out of reach of children. All known purchasers are being notified directly by Ananda Apothecary about the recall and will receive a full refund for the sample size (0.5 mL) or be sent a free replacement child-resistant closure for the all other sizes.
Consumers may contact Ananda Apothecary at (888) 758-6360 from 9 a.m. to 5 p.m. (MT) Monday through Thursday, by email at contact@anandaapothecary.com, or online at www.anandaessentialoils.com and click on "Wintergreen/Birch EO Recall" at the top of the page for more information.