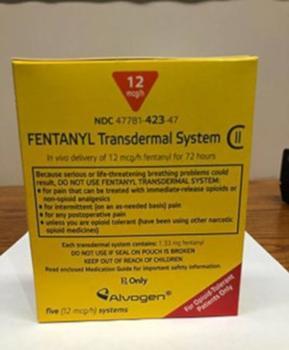 Alvogen is recalling two lots of Fentanyl Transdermal System 12 mcg/h transdermal patches, which are used for the management of pain in opioid tolerant patients.
A small number of cartons labeled 12 mcg/h Fentanyl Transdermal System patches contained 50 mcg/h patches. The 50 mcg/h patches that were included in cartons labeled 12 mcg/h are individually labeled as 50 mcg/h.
Application of a 50 mcg/h patch instead of a prescribed 12 mcg/h patch could result in serious, life threatening, or fatal respiratory depression.
Groups at potential increased risk could include first-time recipients of such patches, children and the elderly.
There are no reports of adverse events related to this issue to date.
The following product, packaged in primary cartons of five individually wrapped and labeled pouches, is being recalled:
Lot 180060 of Fentanyl Transdermal System, 12 mcg/h, expiration date 05/2020.
Lot 180073 of Fentanyl Transdermal System, 12 mcg/h, expiration date 06/2020.
The recalled product was distributed to pharmacies nationwide.
What to do
Alvogen is notifying its direct customers by certified letter and arranging for return and replacement of all recalled products.
Patients who have the recalled product should immediately remove any patch currently in use and contact their health care provider. Those with unused product should return it to point of purchase for replacement.
Consumers with questions regarding may contact Alvogen at (866) 770-3024 Monday – Friday from 9:00 am – 5:00 pm (EST), or by e-mail at pharmacovigilance@alvogen.com.