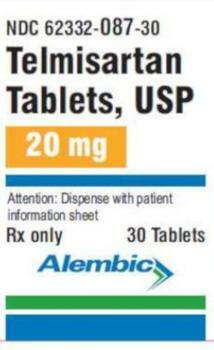 Alembic Pharmaceuticals of Bridgewater, N.J., is recalling one lot of telmisartan tablets.
A bottle labeled as 30-count telmisartan tablets, USP, 20-mg incorrectly contained 30 tablets of telmisartan tablets, USP, 40-mg.
Taking a doubled dose of the blood pressure medication for a prolonged period of time could result low blood pressure, worsening of kidney function, or an elevation of potassium which can be life-threatening.
There are no reports of adverse events to date.
The recalled product is packaged in a bottle of 30 tablets having NDC Number 62332-087-30. The affected lot -- number 1905005661 -- expires in March 2022.
The wrong product can be identified by checking the shape and embossing details on the tablets.
The 20-mg bottles may incorrectly contain oval shaped white to off-white tablets debossed with L203 on one side instead of correct product -- round shaped white to off-white tablets debossed with L 202 on one side.
The recalled product was distributed to wholesalers, retailers and pharmacies nationwide.
What to do
Patients who have the recalled product should NOT discontinue use until speaking with their pharmacist or healthcare professional for a replacement.
Consumers with questions may contact Alembic Pharmaceuticals at (908) 552-5839 from 9:00 am – 5:00 pm, (EDT) Monday through Friday or by email at david.cobb@alembicusa.com.