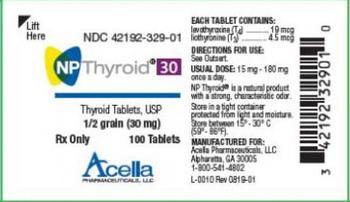 Acella Pharmaceuticals is recalling 13 lots of NP Thyroid (thyroid tablets).
Testing has found the product to be superpotent.
Patients being treated for underactive thyroid, who receive superpotent NP Thyroid may show signs and symptoms of overactive thyroid which include, but are not limited to, weight loss, heat intolerance, fatigue, muscle weakness, hypertension, chest pain, rapid heart rate or heart rhythm disturbances.
The firm has received two reports of adverse events.
The following product, packed in 100-count bottles anddistributed nationwide, is being recalled:
Product

NDC

Lot #

Exp. Date

NP Thyroid 30 mg
42192-329-01
M329A19-1
20-Dec
M329H18-1
20-Jul
M329J18-1
20-Aug
M329J18-2
20-Aug
M329J18-3
20-Aug
M329M18-2
20-Nov
NP Thyroid 60 mg
42192-330-01
M330J18-2A
20-Aug
M330J18-3
20-Aug
NP Thyroid 90 mg
42192-331-01
M331G18-1
20-Jun
M331J18-1
20-Aug
M331J18-2
20-Aug
M331M18-1
20-Nov
M331M18-2
20-Nov
What to do
Patients who are currently taking the recalled should not discontinue use without contacting their healthcare provider for further guidance and/or a replacement prescription.
Consumers with questions may contact Acella Pharmaceuticals at (800) 541-4802, Monday through Thursday from 9:00 am to 5:00 pm (ET) and Friday from 9:00 am to 12:30 pm (ET), or by email at recall@acellapharma.com.