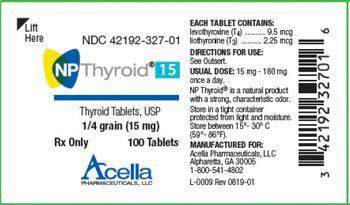 Acella Pharmaceuticals is recalling one lot of 15-mg and one lot of 120-mg NP Thyroid, Thyroid Tablets [levothyroxine (T4) and liothyronine (T3)].
Testing has found the product to be sub potent. The product may have as low as 87% of the labeled amount of levothyroxine (T4).
Patients being treated for hypothyroidism (underactive thyroid) who receive sub potent NP Thyroid may experience signs and symptoms which may include, fatigue, increased sensitivity to cold, constipation, dry skin, puffy face, hair loss, slow heart rate, depression, swelling of the thyroid gland and/or unexplained weight gain or difficulty losing weight.
The firm has received four reports of adverse events to date.
Specifics regarding the recalled product may be found here.
What to do
Patients who are currently taking the recalled medication should not discontinue use without contacting their healthcare provider for further guidance and/or a replacement prescription.
Consumers with questions may call (888) 280-2044, Monday through Friday from 8:00 am to 5:00 pm (ET) or email Acella Pharmaceuticals at recall@acellapharma.com.