Feds say consumers were deceived about the data security risks of using the online system
03/03/2016
|
ConsumerAffairs

By James Limbach
A Washington, D.C., reporter for more than 30 years ... Read Full Bio→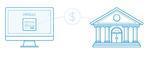 Regulators are serving notice a fast-growing online money-transfer business, stating that they must safeguard consumers' private data and live up to the promises they make about their security procedures.
The Consumer Financial Protection Bureau has ordered Dwolla to pay a $100,000 penalty for misleading consumers about its data security practices and instructed the company to fix its security practices.
Dwolla, based in Des Moines, Iowa, said the procedures questioned by...
More
Don't fall for this latest attempt at a like-farming scam
07/06/2015
|
ConsumerAffairs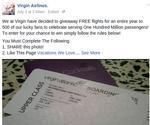 If you've been on Facebook over the long holiday weekend, you might've seen posts promising 500 lucky people the chance to win a year's worth of free flights on Virgin Airlines — and for a chance to win, all you have to do is "like" a certain Facebook page and "share" a certain Facebook post.
Don't do it. There are no tickets, there won't be any winners, and Virgin Airlines didn't create that Facebook page – it's nothing but the latest attempt at a "like-farming" scam.
Li...
More
Sort By