ConsumerAffairs.com's Joe Enoch Honored Reporter Wins First Annual Buffalo News Award
October 16, 2006
ConsumerAffairs.com's Joseph S. Enoch became the first recipient of the Buffalo News Award for excellence in enterprise and investigative reporting. He was nominated for the award by the faculty of the Russel J. Jandoli School of Journalism and Mass Communications at St. Bonaventure University.
The award was presented by Stanford Lipsey, Buffalo News publisher, at the Statler Towers in downtown Buffalo, assisted by Lee Coppola, dean of the communications school.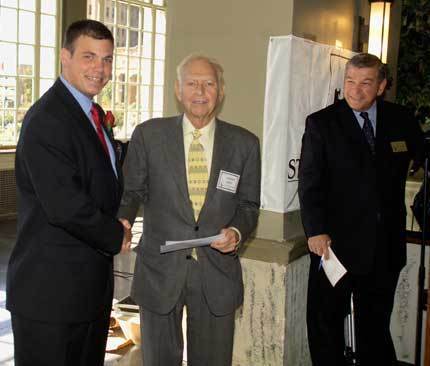 Buffalo News Publisher Stanford Lipsey presents award to Joe Enoch as Dean Lee Coppola looks on. Photo by Tom Wolf.
Enoch was honored for his work with ConsumerAffairs.com and as a student journalist at St. Bonaventure, where his reporting on the school newspaper at times put him at odds with the university administration.
In his remarks, Coppola took note of Enoch's August 8 story about a fire started by a Dell laptop in a remote area of Nevada. The fire destroyed a pickup truck and set off a dangerous fussilade as it ignited ammunition stored in the glove compartment, forcing two hunters to run for their lives and leaving them stranded in the desert.
The dramatic, well-documented story confirmed reports that had been circulating on the Internet about the dangers of certain lithium-ion batteries in laptop computers, leading to the recall of more than 10 million batteries manufactured by Sony.
Other stories Enoch has uncovered since joining ConsumerAffairs.com last May include:

• gamers' complaints about the Microsoft Xbox 360,
• the moving industry maintaining the upper hand over consumers through the skillful footwork of a single U.S. Senator, and
• a rash of cold-water showers endured by homeowners unlucky enough to have purchased a Whirlpool Flame Lock gas water heater at Lowe's.
Attending the award ceremony were Sister Margaret Carney, president of Saint Bonaventure University, John Hanchette, SBU professor and Pulitzer Prize winner, Buffalo News editor Margaret Sullivan, the journalism faculty and many alumni and students.
"There can never be too much hard-nosed journalism in the world," said ConsumerAffairs.com founder and editor in chief James R. Hood. "We need more fearless young firebrands like Joe Enoch to carry the torch -- and their pad and pen -- into the new media landscape. We're grateful to St. Bonaventure for running such a rigorous journalism program and to the Buffalo News for recognizing and supporting it."
Founded 126 years ago, The Buffalo News -- formerly The Buffalo Evening News -- has recently begun switching from evening to morning delivery, the last major newspaper in the top 50 markets to have made the conversion. The newspaper is owned by Berkshire Hathaway.
The university was established by the Franciscan Brothers in 1858 and is a private, Catholic university, located near Olean, New York. It has roughly 2,750 students. Sister Margaret Carney OSF is the 20th president and the first religious sister to hold the position. Its sports teams, the Bonnies (formerly nicknamed the "Brown Indians") play NCAA Division I sports in the Atlantic 10 Conference.
ConsumerAffairs.com, founded in 1998, is an independent, privately-held, advertising-supported Web publication, offering consumer news, resources, reviews and safety recall information. It accepts no foundation, government or corporate funding. All of its services, including its newsletters and news archives, are provided to consumers free of charge.