Consumer Complaints and Reviews

As other review, same thing happen to me. I ordered 2 printer back in October waited for two weeks, then call them back they said it's out of stock. I asked them to credit back, until now it's Feb 24th no money. I am been calling them no answer, left message no call back, send them email no reply. Now even phone number is not working. I think they have gone out of business. Poor service, and worst company I ever have deal with... $279 gone.

Prior to October 2014 I had great success with this company... Not so after ordering an ELO touchscreen for a client. Numerous emails, numerous telephone calls. AVOID THIS COMPANY AT ALL COSTS!!! They will steal your money and they obviously can out wait you. If I tally up all the time I have wasted trying to get $$$ back, I could have bought another from a more reputable vendor. Order placed on 10/22/14 and it is now 2/22/15....after 5 months of trying, I am throwing in the towel.

I placed an order with Pos World on February 2, 2015 which I paid for using my credit card. I received an email with a confirmation of my order, but never received the items. When I tried to contact them I could no longer find their website, so I tried to call them but only could leave a message. This happened no matter what time of the day I called. I also tried calling the number listed on the email confirmation I received but that number is no longer in service. This was a $582.00 purchase, so it is very disturbing to think that I may not get my money back.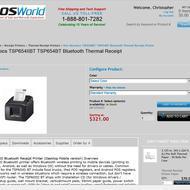 I order a receipt printer in August 2014. It was (and still is) listed as "In Stock". After 2 weeks, and periodically after I called and was told it was about to ship out. The order page listed it as "Processing" the whole time. I cancelled the order in November. Each time I have called, the person on the phone has been friendly and eager to fix the problem, talked to "accounting" and get my money back. She lied through her smiling teeth each time, apparently. I still have not received my money back as of Feb 12, 2015. DO NOT BUY FROM POS WORLD!!! The POS WORLD website appears to finally be offline as of today. They spent 6 months collecting money and not shipping anything. They need to go to prison for a long time.

We have ordered parts over 5 months ago. I have tried to call, email and fax for an update on the status of my order. Still no response and today when I went online, the web site is down. IF you can find anyone else to supply your needs, please use them. If there were a rating lower than zero, POS would earn it.
How do I know I can trust these reviews about POS World?
823,111 reviews on ConsumerAffairs are verified.
We require contact information to ensure our reviewers are real.
We use intelligent software that helps us maintain the integrity of reviews.
Our moderators read all reviews to verify quality and helpfulness.
For more information about reviews on ConsumerAffairs.com please visit our FAQ.

Ordered a touch monitor and MSR back in Sept 14. Was told items were in stock and would ship in a day or 2. A few weeks later I called to find out where they were and the monitor was now out of stock. I said I would wait as I wasn't in a rush. A month passed and still nothing so I called back and was still told out of stock but if I wanted to I could cancel my order which I did. Was told I would be refunded back to my card in a few days. Another month passed and no refund. I called back 2 more times and they said both times they would bump me to the front of the cue line to get my refund back to me. A few emails never worked or got a response either.
As of today Feb 3, 2015 I tried to call and now no one answers the phone on any line they have. I look up POS World reviews and get this site. WOW is POS a scam. I have called the credit card company to dispute the charges of over $460.00. I have no idea why this website is still active and why I haven't heard of the owners going to prison. Bad Bad company, stay away and DO NOT order anything from them!

9/25/14 I ordered a T88 Epson printer. After about ten days of waiting by the mail I got nothing. Finally I called them after they finally picked up the phone. I was made aware that they did not have the printer in stock it was on back order and that I would have to wait an additional two weeks plus shipping time. I cancelled my order and asked for a refund. I was told in October of 2014 that I would be mailed out a check. To this day I have not received my check in the mail. They have the correct address on file because I asked them what was the address they had on file for me. They had it correct. I've been calling once a week for the past 3 months leaving message and nothing. It's almost as if they see my number on the caller ID and don't pick up on purpose.
Looks to me like this is a common problem with this POS World. I ask my self, are the employees claiming they have sent out refunds but pocketing the money? What other explanation is there for (award winning customer service) to avoid picking up your phone call after leaving voice mails asking about your refund.

On September 29th 2014 I have ordered an ELO touch screen for 529 dollars. It appears In Stock in the web page and said it would be delivered within 3 to 5 days. The same day the Credit Card was charged through PayPal without the order being shipped or ready to be sent, which seems strange to me but thought was the way this company work. As everyone else after lots of calls, some talks with delivery promises each time and stating they have delivery issues in November the order get back ordered.
I contacted ELO, they promptly answered and John **, National Sales Manager, said they have plenty of the screens I have ordered with POS WORLD. Having the whole seen, I have cancelled the order in December 1st 2014 and after they have said I cannot be refunded to the credit card because I paid with PayPal, I have been refunded that way with other suppliers, they would send a check. Nothing has arrived after two months. Now for a whole month they do not answer the phone or response emails.
It's clear that Joe Bushey and his company work at these days with the web page as a smokescreen for doing fraud. Today, January 31th 2015, the web page offers the same ELO Touch monitor as In Stock and to be delivered in 3 to 5 days and the same for all the items offered. Why are they doing that? Why there's no act of the entity in charge of abuse and fraud? For sure there are hundreds of complaints with the same modus operandi, false advertising, money charged, no delivery, pretended promises, money retained, no answer. We should join and do something about these. As a group the fraud would rise to thousands of dollars. What can we do to not be scammed by this person?

I ordered a receipt printer. After about 4 calls to phone number, I finally got hold of someone who had some knowledge of printers. After a few weeks of not receiving my order and a few more calls, I finally got it, but was overcharged for items I didn't order. Took a few more calls to get credit. Now, I need to send back the printer and after 6 calls, nobody has returned my messages.

I placed an order in October for a Touch Screen Monitor. Over three months later I have not received my item. I tried calling at least 15 times and they do not pick up their phone. They never responded back to the voicemails and emails I've left. Overall I am not pleased with this company. If I could give less than one star I would. Try calling their phone number and you will see what I mean. AVOID THIS COMPANY!

I ordered equipment from them over the past 8 years. I ordered a cash drawer from them on 11/11/2014. I was told it would ship in a few days. After two weeks, I called back and inquired about the order and was told it would ship by the middle of December. I have called numerous times since the beginning of the new year. No one is answering the phones, returning calls or emails.

Same as some reviews here... I ordered a couple of Monitor back in June 2014 and after a couple weeks they had not shipped them. When I called they said they did not have them in stock. So I decided to cancelled the order because I needed the monitors asap. The cancellation did appear on the website but I never received a refund for the $938.00 that they charged from my credit card... Is now January 8th, 2015, and have not received a refund. I have tried getting my money back unsuccessfully. After a while they stop receiving my calls... and do not reply to my emails and voicemails. I don't know what else to do now... :'( I can only advise not to purchase from them. This "company" should not be allowed to stay in business.

I placed an order in September for a bar code scanner that still has not arrived. I was able to get a hold of a person in November saying the order was on back order and would ship in 2 weeks. Still nothing. I cannot get through to anyone on the phone and no one returns my email messages.

I placed an order for (2) Epson printers for our POS equipment. After repeated backorders, the order was cancelled and a refund was requested. After several conversations with actual people and emails as well, no refund has been supplied. A complaint has been filed with the Atlanta, GA Better Business Bureau regarding their practices of taking companies monies while providing no equipment. Sadly I had previously ordered in the past from them with no problems, only to have this problem. Original order was in September 2014, with the refund requested in October 2014 and still no monies have been returned.

I ordered a cash drawer from POS World on 10/27/14 and have experienced what looks to be the standard process for POS World now. I checked my order status after about a week and noticed it had not shipped. I called to inquire and was told it was on backorder and it would ship in about 2 weeks. I said, "OK." On 12/3/14 my order still had not shipped. I called once again and was told it was on backorder and would again be another 2 weeks or so. At this point, I told them to cancel my order. At no point during either of these two "back orders" did the company contact me to inform me they were on back order. I only obtained this information by calling to ask where my order was.
Several days later I got my credit card statement and discovered I had been charged for my order, an order that was never even sent. I have spent the last couple of weeks calling and e-mailing POS World to ask why the charge has not been refunded to my card. I get no response to e-mails and no one at POS World answers the phone anymore. My only recourse appears to be disputing the charge with my credit card provider.
Like others, I have done business with POS World in the past and not had any issues. However, something has obviously gone wrong with POS World in the last several months, as evident from all the similar reviews. DO NOT do business with this company. What they are doing now is straight up fraud. This "company" should not be allowed to stay in business.

We had ordered 2 receipt printers at the beginning of November, it is now the end of December. I had called them about 2 weeks ago to see if they had any status updates on where they are. After 5 voice mails and 10 emails, I finally got a hold of someone. They told me that they cancelled my order and did not refund me. The rep said that the company would not send the printers nor would they issue me a refund. I finally was able to have her put a manager on the phone. She said to fax over my bank statements showing that they had charged me. I did that last week. Now I have called and left 3 voice mails to confirm that they received my fax and nothing. It is crazy how they never return any phone calls/emails and they never seem to answer the phones. I am out $418 and without receipt printers.

On October 14th, 2014 I ordered 3 Elo Monitors. Called middle of November was told on back order till Dec 10th. Just looked on Dec 22nd still no ship status. So I called, got voice mail after 10 am when they should be open. Just called credit card company to reverse the charges. Used to be a good company but seeing others with same issues for other items, I think they may be scamming to run with money.

Order 400.00 in equipment for my business and after 2 weeks, never received it when the Web site said in stock and ships in 3-5 days. I called they said "sorry, we have a supply issue" and it will be a few more weeks. So I cancelled my order. Long story short I call 2 times a week every week for the past 2 months and nothing! They just say sorry. I asked how long they say "we don't know". The refund dept. work from home and she has no way to contact them. She can only email. I asked for a manager, she tells me he comes and goes and she never knows when he will be there and again no way to get a hold of him. This is crazy. I'm so mad. Dispute will be filed tomorrow!!! Worst company I have ever dealt with!!!!! Amazon has same product cheaper anyway!

I placed an order on Nov 4th for barcode labels. I have ordered these from POS World before. When I did not receive them in the allotted time, I called and was told they were on backorder and would come in, in 2 weeks. No contact... still no labels. They do not answer any extensions. I need these labels and am not happy with them right now!!!!
Updated on 01/27/2015:
I placed an order on Nov 7. Did not receive & there was no update on status of order. I finally called the company and was told the item was on backorder. I did not receive the item in the time frame for the restock of the item. After many calls & emails, I finally reached spoke to a girl who said she would cancel my order and send a refund. Refund was never done. What's even worse is that I placed a complaint with Paypal and they automatically closed complaint because it was after 45 days of purchase! That took me out of being considered for help with this because of the companies' response about the "backorder" and, then, promise to refund! I hope something can be done so no one else gets stung by POS World...or Paypal for that matter.

I purchased a bar code printer. Waited almost two weeks, but no news. Called the sales and was told they were out of stock and they won't know when they will ship one. Cancelled the order. It's been more than three weeks and no refund. Multiple emails and voice mails to the accounting department have gone without answer. Had to call the American Express to dispute the charges. Don't deal with this company.

In 2012 and before, I ordered thousands of dollars of equipment from POS World and had no issues at all. When a need arose for some more POS equipment, I went back to my trusted vendor, only to have an awful experience.
I placed an order the beginning of November for a little over $1300. After not receiving the product for multiple weeks without any communication from POS World, I called them. They stated they had supply issues and every item I ordered was out of stock. It would be two to three weeks before they would have the items in hand to ship to me. This exceeded my time frame which I explained, then I asked for a refund. The customer service rep said that she would send the refund request to the accounting department and I should see a refund in 3-5 days. I said no problem, thanked them for being open.
Moving forward 3 days - no refund received. I called back and was told that the accounting department had not responded to the previous request. They would make a new request and I should see a refund in 3 to 5 days.
Moving forward another 3 days - still no refund. I called back and was told the same thing. I asked to speak directly with the accounting department and was told they work from home and have no direct dial numbers, but email would be best. I emailed them asking for my $1300+ back. I received no response. 10 days after my first request for a refund and over 30 days since the initial order, I had no merchandise, no refund, and no response. I hated to, but I filed a dispute and then a claim with my credit card company.

Website said multiple products were in-stock. Order went 5 days without shipping. A call revealed the items were actually out of stock for "2 to 3 weeks." Customer service was unable to cancel the order, only "put in a request" and could not tell me when a refund would happen. Is this 1998? Worse, they charged my credit card instantly without shipping the order. Do not do business with this company. Other review sites are filled with negatives as well. It appears they are riding on a reputation of being a decent company pre-2013.

ConsumerAffairs Research Team
The ConsumerAffairs Research Team believes everyone deserves to make smart decisions. We aim to provide readers with the most up-to-date information available about today's consumer products and services.
POS World offers a Lowest Price Guarantee and Lifetime Warranty on their products, making them a clear industry leader. All products are guaranteed to be 100 percent new, and shipped fast.
Tech support: All POS suppliers offer tech support, but most come with a hefty monthly or annual price tag. At POS World, tech support is all part of the service and totally free.
Hardware options: POS World offers a range of different hardware options from several different brands, putting the emphasis on quality.
Agreements: The lowest price guarantee could still leave business owners shelling out thousands to get started since POS World does not offer lease agreements.
Best for Retail Stores, Restaurants, Salons and Spas, Health Services
POS World Company Profile
Company Name:

POS World

Year Founded:

1999

Address:

2000 RiverEdge Pkwy Ste 200

City:

Atlanta

State/Province:

GA

Postal Code:

30328

Country:

United States

Website:

http://www.posworld.com/