Lollimops Himalayan and Persians Cattery
Escondido, CA
Consumer Complaints and Reviews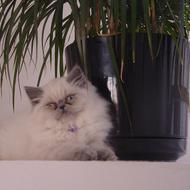 I do not know if the flood of complaints against Lollimops are one angry individual on a non-stop vendetta, or if my family was just fortunate. However, these are my experiences. In 2003 my wife bought me the most beautiful female Himalayan kitten that I had seen on the internet from Lollimops as my 49th birthday gift. This was before the internet campaign of negativity against the breeder. I named her Abby and for 13 years until her death 3 weeks ago she was as much a soul mate to me as a cat could be. She was one of my life's great blessings. I should also add that one year after purchasing Abby we went to the same breeder for a Himalayan kitten for our daughter's 9th birthday gift. Shu-Shu is now 12 and although diagnosed with diabetes a year ago, is a happy 10 pound cat and a cornerstone of our family. Other side of the coin.

I have almost 10 years of research on this bad actor pedigreed cat breeder. The research was prompted by me losing $1,300.00 from Ms. *** plus medical bills. It's in complaint #1. That is what this report to you is about. It is about caring about other people who happen to wind up in Ms. *** web of deceit. Ms. *** stands behind, defends & uses her cat contract as a license to steal, rob, exploit, extort, swindle & victimize & hurt people and that is morally & ethically wrong & also against the law of the USA .
After my $9,000 plus $1,300 for kitten that died & $214.00 for medical bills was stolen from me by Ms. ***, I decided to develop a ministry to care about others and did not want anyone else to be robbed as I was. I developed 2 sites on the www. You are welcome to go and view them #1. Site is Complaints against Cat Breeders http://***.info. You may be surprised how many people are getting their money stolen and getting sick kittens from pet profiteers, pedigreed cat breeders. Ms. *** calls my 2 sites harassment. That is what she sued me for, my sites online.
I have enclosed the complaints stealing from her buyers and what they have said about her including an innocent senior citizen. I only have one contact name & email so this can be verified but Ms. *** has all the signed contracts in her home with contact info. Ms. **** has been doing underhanded bad business towards the public before she meet me and is still doing it until someone has the determination to stop her from harming any more innocent people all over the USA. She sells all over the nation.
She was known to go down to the Escondido Police Department so many times that the Escondido Police Dept told her, "And when I went to the police numerous times they would not even listen but showed me the door and told me to "work it out". Until the 6th time when I was threatened with an investigation. Well, in this county you cannot be legal with a cattery. They won't let you get any of the permits they require. So he said if there was one thing out of line he would arrest me. "
Ms. *** makes over $30,000.00 a year in cold hard CASH, paying no income tax, no sales tax, and no federal tax, and has been doing this for 30 years. On her PayPal account, she does not use her own name. She has it listed under one of her friend's name. She has no bank accounts, checking accounts or savings account. Why? She told me all this so no one can trace her activities. Ms. *** is running an illegal business inside her home with no business license, no cattery permit, no D/B/A. The code enforcement may be involved but no health department agency is. Ms. *** is a swindler and needs to stop from stealing from people's hard earned money. Her cattery is registered with Cat Fanciers' Ass. Inc [CFA] her cattery # is ***. She advertises on ***.html. From the top her listing is # **.
When you read the Animal Control report you will notice she had 11 outside in cages with cats inside of them in horrible condition. The next day when the animal control officers came by they asked her where those 11 cats are that were there yesterday. Ms. *** said, "Someone opened the cat cages and let the cats go". What she really did was she had the Animal Control come in 2 separate days to her house, so she could hide those 11 cats in horrible cages full of feces. In San Diego County, a person is only allowed to have 6 cats total. Animal Control agents were prompted to her house because 2 buyers complained she was selling sick cats and wanted a welfare check on her cats since they are not allowed to come to her home to view the cats first. So when the Animal Control agents came the 2nd day she only had the cats inside the house and she did not let them inside the house she brought each cat to the door so they can view. If they went into her house all those cats would have b! Even taken away from her.
I lost almost $11,000 & I want this money back. How I lost over $9,000.00 is she sued me in small claims court. I then appealed I could not attend my own court case because I was too deathly sick to go to court since I have severe COPD and therefore she won out of default. This bad actor has to be stopped from stealing people's money & breeding sick kitten and selling those sick kittens to the public. I don't want any more people to get swindled by her. Please, I am begging you to start an investigation on this bad cat breeder. Once you are able to get a hold of her files with all the 30 years of contracts of thousands of cat and kittens she sold, you will have all the names of the people who were robbed by her.
The reason she has so many AKA is because once everyone online knows she is a crook. She then starts another website to fool people. It's the same thing criminals do in real life. This crook just happens to be female selling cats. I am praying with all my heart that someone will do an investigation on this crook before she takes anyone else's hard earned money. It means a lot to me that others do not get victimized as she has done to all of us. Ms. *** must be stopped so she can't steal money or harm innocent cats like this anymore. If you have any more questions please email me and I will answer all your questions.
I also want to share how grateful I am that there is the Attorney General Office we can come to protect the public from harm. Thank you so much for your job in caring about others. I am requesting that you can help me get back my $11,000 back from this criminal cat breeder. This person is very evil and to do this to me or anyone is a horrible way to conduct their lives. I have COPD and I don't have much time to live. I am bound to my house daily and if I can do one thing before I die I am asking you to help me get back my $11,000 this cat breeder stole from me and then I know justice was served. I will pray very much about this to God. Thank you so much for your time on this matter.
Lollimops Himalayan and Persians Cattery Company Profile
Company Name:

Lollimops Himalayan and Persians Cattery