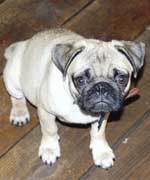 Puppy lemon laws? You bet, but before that tail starts wagging, let's make one thing clear: these laws protect pet purchasers, not pets. States and cities do have animal cruelty laws, of course, but a more recent development is the passage of laws intended to make it easier for pet purchasers to get their money back if that cute puppy turns out to be sick.
All of the state laws we examined give purchasers the right to return a sick or dead puppy for a refund or replacement. Most also give consumers the option of retaining the puppy, having it treated and getting some level of reimbursement for veterinary expenses from the seller.
We don't yet have summaries of the laws for each state but we're working on it. If yours doesn't appear yet, check with the Attorney General's Consumer Protection Division in your state.