Professor Promoted People to People Junket Without University Approval
Latest gaffe by for-profit promoters hawking 'educational' travel
06/13/2010
|
ConsumerAffairs
A University of Colorado professor is under fire for lending her name and the universitys letterhead -- without authorization -- to recruit participants for an upcoming People to People trip to South Africa.
The solicitation has also irked a Texas couple, who say they received one of the letters addressed to a name that closely resembled a deceased family member.
This is the latest marketing gaffe involving the company that handles People to People trips and that has a history of sending similar solicitations for overseas journeys to the parents of deceased children.
At the heart of this newest controversy is a solicitation written by University of Colorado at Boulder (CU) professor Margaret Eisenhart, Ph.D., with the School of Education.
ConsumerAffairs.com learned that Eisenhart wrote the letter on CU stationery, but did not have permission to use the universitys letterhead or logo for the solicitation designed to lure more people for the South African trip.
Weve also learned that CU does not have any commercial ties to People to People and did not give the travel company authorization to use the universitys stationery in its marketing campaign.
In the solicitation, Eisenhart encourages recipients to participate in an upcoming Women in Higher Education trip to South Africa through People to People Citizen Ambassador Programs.
I invite you to join me to participate in this important international exchange, Eisenhart writes. Our goals will be to learn about South African womens representation in higher education, current research on women in higher education in South Africaand the issues facing South African women in higher education today.
Eisenhart readily discloses her academic ties to CU and even touts that relationship in the letters first sentence.
As University Distinguished Professor of educational anthropology and research methodology at the University of Colorado, I am honored to have been selected as leader of the Women in Higher Education Delegation to South Africa, states Eisenhart, who has served as a delegation leader on at least three other People to People trips.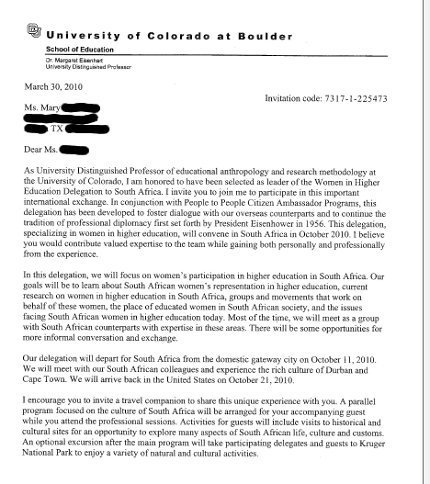 The professor applauds the trips affiliation with People to People Ambassador Programs, which is part of the publicly-traded Ambassadors Group, Inc. (EPAX). The Spokane, Washington, company arranges and markets worldwide educational trips -- under the People to People name -- for students, athletes, and professionals.
In conjunction with People to People Citizen Ambassador Programs, this delegation has been developed to foster dialogue with our overseas counterparts and to continue the tradition of professional diplomacy first set forth by President Eisenhower in 1956, Eisenhart writes.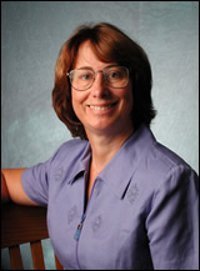 Prof. Margaret Eisenhart (University photo)
Those who receive Eisenhart's letter are urged to act quickly or risk losing their spots on this $6,000 trip, which she describes as a unique experience.
In the event that you are unable to accept this invitation, an alternate delegate candidate may be invited, she warned, adding recipients can also recommend someone else for the trip.
Eisenharts letter appears to be targeted to higher education professionals that she personally handpicked. I believe you would contribute valued expertise to the team while gaining both personally and professionally from the experience, she states.
No relationship
But a Texas couple who received the solicitation says they dont have a personal or professional relationship with Eisenhart. And they want to find out how she -- or People to People -- obtained their private home address.
They also want to know why the solicitation was addressed to a name that is almost identical to the wifes deceased mother. The only difference is the middle initial its a G in the letter instead of the correct C.
My mom never lived at this address, said the womans daughter, Mary. Id like to know how they got the name or what they thought was a name.
Mary also wonders why her moms name is still on any companys mailing list. She died five years ago, Mary said. She was 85.
My mom was involved in the field of higher education all her life, Mary said. She had a Ph.D in education and this is the kind of letter that my mom would receive. But its clear somebody has a database that is really messed up.
Not the first time
As ConsumerAffairs.com has reported, this isnt the first time People to People has sent a solicitation for one of its oversea trips to the family of a deceased person.
A Florida couple has received two different letters in two different years -- from People to People inviting their deceased daughter to take an educational trip abroad. The letters came in 2006 and 2008. But the couples daughter died in 1992. She was 18 days old.
People to People has also invited a deceased cat on one of its trips. The "Parents of Earl Gray" received a letter in 2006 stating their "son" was eligible for a trip to Europe and "named for this honor by a teacher, former Student Ambassador or national academic listing."
But the Arkansas parents told us Earl was their all white, one-eyed, cat. He died in 1996 and is buried in the couple's back yard. He was 14 years old.
People to People also came under fire in 2005 after an Iowa woman received one of the companys letters stating her son was named for a Student Ambassador trip overseas. The woman's son, however, died in 1993. He was seven weeks old. People to People has blamed the company that handled its mailing list for these errors.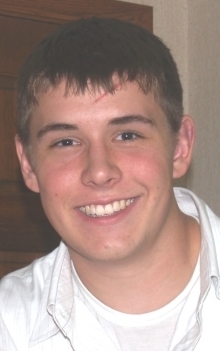 Tyler Hill, Minnesota teen who died on a 2007 People to People trip to Japan (Family photo)
Weve also learned that People to People used the name of a teenage boy who died one of its trips in a letter designed to recruit more students to participate in the Student Ambassador Programs. The teens parents said the company did not have permission to use their sons name and told us they were outraged People to Peoples marketing tactics.
Back in Texas, Mary and her husband -- a former teacher -- raised other concerns about the solicitation they received from Eisenhart. They questioned the professors decision to lend her name, academic title, and the schools stationery for a solicitation not authorized by the university.
My mom never lent her name out, Mary said. This sounds somewhat strange to meI think there are definitely some issues here that need to be addressed.
Im not as angry about this as I am baffled, she added. But if this is a scam, Im not happy that my mom is associated in any way.
The couple also said the universitys name and logo on the solicitation gave it credibility at least at first blush. And they wondered why -- or if -- the state-funded university would allow its name and stationery to be used in a solicitation for an outside company.
I immediately zeroed in on the letter because it was from a university, Mary said, adding CUs name was listed on the envelope. From a marketing standpoint, its a smart move, but if its inappropriate it needs to stop.
Solicitations about the trip, however, didnt stop.
A second letter
A few days after Mary and her husband received the first letter about the South Africa trip, another one arrived at their home. The second letter was also addressed to the same name that closely resembled Marys deceased mother.
It came from People to Peoples director of Professional Programs and solidified the relationship between Eisenhart and the travel company.
We are honored to have Dr. Eisenhart as the delegation leader, the companys Yvonne Trudeau wrote. Her guidance in the development of this project has been invaluable.
Trudeaus letter, however, isnt written on CU stationery. Its penned on People to People International (PPI) letterhead. PPI is a non-profit organization based in Kansas City, Missouri, that boasts about its ties to a former United States President.
Founded in 1956 by President Dwight D. Eisenhower, as a vehicle to expand international relations beyond the structure of government agencies, People to People International is a nonpolitical, private-sector organization dedicated to promoting international peace and understanding, Trudeaus wrote in her letter.
But Eisenhowers name is not listed on the incorporation records for PPI filed with the Missouri Secretary of State. Those records reveal Alfred Frankfurter, Franklin Murphy, and Joyce C. Hall incorporated the non-profit organization in October 1961.
ConsumerAffairs.com learned that PPI has a contractual agreement with the Ambassadors Group that allows the company to use People to Peoples name and logo when marketing the educational trips. Tax records show revenue from those trips is funneled back into the coffers of the PPI, which is run by President Eisenhowers granddaughter, Mary Eisenhower.
In her letter, Trudeau makes a strong sales pitch for academics to take the South Africa trip and warns they could lose their places if they dont respond quickly in writing and with their checkbooks.
To accept this invitation, please complete and return the enclosed application with a $500 per-person deposit as soon as possible, Trudeau states.
No comment
ConsumerAffairs.com contacted People to People Ambassador Programs about the solicitations and the use of CUs stationery in the marketing campaign. The company did not respond to our repeated inquiries. We also contacted Professor Eisenhart, but she didnt respond to our inquiries, either.
A CU spokesman told us the university wasnt aware of the solicitations -- and the use of its stationery in this recruiting effort -- until contacted by ConsumerAffairs.com.
Now that were aware of this, were certainly going to desist, spokesman Bronson R. Hilliard said. Our faculty are advised not to lend official stationery with department logo to anyone without clearing it first with the university. She (Professor Eisenhart) had not done that.
Weve spoken to her and her dean about this and they understand what went wrong and are fixing it, he added.
Hilliard confirmed that Eisenhart wrote the solicitation, but said she had no knowledge about how the mailing list was compiled or used.
She was asked to write a letter to recruit other people like herself to go on this trip with her, he said. She doesnt know any of the particulars about the mailing list. She was open about this and said she didnt know any of the details. She agreed to write the letter and assumed that it would go to other faculty.
Hilliard also told us that CU had no role in marketing the solicitation or generating the mailing list used. The university, he added, has no commercial ties to People to People or the Ambassadors Group and did not authorize them to use of its stationery or logo in the solicitation that is not sanctioned by CU.
Asked if CU is covering the cost for Eisenharts trip, Hilliard said: Her trip is paid for by People to People, but she is not paid by People to People. She receives no stipend or fee. He also confirmed that Eisenhart has taken previous trips with People to People and found them to be productive and enriching.
"Regrettable situation"
Hilliard called it a regrettable situation when he learned that Mary received a solicitation -- on CU stationery -- addressed to a name that closely resembled her deceased mother.
There was no harm intended (by CU or Eisenhart) to the good family of this deceased individual, he said.
ConsumerAffairs.com also contacted the American Association of University Professors (AAUP) about the solicitation.
Spokesman Greg Scholtz said professors are advised not to blur the lines between their private lives and their academic roles at a college or university. And he cited two AAUP policies that he said address this issue:
*The 1940 Statement of Principles on Academic Freedom and Tenure, which states, in part, that when speaking or writing as citizens, college professors should make every effort to indicate they are not speaking for the institution;
*The organizations Statement on Professional Ethics, which states that professors have the rights and obligations of other citizens. But when they speak or act as private persons, professors should avoid creating the impression of speaking or acting for their college or university.
Back in Boulder, Hilliard acknowledged that CU has not done a good job of communicating to its faculty where the boundaries are when lending their names -- or the universitys stationery for promotional activities.
Professor Eisenhart did not check with anyone about this and she didnt realize that she needed to check with anyone, he said. This is a wake-up call to our institution. We will be conducting training with our department chairs and the deans of our colleges and schools and make sure that information about those boundaries is passed on to our faculty.
We will go the extra mile to make sure the faculty knows that using our letterhead and symbols is not something you do without checking with us first.
Hilliard also said he will remind faculty members to thoroughly check the background of any organization or association before lending them their names and support.
I will urge them to do a little more research, ask those tough questions, and find out how theyre (the groups) are marketing themselves, he said, adding he shared the stories ConsumerAffairs.com has written about People to People with Eisenhart and her dean.
Im going to use this (experience) as a media training for our faculty, Hilliard told us. This is a teaching moment. And rest assured weve learned a lesson at CU Boulder.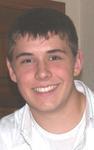 A University of Colorado professor is under fire for lending her name and the universitys letterhead -- without authorization -- to recruit participants for an upcoming People to People trip to South Africa.
The solicitation has also irked a Texas couple, who say they received one of the letters addressed to a name that closely resembled a deceased family member.
This is the latest marketing gaffe involving the company that handles People to People trips and that has a his...
More
People To People Leaders Allegedly Drank Beer While Student Was Dying
Allegations made by family of deceased student Tyler Hill
08/07/2009
|
ConsumerAffairs
Four delegation leaders on a People to People trip -- in which a Minnesota teenager died -- drank beer in their Tokyo hotel room instead of getting the 16-year-old the medical assistance he requested after he climbed Mt. Fuji.
That is one of the startling findings released today by the teen's parents, who announced the official settlement of their civil action in the wrongful death lawsuit they filed in the wake their sons June 29, 2007, death.
The terms of the settlement are confidential, but Sheryl and Allen Hill are now sharing some of the details they learned -- during depositions and other legal proceedings -- about the death of their son, Tyler, on his "dream trip" to Japan.
The Hills filed their 2008 wrongful death lawsuit in Hennepin County District Court against Ambassadors Group, Inc. -- the company that markets the People to People trips and handles all the travel arrangements --, People to People Student Ambassador Programs, People to People International, a United Kingdom organization called docleaf Limited, two of its employees -- Larry McGonnell and Dr. David Perl -- and the four delegation leaders on Tyler's trip: Susan Stahr, Pat Veum-Smith, Josh Aberle, and Angela Hanson.
In that action, the family alleged that People to Peoples' delegation leaders refused to take Tyler to the hospital when he requested medical attention.
Tyler had Type 1 diabetes and complex migraine headaches conditions his family disclosed before he left on his overseas journey.
But the travel organization that touts its ties to President Dwight D. Eisenhower assured the Hills it had a solid safety record and a 24-hour response team that could handle any medical emergency.
That promise laid the foundation for the Hill's lawsuit, which alleged that no one with the organization responded to Tylers pleas for medical attention when he became sick after hiking Mt. Fuji and his death in the Japanese Red Cross Medical Center was the result of that negligence.
Earlier today, the family released more details surrounding Tyler's death.
"Sheryl Hill was told by one of the leaders that on June 26, 2009, Tyler thought he had altitude sickness after climbing Mt. Fuji, and he wanted to go the doctor," the Hills said in a statement. "The leader gave him water, and told him to go to his room and work through it."
At that point, the Hills learned, the four delegation leaders went to a hotel room and started drinking beer.
"Veum-Smith, Hanson, and Stahr joined Aberle in his room, where all of the leaders drank beer until sometime between 12:30 and 12:45 a.m.," the Hills said in todays statement.
Those comments appeared under the heading "Evidence before Hennepin Country Court."
"Tyler had been vomiting for hours and asked for enough water to feed a family," the statement continues. "He was held back for the day's activities; his heart stopped less than 10 hours later. Despite specific training to contact the parents or seek medical attention when a child shows 'moderate' signs of dehydration, no phone calls were made to the Hills until Tyler's heart had stopped for than an hour."
Tyler died of apparent "severe dehydration," the Hill said, adding all four delegation leaders had training on treating dehydration.
The Hills today also said they discovered:
• Two of the delegation leaders searched Tyler's belongings and took pictures of some items while he was in the hospital. "While Tyler was dying in the hospital, Aberle and Hanson went through Tyler's personal belongings and took photographs of his medications and insulin," the family's statement said.
• One of the delegation leaders was on a previous People to People Trip in which student died. "Stahr was a student ambassador leader on a trip to New Zealand where another student died," the Hill's statement said. "The Hills were not informed or her prior safety record."
Asked if the settlement resolves all the issues alleged in their lawsuit -- and brings the family peace -- Sheryl Hill told us: We asked for truth, justice, accountability, and restitution. Justice is an open window and I would accept any help."
The lawsuit, however, does resolve the issues of restitution and accountability, the family said in today's statement.
The Ambassadors' Group CEO Jeff Thomas has publicly apologized and acknowledged that his organization accepts some responsibility for Tyler's death.
"Through hindsight we can see that there are steps that all of the leaders should have taken that could have prevented Tyler's death on June 29, 2007, during a trip to Tokyo, Japan, and regret that they were not taken," Thomas said in a statement released in June. "We are very sorry for Tyler's death and the Hill Family's loss and the impact it has had on many. We continue to review all policies surrounding students with pre-existing conditions, including diabetes protocols, to refine our procedures."
The judge in the Hill's case also granted a motion permitting the family to amend their complaint and seek punitive damages against Ambassadors Group Inc. and others named in the action.
But does the settlement bring peace and solace to the Hill family -- Sheryl, Allen, and Alec -- who continue to grieve the loss of their beloved son and older brother?
The son and brother they lovingly called "Ty man a top athlete who had 'dominated' his diabetes and was known for his big smile and tender heart.
"I will have found peace when the Travelling Youth Standards of Safety law passes," Sheryl Hill told us today.
Since Tyler's death, the Hills have advocated for the safety for students participating in travel programs. "How could I (we) not do that?" Sheryl Hill said. "To not do that would be like tossing another kid in the fire."
The legislation the Hills support would ensure that safety measures, sanctions, and penalties are in place to protect students participating in various travel programs.
"No safety standards, sanctions or penalties exist to protect children's health and safety rights while entrusted to third parties, especially during travel programs," the Hills said in their statement today. "Children have been denied health care, died, hurt, abandoned, raped and suffered severe illnesses, while traveling with some student travel programs. There is currently no oversight committee dogging the student travel industry."
The Hills' efforts have the backing of two of Minnesota's Congressional leaders.
"I am extremely grateful to Senator Amy Klobuchar and Congressman Erik Paulsen for hearing me and supporting the advocacy for the safety of students on these trips," Sheryl Hill told us.
Tyler, she said, would also champion the family's safety campaign. "Tyler would say 'You rock, mom,'" Sheryl said.
Her husband, Allen, added. "I think he would say that he was proud of us for sticking up for him and other children."
Another advocate of the Hills' legislative effort is Danielle Grijalva, director for the Committee for Safety of Foreign Exchange Students.
"I receive numerous complaints about other travel agencies from children and their parents about supervisors being intoxicated, molestations, children being denied health care when they are sick, unsanitary living quarters and 'unaccounted for' children," she said. "Parents need to inform themselves of the safety record of agencies and supervisors they are entrusting their kids to."
ConsumerAffairs.com has received complaints about students going missing, being "unaccounted" for unknown periods of times, becoming sick, or even struck by a car on recent People to People trips.
A single mom in New York told us her 11-year-old daughter was hit by a car during a recent People to People trip to France and England. The delegation leaders, however, did not disclose all the details of the accident to Heather M. of Schenectady, New York.
"I was informed that another child had bumped her into the narrow street of London and a small light car over her foot," she said. "(They said) nothing was broken and she was given two pain pills and told to take something over the counter for pain."
When her daughter returned home, however, Heather learned the accident was much more serious.
"She was struck - whole body -- by a car. Feet, legs, and arms," Heather said. "She had bruises on her foot, toe, ankle, arm, and stomach. She traveled in an ambulance to the ER - something I was not told on the day of incident.
"We had a follow-up with her pediatrician, who said she was a very lucky little girl," she added. "Only time will tell what will come from her injuries in the future."
People to People offered no apologies for the accident, Heather said. Instead, the organization sent her a bill for the delegation leader's lunch at the hospital and travel to and from the medical facility.
"I am to pay for the delegation leader that was to be watching my child?" Heather asked. "I spent about $6,000 for my daughter to come back in fear and (feeling) that she never wants to do a People to People "adventure" again."
A Kansas mom also told us her 17-year-old daughter lost several pounds on a recent People to People trip because the delegation leaders did not -- as promised address the teenager's severe food allergies and other medical issues.
"My daughter has asthma, a severe milk allergy, immune deficiency and is anemic," Karen D. of Louisburg, Kansas, told us. "If she eats or drinks too many dairy products it will trigger an asthma attack.
"I informed the organization of my daughter's health issues prior to her leaving and they assured me they could handle any medical issues."
During the trip, however, Karen's daughter called home and said she couldn't eat off the "required" People to People menu because it contained too many dairy products.
Karen immediately wired her daughter $300 for pay for food she could eat. The worried mom also sent an e-mail to the delegation leaders reminding them of her daughter's health issues.
The delegation leaders, however, ignored Karen's concerns. "She (my daughter) was never allowed to buy her own food. My daughter went up to the delegation leaders many times and said she couldn't eat what's on menu. But they said thats all you can haveyou have to eat off the People to People menu."
She added: "Instead of contacting me to see what we could do about this, they retaliated against my daughter by harassing her, insulting her dignity, character, and causing her asthma to flare up."
When Karen's daughter returned home, the 5' 7" inch teenager, who normally weighs 120 pounds, had dropped seven pounds.
"She's a tiny thing," Karen says. "She cannot afford to lose that weight. She also came home with raspy voice as well as shallow breathing, and for a week after the trip had to use her breathing machine for heavy duty treatments to get her lungs back on track."
In retrospect, though, Karen says she's lucky her daughter didn't suffer more serious health problems during -- and after -- the trip.
"I think about Tyler Hill and worry that could have been my daughter, too," says Karen, who is still trying to get answers from People to People about her concerns. "I could have gotten a call that said she had a serious asthma attack. And what would they (the delegation leaders) have done? These people need to be trained."
"I know I got very lucky."
ConsumerAffairs.com also confirmed that three American students traveling abroad on recent People to People trips went missing or were unaccounted for an unknown period of time. The Ambassadors Group is also facing a class action lawsuit, which alleges the organization's directors issued misleading and overly optimistic statements about the company's financial future.
ConsumerAffairs.com contacted People to People today regarding the Hill's statements and the recent complaints leveled against the organization. The company did not respond to our inquiries.
Back in Minnesota, Sheryl Hill offered some advice to parents who are considering letting their children participate in a student travel program.
"You have to check out the organization and its leaders," she said. "You have to ask tough questions. The leaders on Tyler's trip were senior leaders -- they had been on previous trips."
"You also need to find out the organization's alcohol policies. And make sure you have a passport so you can get your child (immediately) if you need to. If, at any point, you feel your child is in danger call the Federal Bureau of Investigation (FBI)."
Hill and Grijalva also recommend that parents contact foreign police authorities to report abuse and then contact local, state and federal agencies to report child endangerment.
The U.S. State Department has a special Students Abroad Web site with more information and tips.
The State Department also has a Web site with information on what Americans should do if they become victims of a crime when traveling overseas.
More about People to People
Four delegation leaders on a People to People trip -- in which a Minnesota teenager died -- drank beer in their Tokyo hotel room instead of getting the 16-year-old the medical assistance he requested after he climbed Mt. Fuji.
That is one of the startling findings released today by the teen's parents, who announced the official settlement of their civil action in the wrongful death lawsuit they filed in the wake their sons June 29, 2007, death.
The terms of the settlement ...
More
Sort By