Find the Best Streaming Services and Devices

Compare Reviews for Top Streaming Services and Devices

Roku
Read 601 Reviews

Roku helped pioneer streaming devices, shipping the first device that streamed Netflix in 2008. Today it continues to make streaming devices where you can access all of your video streaming services from one location.

Shop Now
Netflix
Read 2,071 Reviews

Based in Los Gatos, California, Netflix is a streaming media and film and television productions company. Basic streaming services start at $8, Standard is $10 and Premium is $12.

Hulu
Read 561 Reviews

Hulu is a subscription streaming service that offers video on demand for past and current television shows. Hulu streaming services start at $8 per month, and their live television service is $39.99 per month.

Get Started
Sling TV
Read 572 Reviews

Live TV streaming service. Affordable alternative to traditional cable. App-based service lets you stream on several types of devices. Up to four streams at one time. Two main package options and add-ons available.

Learn More
Disney Plus
Read 47 Reviews

Subscription-based streaming service from Disney. Stream classic animated films, live-action movies and Disney Channel original programming. $6.99/month.

Amazon Instant Video
Read 145 Reviews

Sign up for a 30-day free trial of Amazon Prime! *

*Partner terms and conditions apply.

Amazon Instant Video is a streaming service for Amazon Prime members that lets you watch digital movies and TV shows. Amazon Instant Video differs in price depending on the title you buy or rent.

Get Started
Apple TV
Read 54 Reviews

Apple TV is a hub for all your entertainment needs. You can enjoy music, TV and games available from iTunes, Netflix, Hulu and more. Apple TV is easy to install and comes with complimentary technical phone support for 90 days.

TiVo
Read 159 Reviews

TiVo hit the market in 1999 with the DVR. Today its BOLT box turns your TV into a smart TV and lets you integrate your favorite streaming apps like Hulu and Netflix with your TV. It comes in three models ranging from $199 to $499.

AT&T TV Now
Read 35 Reviews

Month-to-month streaming service starting at $40/month. Stream your favorite shows, and add premium channels for as low as $5/month. International TV available. There's no contract, so you can cancel anytime.

YouTube TV
Read Author Review

YouTube TV lets you stream 48 popular channels for $35 per month. You can have up to 6 individualized profiles on one account and stream on mobile devices, TVs and computers.
Common questions about streaming services and devices
Can you stream content on more than one device at once?
With video streaming services, you can watch shows and movies on multiple devices at one time. Most major streaming services let you stream from at least two devices at once; some allow more.
What devices do streaming services support?
To stream content from a streaming service company, you need a device that works with the streaming service. Make sure you have at least one of these devices before you choose a company.
Smart TVs: Most new TVs you buy today are smart TVs, meaning you can access the internet from your TV via your wifi connection. Most streaming services have integrated with major TV brands so you can access your accounts from your TV's home screen.
Mobile devices: Make sure the streaming device you choose is compatible with your mobile devices. Most companies are already compatible with Apple and Android mobile devices, so if you have a Windows, Amazon or another device, make sure you'll be able to stream content from it.
Streaming hubs: Streaming devices like Roku, Amazon Fire Stick and Chromecast act as a central hub where you can access your streaming services from one dashboard. You can download each company's app to your hub and stream content directly from your device.
Gaming consoles: Gaming consoles like Xbox One and PlayStation integrate with most streaming services to act as a central hub for streaming content.
Laptops and desktops: You can download your streaming service company's app to your laptop or desktop, login and stream content from your computer.
What channels do streaming services offer?
Most people ditch their cable provider because they overpay for a bunch of channels they don't even watch. Streaming services can come to your rescue by offering packages of the most popular channels on cable, as well as á la carte options.
Packages: Almost all streaming service companies offer at least one package (usually more) that contain some of the most popular channels on cable TV. The most common packages include around 30 to 50 channels, with some reaching closer to 90 channels.
Live sports: Missing out on live sports is a big deterrent for a lot of people looking to cut the cord. Most companies have got you covered with this issue as well. Almost all packages include the major sports networks. Don't have what you're looking for? Choose a streaming service with an á la carte feature and add a more complete sports package.
Premium add-ons: If you enjoy premium channels like HBO, Showtime and Cinemax, check to see the if the company you're considering offers them as add-ons. Most offer at least one premium channel.
Do streaming services have contracts?
No contract? No problem. One of the most attractive features of streaming service companies: No commitment.
No contracts: All major streaming service companies let you cancel your subscription online at any time.
Free trials: Most offer free trials, lasting a week to a month. Once your trial is up, the company will charge your credit card each month until you cancel your subscription.
Do streaming services allow multiple users?
Most companies let you have multiple profiles on one account. Each user can personalize and use their own profile.
Split the cost: This is great for families and groups of friends who want to split the cost of one account.
Keep content separate: Multiple profiles let you keep movies, shows and other preferences separate, allowing the streaming service to make recommendations based on content you've watched.
Different types of streaming services and devices
Movies and TV shows only
Some streaming services only give you access to old and new movies and TV shows. Certain streaming services will add and delete movies and shows each month while others have current episodes of TV shows available the day after those episodes air. Finally, some services act like an online rental store and let you buy or rent films from a large library of movies.
Live TV streaming
Live TV streaming services put together packages with some of the most popular cable channels for a monthly subscription fee. Some services let you add other channels on top of your package as an á la carte feature. Most live TV streaming services have a DVR option that lets you pause and come back to shows at a later date.
Types of streaming devices
There are few different types of streaming devices. Modern gaming consoles like PlayStation or Xbox double as a streaming device. You can also buy iOS and Android compatible boxes that plug into your TV's HDMI slot. These boxes let you download streaming service apps and keep them on one dashboard for easy access. Some streaming devices come in the form of a stick that plugs into your TV's HDMI slot. These are highly portable and can be taken with you when you're traveling.
People who can benefit from streaming services and devices
Cord cutters
Getting rid of your high cable bill is becoming more and more of a reality thanks to streaming services offering popular cable channels. You can also watch past and current shows whenever you want.
Sports junkies
One of the biggest concerns associated with cord cutting is the fact that you might miss out on live sports. Most streaming services offer all major sports channels in either their subscription packages or as add-ons.
People on a budget
On a tight budget? Streaming services like Hulu and Netflix cost less than $10 per month. Even live TV streaming services give you 30 or more popular channels for as little as $20 per month.
Movie enthusiasts
If you don't care about live TV but love watching old and new movies, streaming services have thousands to choose from. Whether you're renting, buying or subscribing, you'll always have a good flick to watch.
Thank you, you have successfully subscribed to our newsletter!
Streaming services and devices company reviews

Netflix got its start in 1997 and is based in Los Gatos, California. It provides streaming services around the world and produces its own films and television shows called Netflix Originals. You can choose from three streaming plans: Basic, Standard and Premium. The plan you choose determines how many devices you can stream from at once.
Read More

TiVo first appeared in 1999 with the DVR. Today it offers the TiVo BOLT, a streaming device that turns your TV into a smart TV by integrating your favorite streaming apps like Hulu, Netflix, Sling TV and more. The BOLT comes in a 500GB, 1TB and 3TB storage capacities. That comes out to be about 75, 150 and 450 hours of show and movie storage capability. Pricing starts at $199.99 for the 500GB BOLT, $299.99 for the 1TB and $499.99 for the 3TB.
Read More

YouTube TV lets you stream 48 popular channels like ESPN, FS1, FOX, NBC, FXX and more for $35 per month. You can sign up for a one-month free trial and cancel online at any time.
Storage: YouTube TV gives you unlimited cloud storage for saving shows and watching them later. Simply tap any show or live sporting event and record it. You can also set it to automatically record upcoming episodes of your favorite shows.
YouTube TV app: The app is well designed and user-friendly. You can download it on your mobile devices or streaming devices like Apple TV, Chromecast and Roku. The app has three tabs: Home, Library and Live. The Home tab shows you recommendations, the Library tab shows you movies and shows you've saved and the Live tab shows you what's currently playing on all 48 channels.
Multiple accounts: One YouTube TV subscription gets you six accounts so you can share with family members or friends. Each person can personalize their account, so you don't have to worry about mixing shows and pre-recorded episodes with six people.
Channels: YouTube TV comes with 48 popular channels like FOX, Freeform, FXX, Disney, and USA. If you're worried about missing live sports, you get ESPN, ESPN2, ESPNU, FS1, FS2, NBC Sports, FOX Sports, SEC Network, NBC Golf and CBS Sports. Additionally, you can add Showtime for $11 per month and FOX Soccer Plus for $15 per month.
Multiple devices: You can stream live TV from up to three devices at once with one YouTube TV account.

Hulu is headquartered in Los Angeles and is owned by The Walt Disney Company, 21st Century Fox, Comcast and Time Warner. You can watch current and past TV shows from its owners' networks and content partners. It recently started offering a live TV streaming monthly subscription.
Read More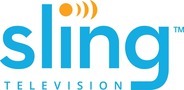 Sling TV is an internet TV streaming service owned by Dish Network. It offers three packages: Blue, Orange and a combo Blue/Orange package. Each package includes some of the most watched TV channels as well as lesser known channels, including all major sports channels. Each package includes DVR features so you can watch shows at a later date.
Read 572 Reviews

Acorn TV brings the best of non-American shows to America via online streaming. You can enjoy shows from the United Kingdom, Ireland, Canada, Australia and New Zealand.
Memberships: A monthly membership with Acorn TV is $4.99 every month until you cancel. You can opt for the annual membership for $49.99, which equals out to only paying for 10 months. Each membership comes with a free seven-day trial and can be canceled at any time.
Shows: You can browse a full list of shows on Acorn TV's website. Filter them alphabetically or by genre (mystery, drama, comedy, documentary and feature films). Acorn TV has nine foreign language films to choose from as well.
Show schedules: Acorn TV includes showtime schedules on their website. Filter by what's new in the current month, what's coming soon and what's leaving soon. You can also watch trailers for each show and see a description.
Gifts: You can buy an annual subscription for someone as a gift and receive a free month for each gift purchase.
Supported devices: You can stream Acorn TV on Roku, Apple TV, Samsung smart TVs, iPhone, iPad, Amazon Fire TV and Chromecast.
Multiple devices: You can download and use Acorn TV account on any streaming device.

Amazon Instant Video is a digital movie and TV show streaming service. It is separate from Amazon Prime, although Prime members have free access to a lot of video content in Instant Video's library. You don't have to be Prime member to rent movies and shows from Instant Video.
Read More

Amazon Fire Stick is a streaming device that acts as a central hub for your video streaming services. It's about the size of a USB stick. It plugs into your TV's HDMI slot and allows you to stream content from streaming services like Netflix, Hulu, YouTube and HBO Now. Amazon Fire Stick sells for $40.
Voice Remote: Fire Stick comes with a remote control that integrates with Alexa voice control. You can speak commands into the remote and Alexa take you where you need to go. Simply say "Play Game of Thrones," and Alexa will pull up episodes from that show.
Central hub: Like other streaming devices, Fire Stick serves as your central hub for all of your streaming service apps. You can download Netflix, Hulu, HBO Now, YouTube, Amazon video and 15,000 other apps to your Fire Stick.
Prime member benefits: If you're an Amazon Prime member you get unlimited access to Prime Video, which has thousands of movies and shows. You can also add over 100 premium specialty channels like HBO and Showtime.
Pick up where you left off: You can remove Fire Stick from your TV and pick up a movie or TV show where you left off. If you're traveling or frequently on the go, you can plug Fire Stick into any TV's HDMI port and continue watching content without missing anything.

Crackle is a free, ad supported, online streaming service that offers movies, TV shows and original programs. You can download the Crackle app to your iOS, Android and other streaming devices. You must register and set up an account to start using Crackle.
Personalized experience: Once you register your account, you can personalize your experience by setting alerts for premiers and saving your favorite shows and movies. Crackle will also show you content based on what you watch most.
Movies: You can search for movies in over 10 genres. Crackle makes it easy by letting you filter your search by genre, length of the film or alphabetically.
TV shows: Browse TV shows based on genre, episode length or alphabetically. Crackle will autoplay your favorite shows with its "Always On" feature while you simultaneously search for other shows.
Convenient watching: Caught up in a show but need to hit the road? You can pause and resume watching on multiple devices to pick up where you left off.
Supported devices: You can stream Crackle using Apple, Android, Windows and Amazon phones and tablets and Roku, Apple TV, Chromecast and Amazon Fire TV. You can also stream from Crackle using Sony, Samsung, LG and Vizio smart TVs and PlayStation and Xbox gaming consoles.
Multiple devices: Crackle can be downloaded on any streaming device or smartphone.

Roku lets you have all of your video streaming services in one place. You have access to over 500,000 movies and TV episodes from free and paid channels. You can add streaming services such as Netflix, Hulu, HBO Now, Crackle, Sling TV and more. Roku streaming players start at $30.
Read More

Google Chromecast is a video streaming device that plugs into your TV's HDMI port. You can stream all of your favorite content from streaming services like Hulu, Netflix, Sling TV and more. You can get Chromecast for $35.
Mobile remote: Control Chromecast with your smartphone or tablet. You can download streaming service apps like Netflix, Hulu and Sling TV onto your smartphone, hit the "Cast" button and the content on your phone displays on your TV screen. This makes browsing streamable content as simple as accessing social media on your phone.
Thousands of shows: You can download and stream over 200,000 TV shows and movies, as well as over 30 million songs. Download free, paid or subscription apps such as ESPN, HBO, Netflix, Spotify and YouTube and have them available in one central location.
Mirroring: If you have an Android device, you can stream exactly what you see on your mobile device on your TV. This feature is great for showing vacation photos and videos, viewing social media or giving presentations.
Chromecast Ultra: Chromecast Ultra is an updated version of the original. It can stream 4K ultra high definition (UHD) content as long as your TV supports 4K UHD. Whether the content you're streaming is optimized for 4K or regular HD, Ultra automatically adjusts the content for the best picture quality. Chromecast Ultra is $70.
Compare Reviews for Top Streaming Services and Devices

Amazon Fire Stick
Read Author Review

Amazon Fire Stick is a device the size of a USB stick that you plug into your TV's HDMI slot so you can stream content from streaming services over a wifi connection. Amazon Fire Stick is $40.

Acorn TV
Read Author Review

Acorn TV is a subscription TV streaming service that offers TV programs from the United Kingdom, Ireland, Canada, Australia and New Zealand. Monthly subscriptions are $4.99 per month or $49.99 per year.

Crackle
Read Author Review

Crackle is an online streaming service that offers movies, TV shows and original programs. It's free of charge and can be downloaded as an app on your mobile device or Apple TV, Roku and gaming console.

Google Chromecast
Read Author Review

Google Chromecast is a video streaming device that plugs into your TV's HDMI port. It works with iOS, Android and Windows products as well as Chromebook. Chromecast retails for $35.
Disclaimer
Information in this guide is general in nature and is intended for informational purposes only; it is not legal, health, investment or tax advice. ConsumerAffairs.com makes no representation as to the accuracy of the information provided and assumes no liability for any damages or loss arising from its use.
You're signed up
We'll start sending you the news you need delivered straight to you. We value your privacy. Unsubscribe easily.