Consumer Complaints and Reviews

I bought 2 pairs of size 10 shoes April 2017. Arrived at different times. One was fine, the other were brand new, very cute shoes but they had sent me the wrong size. Instead of a 10 they sent me a 6. I called the same day they arrived to request an exchange for sending me the wrong size. They explained that the size 6 is the only size they have in stock so I could just return it. I had to argue with them and speak to a supervisor to get them to agree not to charge the $6.95 restocking fee since it was their mistake. I was emailed a UPS return label that I printed & boxed back up the shoes all in the same day they arrived. UPS picked them up from me 3 days later. Thought everything was fine UNTIL about a week later I received the shoes back from Shoebuy with a note saying the shoes had been worn so they couldn't give me a refund.
I was really confused & upset because I knew I hadn't worn these shoes because I literally couldn't have worn them since they are a 6 and I wear a 10!! At this point I knew the company had screwed me and I was not going to get my money back. Even though they had a record that I had called the same day they arrived, that they had issued me a return label, that UPS had shipped them back 3 days later, none of that mattered. I called them and they claimed they had a picture of the shoes when they were returned and they show they have been worn. They are right about that. These shoes they returned to me have definitely been worn. But they are wrong that these were the shoes I had returned to them. The shoes that came to me were brand new. These shoes they returned to me were obviously not the same pair.
I called them at least 3 times about the issue and they said they would do an "investigation" which consisted of them telling me about the picture. Absolutely nothing I can do. I am stuck with paying for a used pair of shoes not even in my size. Smh. My only explanation for this screw-up is that they mixed my shoes up with someone else's return. I have bought shoes with this company before and had good results. I never imagined something like this could happen. And if it happened one time, it can happen again. Won't EVER trust or buy from this company again! I advise others to stay away as well.

I purchased a pair of Stacy Adams shoes - size 11 Wide from Shoebuy.com on 4/14/2017. When the shoe arrived the box was correctly marked "11 Wide" but the shoes were quite narrow; someone had placed a pair 11 Medium shoes in the box marked 11 Wide. Additionally with a ballpoint pen someone had marked a "W" over the "M" on the embossed size label inside the shoe. I called Shoebuy and informed them of this issue and I sent the shoes back for a full refund. Now this return was through no fault of my own but yet they wanted to charge me a restocking fee of $6.95. After finally agreeing not to charge the fee they credited my account and charged the fee anyway. Their word is not their bond; I have purchased many pair of shoes from Shoebuy.com over the years - but never again. I used to talk highly of Shoebuy, now I talk lowly. Honesty and integrity still have a place in this world - just not at Shoebuy.com

Spoke with two different ladies about returning my shoes and neither would let me take it up with a supervisor. First one put me on hold for 20 minutes so then I called back and the next person wouldn't let me talk with a supervisor. I had order a size 7 shoe and got a size 8. Just didn't feel it was fair for me to be charged 6.95 to get another pair shipped. Will not be buying from people like that again. If it had been my fault I would have been glad to pay. But I order a 7 and received a 8.

Ordered shoes on 4/19. Thought it was a co. I had used before: NOT! Co. maintains 5 days to ship- did not happen. Co. service staffed by individuals who speak English as a second language. 3 conversations; 3 different stories about why item not shipped. Second person provided the 800 number of a LAW FIRM AS
THEIR SUPPLIER- true story!! In short, involved PayPal in effort to recover my $$ even though the confirmation email from Shoebuy stated that $ would be received by them when item was shipped. Shipping has yet to occur and this is Day 6. STAY AWAY!! Do NOT use this "company."

I ordered a pair of shoes (tassels) on April 5. They were delivered to me April 10. I wore them part of the first day (April 11) only to watch the upper stitching break and come completely unraveled on one side. I requested and received a return label via internet and shipped them back in their original box, all materials included, April 12. They were tracked and received on Monday morning, April 17.
When I spoke with the customer service rep (they're nothing more than a call center on the other side of the globe) I was assured that no re-stocking fee would be charged if the shoes were defective, and that a refund would be issued within 3-5 business days. Today marks 7 business days. I've spoken to two other "reps" already - April 24 and today, April; 25. In broken English both quoted me only scripted responses saying they could only tell me my return "was in process". I have a feeling I will never see any refund. DO NOT DEAL WITH THIS COMPANY! Thieves and liars...
How do I know I can trust these reviews about Shoebuy.com?
765,713 reviews on ConsumerAffairs are verified.
We require contact information to ensure our reviewers are real.
We use intelligent software that helps us maintain the integrity of reviews.
Our moderators read all reviews to verify quality and helpfulness.
For more information about reviews on ConsumerAffairs.com please visit our FAQ.

I ordered a pair of shoes that did not fit. I put the return label in the shoebox and shipped back UPS ground. The company states they did not get the return and when they tracked it that it went to a warehouse of theirs. The rep on the phone Leona was very rude and said they would contact me once they located the shoes. I asked to speak to a supervisor and she would not allow me to. I opened an appeal through my PayPal account. Shoebuy has not responded to any emails. Today I will escalate the case and keep going. If you can find your shoes elsewhere, I would do it. This company is unethical, rude, and should be shut down.

I ordered 3 pairs of shoes 4/17/17 and cancelled the order on 4/18/17. The company said that it would try to cancel, but even though its website said "in process" all of 4/17 and 4/18, on 4/19 the shoes were shipped. I have to go through the return hassle.

I bought a pair of Sketchers on Amazon. They were too tight and I need to get another size. I contacted the seller with no response. I then called the 888 customer service number, and their rep was horribly nasty to me and said no exchanges. There is nothing on the amazon site that says I cannot exchange AND it says you can do so, as long as it is in the required time frame. I have been buying on amazon for years with no problems. I do not recommend using amazon to purchase from Shoebuy. I just don't understand how they can expect people to get the right size all the time when you can't try it on first? Very poor customer service and I did not appreciate the nasty tone of the rep either.

I wish I had read reviews before ordering. The shoes did not fit, so I called to ask how to do an exchange. I followed the instructions exactly to avoid a restocking charge. I was charged anyway, so I called to inquire. I was treated very rudely by the man who took my call, who lectured me about the procedure even though I had just explained that I'd followed it. He then accused me of being rude and ended up hanging up on me. I also tried for two days to get through to an operator instead of going through the various options. I was put on hold and cut off four times before I finally got through. Won't bother with this company again.

I ordered 2 pairs of Keen boots for my husband for work knowing that keen is a reputable brand and since he has been wearing keens for years. Unfortunately one pair was defective. I contacted Shoebuy and was told to return the boots. I asked how long it would take to get a replacement and was told that as soon as they (shoebuy) received confirmation from UPS that they were shipped and new order would be placed and the boots would be on their way. They did state that the boots would be coming directly from the manufacturer so shipping time would be up to keen. I mailed the boots back on 4/11/17. On 4/17/17 when I had no boots and had not heard anything from shoebuy I contacted them.
The first woman I spoke to indicated to me that they had not received them yet (she did have confirmation of them being shipped) and that there was nothing she could do until shoebuy received them in their warehouse. I explained what I had been told previously about there being a new order as soon as ups confirmed shipment but still said, "Nothing I can do." When I asked for a supervisor I was disconnected. This happened 5 times. FINALLY I was put through to Paul. He then told me I needed to place a new order and pay for the boots again. Otherwise I would have to wait 10-14 business days for the warehouse to process the return and after that they would place a new order.
When I made it very clear I was not going to put out another $200 for boots I already paid for he said they would contact keen the following day. When I asked why they would call that day he stated keen was closed for patriots day. I called keen myself and verified that they were not closed, they were very much open and all that was required for a warranty claim is a phone call from Shoebuy to keen. I then called Paul back to see him, let him know he lied to me about keen and his story changed to their warehouse was closed. I agreed to give him till midday on Tuesday 4/18 to rectify the situation.
At 330 I received a call from Paul stating that keen will not send out another pair without a new order. So I said, "OK place the order." Paul then told me I would have to pay 200. When I said, "I have already paid you. You have the defective boots in your warehouse. I am not paying you again." I was told I would have to wait 10-14 business days for the warehouse to process my returned boots.
Being furious at this point I hung up and asked my husband to call. He did and spoke with a different supervisor named James. Who again said they wanted another $200. When he refused and said, "Just send me my damn boots" James stated they wouldn't be sending anything. Despite the fact I have already returned them to shoebuy. At this point I am left with no choice but to call my credit card company. And reverse the charges. SHOEBUY IS A GROUP OF LYING THIEVES. They will tell you whatever they have to until they get your money then you're on your own. If I lived in Massachusetts I would file theft charges.

I have ordered from Shoebuy on several occasions without any problems but not so this time. I ordered 2 pair of shoes on 3/4/17 and received one pair right away. The second pair didn't arrive until a week later. I had already returned the first pair as they were too large and received a credit (minus shipping fee) immediately. Not so lucky with the second return. Returned via UPS on 3/16/17, tracking indicated the package was received by Ferris at the dock of Shoebuy 3/21/17, I sent an email to customer service concerning credit (or lack thereof) to my account on 3/29/17. Sent 2nd email to customer service concerning credit on 4/5/17, still no response.
I finally received a reply to my email on 4/8/17 from Ashika; service@shoebuy.com that stated: "Our team has went ahead and forwarded an email to the warehouse regarding the status of your refund. An update should be provided within 24-48 hours." I sent a third email on 4/11/17, after the 48 hour period. Today, 4/13/17, I called customer service and asked to speak with a supervisor. The first person I spoke with (a woman) took my information and asked me to wait a moment which turned out to be more like 10 minutes before the phone went dead.
I call back, this time I spoke with a man but he had a heavy accent and it was difficult understanding him. I asked for the supervisor and he put me on hold for a moment then returned saying that my return was under investigation and they would let me know once it was complete. I said "NO, you investigate all you want but I want my account credited with that return of $81.01 immediately." He asked me to hold again and returned a moment later and said I should get the credit within 1 to 2 business days. I asked him for the supervisor's name but I could not understand him so I asked that he spell it. I still could not understand but hope this is the last time I will have to deal with anyone at Shoebuy again.

I am advising! I ordered shoes on the day of 23 March. I paid the order, money appeared at the seller in an account in a flash, I got the mail certifying the transaction and receiving the payment. On the site after logging on in the status of the order was seen ''processing''. I wrote from 4 mails for the service and I got only one answer, that within 5 days of the order I would get a message with the number of the bill of lading under which I will be able to follow the letter. I got a message from the address: service01@webmicroestore.com. I am advising against the shopping on this site. I there only on that account bought shoes, that at us in Poland I hadn't found such a model.

I had to jump through hoops to finally obtain a return authorization for some very poor quality shoes. They charged me a restocking fee for returning the cheap shoes. The problem is, they never disclosed there was a restocking fee, nor did I agree to pay a restocking fee. They simply charged my credit card. I would not recommend using this company - they are very unreliable.

I wish I'd read reviews before ordering from this company! They gave me "insurance" without asking or informing me and made it impossible to unsubscribe or cancel. Now their company has my information permanently. The "insurance" company said I couldn't unsubscribe because I have their insurance and they may need to contact me in the future. Not a chance! When I followed up by cancelling my order with Shoebuy, they ignored my cancellation and did not respond to my e-mail. NOT a good company!

Have been calling for weeks to obtain a return label for a pair of shoes that are too big. I've been told they'd email the label and still waiting. I'm sure It'll be outside of the window to return if and when I receive any customer service.

I ordered a pair of boots from Shoebuy.com, after I ordered them I went to read the reviews on the website... which are horrible! But I got my shoes, they were exactly what I ordered but we're too tight on the calf so I returned them, and they let me know as soon as they received them (Still waiting to be refunded but it's only been a day since they received them back). I also ordered another pair of boots that fit perfectly and are exactly what I ordered. My experience has been great. Don't knock it till you try it.

I ordered a pair of walking shoes that were too small. I had them on my feet for about 60 seconds. I returned them for a refund. Today UPS delivered them back to me with a message that the soles were dirty, the shoes had been worn so they can't resell them. Not sure what they were looking at. I spent some time on the phone with customer service and they are sending me a picture of the shoes. I just sent them an email with a picture of the shoes they returned to me. I would love to post the picture of the bottom of the shoes on this review.

I had ordered a pair of Propet shoes from Shoebuy through Amazon. They sent me two of the same pair when I only ordered one pair, and now I have to pay their $6.95 restocking fee for something that isn't even my fault. Plus I can't even print out a return label to send them back because the link doesn't work. This company is dirty rotten to the core!!!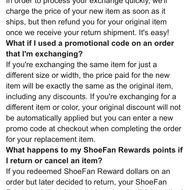 They return service policy is absolutely ridiculous. I thought I read everything to exchange or return something, but I guess I was wrong. This was regarding an exchange I did, and I wanted to pay 10 extra dollars to second day air the correct size shoes I needed. I check my account and they charge me $129 plus The $119 they already charge me for the shoes. Apparently they charged me for a second pair shoes until they receive the original product (2 to 5 business days). Usually when you return something and I get scanned by UPS or FedEx the charges are returned. They obviously are not up to date on technology, and their customer service is exhausting. They must get a lot of complaints for me to be on hold for 10 minutes figuring it a solution for my issues. Will not be buying from Shoebuy again.

They sent me the wrong width shoe. I was told it could be exchanged but I had to send back the shoes first. I did that received an email stating I received a refund minus restocking fee. When I called I was told that the warehouse said it sent the correct size shoe so they gave me a refund minus the restocking fee. And hung up on me twice! Don't buy from them!

Please save yourself from purchasing shoes from here. I have had to deal with so much stress and very unprofessional customer service staff. Shoebuy made the mistake of sending me two different size shoes. Clearly I cannot wear two different sizes. When I contacted them to voice my frustrations the lady was very rude and not helpful. She didn't care about my frustration. I was told I would receive a shipping label. I am now dealing with that. No shipping label still. The last guy I spoke to hung up on me. I am on day two with several phone calls and still can't get them to properly handle their mistake. If I could give them no stars I would. Worst place to deal with. Please save yourself the headache and disappointment you will get with this company. I have told all my friends and family not to purchase from them. I never write reviews but I definitely wanted to let others know how this company is.

Twice my SO ordered a pair of running shoes in a particular color, and TWICE he was sent the wrong color! Both times he called and spoke with a customer service representative about returning the items wrongly sent to him, and both times the rep wanted to charge him a restocking fee! He had to argue with two different reps that it was his fault that they (Shoebuy) sent the wrong shoes so why should he have to pay a restocking fee? Each rep told him they had to speak with a supervisor in order to not charge the restocking fees so then he had to insist that the reps speak with a supervisor in order to get the restocking fee waived. The first time the wrong item was sent; he did as instructed, printed a return label, and since my SO works 60 hours /week, I was inconvenienced having to drive to UPS in order to return the wrongly sent item.
The second time he was sent a wrong item, he asked that they (Shoebuy) call UPS and have UPS come to our house to pick up the second wrong item that was sent to him. He was told by the rep named Kisa(?) that she would, again, have to speak to a supervisor, however, that all supervisors were very busy with other escalations (hmmm, probably because many other orders were incorrect) and that she would have a supervisor call him back. He questioned if that would actually happen, and Kisa(?) went on to promise him that she would speak with a supervisor and personally call him back within the next two hours. That never happened! So now, I am (we are) being inconvenienced, AGAIN having to drive to UPS in order to return an item that Shoebuy wrongly sent to my SO, TWICE! Don't waste your time ordering from Shoebuy. Order instead from Zappos and Amazon, both of which have much better customer service.

I ordered 2 pairs of shoes, when they arrived one was defective, by that I mean that the sole was uneven, and wobbly, and the other was too big. So after a very lengthy wait for an operator, I was notified that I needed to send them back and they would see "if they were defective", the other pair I wanted to return for a smaller size. She then tried to explain their charge and credit system, which did not make a whole lot of sense, but I did what I was told, printed out a return label and wrote down the problem and mailed back. 10 days later I received a notice that they received ONE pair and was sending another one... Now I called, waited again for an operator, and was told that yes indeed they had received both pair, and they were sending me one back, they "did not find it defective".
"What about the other pair," I asked. "Oh you got credit for it," she said. I replied that they did not send me a confirmation to that effect, again she said well they did and it would appear on my bill (Let's see). Now I just received a box from ShoeBuy and guess what?? The same defective shoes are back in my house!!! I am so exasperated that I don't know what to do... They might have great shoes but doing business with them is a CHALLENGE... A very frustrated customer.

Very poor customer service. They don't care at all. Order a shoes at 9.5 they send me 6.5, when I call they want to charge me for shipping return of $6.99 for their own mistake. When you want to do exchange they charge you twice and then you have to wait 5 to 7 business days for your $ back. I will never ever order anything from them again. Shoebuy is the worst place that you can buy shoes. If I can give them 0 stars I will because that is what they deserve. Poor, poor process. I hate them.

Purchased shoes from Shoebuy.com. They advised that I could get a magazine subscription or twenty dollars rebate on a current promotion. I completed the rebate requirements and submitted my application. I never received my rebate. After several attempts to phone Shoebuy they finally answered the phone. Shoebuy told me that I had to contact the rebate company. The rebate application gave only an address, no name or contact information. When I asked for the rebate company name and contact number. Shoebuy hung up on me. I suspect that no promotion existed. Now I know why they have poor reviews and why to never buy from Shoebuy again.

Ordered pair of cowboy boots. Ordered size 12. Received size 8 and not the same style even. Could be issue with Dan ** who fulfilled order. However, since placed order with Shoebuy expected better service when called to explain issue. Have option of refund (ok) or order return boots for another attempt at getting order correct. No explanation why original order was so incorrect.
So I took time to order boots. Make call to return (ensuring no re-stocking charge I hope) and now take time to deliver to shipper to return. Service person was nice enough but got impression return for refund was best "solution" as simpler. I would hope proper order would be fulfilled prior to return but never offered and no confirmation error made on their end. So guess it is adios Shoebuy. Some good pricing but poor customer satisfaction effort.

When my order had not shipped in three weeks, I cancelled it. They still shipped the shoes and are now giving me trouble about returning them. After being on hold twice for twenty minutes each time, I am still not being given any meaningful help. As a side note, the music played while you are on hold seems to be intentionally irritating. It is full of static which gets worse the longer you wait. As a person with some background in sound, I can tell you that having listened to this twice, the "static" is built into the recording to irritate the listener. Living in a remote area we do almost all of our shopping online. Shoebuy has been my worst experience ever and I will never buy from them again! This is a crooked company, please stay away from them. I will also be looking for other locations to give these folk negative reviews.

Wow I tell you I hate spending my money at places that don't care about their customers. I bought 7 pair of shoes and 3 of them were too small so I called and spoke directly to an agent to get an exchange (not refund). I wanted to make sure that the shoes I wanted were in my size. The agent verified that the size was in stock and I was good to go. The agent sent me a label for my package and off they went. Well to my disbelief I get an email stating that the shoes I ordered on the phone with an agent were out of stock now so they politely changed my order from a exchange to a refund and then charged me a 6.95 return fee!!! **. I asked them why was I being charged for a refund when it was clear I wanted an exchange? All they kept saying (rudely mind you) was that they have a restock fee on returns and since my shoe was out of stock it became an return.
I asked 5 different agents and a supervisor why no one called me and asked me did I want another color or shoe before processing me a refund and charging me 7.00 per shoe fee? Yes you guessed it. NO RESPONSE!! WHEN I TOLD THEM, "JUST FORGET IT. GIVE ME MY MONEY BACK THEN" and of course they refused. Said wait the 10 days and then call and replace another order and if I don't reorder in 10 days I will forfeit my return???!!! Then they go on to tell me that if I place another order and they don't have my size again I will be charged another 6.95! ** BS!!! Find another way to get your shoes.

I ordered 2 pairs of Sporthill Men's XC Pants, black, Medium Long. They were too long. The sizing chart was incorrect. I processed the return thru Amazon who said Shoebuy would send me return instructions within 2 days. That was two weeks ago. No response. So if you are not absolutely sure what you order from Shoebuy will fit... DON'T ORDER FROM THEM.

I purchased a pair of shoes from ShoeBuy because they were the cheapest price. First, it took three weeks to receive my order. In 2017, what company takes three weeks to ship a product? You can order from Amazon and get it the same day - with free shipping. When I finally got my shoes, I wasn't sure if I was happy with them. The fit was a little off and they were very stiff and uncomfortable. Shoes are something you need to actually wear to determine how the fit will be. Sometimes, they just need broken in.
After wearing the shoes, I realized they are not going to work. Of course, ShoeBuy won't exchange them because they've been worn. That is a pretty unrealistic expectation. The brand of shoe is Keen, which I've worn for 10 years. I even contacted Keen, who takes back worn shoes, and they wouldn't take them back because they were purchased elsewhere. Now, I've wasted $100. I wish companies would stand behind the product and/or offer realistic return/exchange policies. Never again will I purchase from ShoeBuy.
Shoebuy.com Company Profile
Company Name:

Shoebuy.com

Website:

http://www.shoebuy.com/