Consumer Complaints and Reviews

I purchased 3 pair of Yoga pants from Amazon.com. Upon receiving the pants, I did not like the fit. I called Shoebuy customer service and asked them if I can ship back the pants in another bag for returns. They said No, I need to ship in the exact Shoebuy box that they were sent in. I did use their same box. I packed up everything with tags and returned the pants unworn to Shoebuy. I also included my Amazon receipt with all info. I checked my credit card for returns and was only credited back for one pair of yoga pants. I called relentlessly and spoke to various customer service reps and managers. I also emailed regularly asking for my refund. I asked Amazon to help and they said they would. In-between I continued to call and speak to customer service reps and managers who continued to say that I had been credited back for all 3 pair of pants.
After weeks of emails and calls, I finally told Shoebuy that I was calling CHASE Visa credit card bank to dispute my return. After this email, Shoebuy finally wrote me back that they would be 'crediting me back' for the two pair of yoga pants. They finally also apologized. This is the worst customer service I've ever had with any company ordering online. I do not think they are based in the United States. I will never buy from this vendor again.

Ordered a pair of boots, to my surprise I received the box but it was empty. I called the company spoke to 3 different people. Last one was a guy by the name of James **. He wouldn't give me his last name. I asked for a refund. They told me I would have to wait 5 days for UPS to come to my home and inspect my box which is freaking empty, what are they going to find in an empty box. They also place my order again and charged my CC again. Now I'm out of $300.00 dollars and an empty box. Never order from this company again. They are a bunch of rip offs. I wish I had read all these reviews.

Let's just say they do not offer the same customer service as Zappos. I have purchased more than $1000 worth of shoes over the last few years and they DID NOT BUDGE with their 60 day return policy. I missed the deadline by 2 weeks. I asked to send back a pair of boots that I purchased for my daughter who lives out of town. The boots are still in season. I stated in my request I would be happy accepting store credit. They would not make any accommodations. I am stuck. I will never purchase from them again.

My husband ordered a pair of pants and 2 tops on Oct 27th. The 2 tops arrived in 1 week. The pants still had not been delivered after 3 weeks. We called and were told they would look into it and get back to us. A week later no return call. The pants have still not shipped. They refuse to give us a refund. Don't order from these people. Also, today I came home from work to find a box with 2 pairs of boots from this company. The shoes were meant for someone in another state. I am being told I have to print out a return slip that they will email me and drop the package off at UPS!!! They clearly do not have their act together!!

Their customer service has definitely taken a nose dive down the drain. I have never been rejected for a refund for some shoes I do not want. They claim I wore it... Well hell yes I tried it on. How does a person decide whether a shoe is for them or not without trying them on? I found out they were very uncomfortable, returned them and this sham of a company stated that it can't be returned because they were used. WTH!! If I tried on a shoe at the store to make sure they were ok I wouldn't be charged. Think twice before you deal with an online company especially this one. FAIL AND NEVER WILL SHOP there again. Whatever you buy you are stuck with. I rather pay them the $7 than keep these awful $100 shoes I don't want.
How do I know I can trust these reviews about Shoebuy.com?
633,474 reviews on ConsumerAffairs are verified.
We require contact information to ensure our reviewers are real.
We use intelligent software that helps us maintain the integrity of reviews.
Our moderators read all reviews to verify quality and helpfulness.
For more information about reviews on ConsumerAffairs.com please visit our FAQ.

These brainless losers sent me the wrong shoe and want to argue about it. They also want to charge me a restocking fee. Would hate to live in whatever miserable lowlife city, these uneducated bums live. They will rip you off!!! Try Zappos, a company that will not screw you over, then harass you over their mistake!!! Shoebuy bum employees love to deny any mistakes they made!!! Because they are losers, they will call you a liar for their retarded amusement!!! Ghetto run company. Do not support them.

I ordered boots as a birthday gift for my daughter and was assured they would arrive in time. When 4 days had passed and they still were being processed, I called and canceled the order. 3 days later it still showed the order as being processed. I called to make sure the order really had canceled. It had not. Even though it still is being processed a week later, I was told I now cannot cancel it and when they arrive I will be charged $6.95 return postage to ship item back. Very poor service!

I ordered two pairs of shoes in Oct. I wore the above pair three times. The shoe split on the side on the third wear. I called on 11/11 and spoke to Gabriel. She said the shoe was out of stock, but she would replace it with a black pair of the other shoe ordered at no charge. At no time did she say I would be charged until I returned the defective pair. I checked my account only to see a pending charge of $84.93.
I spoke with Regina today only to be told she saw where I had been refunded the amount for the shoe. She would not listen when I told her I did not see that on my account. She repeated the same info over. I told her I did not want the replacement shoe and to stop the pending amount, she then said I would be charged a restocking fee. Really for an out of stock, torn shoe! After 45 minutes on the phone she transferred me to her supervisor. I was on hold for him x2. He finally answered and explained why I had been charged. He said I would be charged until I return the shoes.

I was planning to buy a pair of shoes for my mother's birthday. I purchased on Shoebuy.com three weeks ahead of time. After about two weeks, the shoes arrived but the shoes were defective. I immediately called the customer service about my situation, and after talking with three very rude agents, they asked me to order another new pair and use expedite shipping, just for making my deadline. The agent clearly said the expedite shipping can arrive in three days.
However, the second pair was shipped out with ordinary shipping, which was too late. I talked with a manager and then maybe a senior manager on the phone, and they still refuse to do anything to solve my problem. In the end, I have to give my mom the defective shoes as the gift. The agents/managers are quite rude and are not willing to solve the problem. Their shoes are defective too. Do not buy on their website. They sell the shoes cheaper for a reason - they are defective and the customer service is the worse in the world!

Order shoes & within an 1/2 hr really less time than that. I called cust service and spoke with Crystal to change the size I had originally ordered. She confirmed that my change was done while I was on the phone with her. I had also sent an email to cust. ser. And it took 3 days for a response but was confirmed that the situation was taken care of. Yesterday 11/2/16 lo and behold I rec'd the incorrect size shoe that was confirmed that it was changed. Called C/S this morning and notes in the order say that it was too late to change it so that is why. Long story short I asked for expedited shipping. No they can't–something about a bandwidth (supervisor Mrs **) oh yeah no first name with her... so I'm told takes 5 days to process orders but they couldn't & didn't change my order. So basically Mrs ** said "Well I will work with billing dept to get the same price." Really? Can't expedite because it take 5 days to process and they come from Florida to Woburn, MA.
Really? Why does that take over 10 days? If I didn't want these shoes so much I would not have reordered from them. Now to see if they credit me in a timely manner. Unbelievable lack of customer service, honesty and policy and I think I would rather pay more than listen to the incorrect information they spew to cover their policies or lack thereof. No integrity. Oh another thing they said is that when I changed the size-again like I said, less than 1/2 hour there is no guarantee. What??? Pretty disappointing and onward and upward... they did send a return label... I'm going to make sure my order # is all over that return. I do not trust these folks. It will be interesting to follow and see if they honor the original pricing–I'm not trusting them at all on this–but will follow up and take it a step further if need be. It's the principle you know!

Let me be clear. I have used Shoebuy.com in the past for large orders with great satisfaction, however my most recent experience with them has turned me away forever. I love Zappos and their customer service, but Shoebuy would email me some great coupons. I was aware of their return/exchange policies and restocking fees, but I did not know that I had to worry about them scamming me. Recently I ordered a pair of white-soled running shoes. I tried them on in my home two or three times trying to decide if the fit was appropriate. I decided they ran small and were too short so I decided to exchange them. I contacted customer service for my exchange, which meant that I would not have to pay the restocking fee, and I would not pay for the shipping expense. It all makes sense, right? I thought so. I received the new pair in a timely manner and returned the other pair back to Shoebuy.com. Nothing to it... then... I received the original shoes back from Shoebuy.
What? Why would this happen? I note was included with the return that my shoes were: worn and not able to be resold. I was obviously confused and then I became outraged. The shoes were clearly not worn. I attempted to explain this to the customer service, however it was clear that they did not care. When I asked to speak with a supervisor, I was told by my representative, Shanice, "Good luck with that!" The supervisor did nothing for me. I was stuck with a pair of brand new shoes that did not fit me and were never worn. They were keeping my money. So this meant I had two pair of running shoes from Shoebuy. The original pair and the pair I had exchanged them for in my possession. I explained that I was unable to keep two pairs of shoes and that I would like to send back the pair that I had exchanged them for since they would not take back my original pair.
I thought, at the least, they could waive the return shipping fee and restocking fee since they were refusing to refund my money for brand new clean shoes. Nope! No assistance whatsoever. I returned the shoes because I was not about to let them have more of my money. Now I am waiting to see if these are returned to me.
I did not wear the shoes and I followed all of their rules and I still will not receive my refund because they state, "their official inspector at the warehouse had determined the shoes to have been worn." I have continued to email them with my repeated complaint that I never wore the shoes. It is nothing more than a scam. I have reported them to the Better Business Bureau.

I feel scammed. I purchased shoes and did not realize it was in men's sizing so I submitted an exchange request. I was charged for my new shoes and sent the old ones back. They recently resent the original shoes to me and will not process the refund because the box has damage. Now I am stuck having paid for 2 pairs of shoes which I cannot afford. Customer service is refusing to help. Very disappointed.

This company, Shoebuy, advertises on Amazon has having free returns. The only problem is that is not true. They charge you for the return! I do not know why Amazon, which I consider to be a great company, would allow this scandalous company to post lies on their website. But they do. I have first hand experience. Shame on Shoebuy for their deceptive practices. Disgusting.

I spoke to customer service last night to lodge a complaint. I had to return 3 pairs of shoes and it was only when I went to the return page that I saw the $6.95 per pair restocking fee! I asked to speak with a supervisor but the woman I spoke with either did not understand enough English or would not transfer the call. I explained that their homepage said nothing about the restocking fee and it was, in my opinion, unethical to claim free shipping and exchanges but not mention their policy on returns until one went to make the return.
I finally gave up and asked for shipping labels for the 3 items which were going to now cost me $28 including restock. She sent 2 separate labels and forgot the 3rd. Now I am forced to call again to get clearance for the third item. I told her they lost a customer and I hope others read this and use Zappos instead. Zappos is an honest company with great customer service. ShoeBuy offers what seems to be a great % discount to buy but what good is it if they sock it to you with all these fees?

We have been loyal Shoebuy customers for over 6 years and there has never been restocking fees! I called customer service to see if she would waive it once since we have been customers so long and were not aware of the policy change, and she said NO-flat out! 6 years! Who pays 7 dollars (a pair) to see if shoes fit. We have found another online retailer that is similar that offers free returns with NO RESTOCKING fees. BYE, BYE SHOEBUY. Zappos is very similar, and they do not have the fee, and free VIP membership with next day shipping!

Overall this has BAD CUSTOMER SERVICE. I ordered a pair of shoes and paid extra for faster shipping. What they don't tell you (or it's in itsy-bitsy print) is that it takes 3-5 days just to PROCESS the order. (Hello? It's 2016. Do you not have computers?) Then it's another 3-5 days for shipping, but shipping can't be processed or happen on weekends. Um?? Really? So I asked to cancel the order. The person on the phone said he didn't know if he could cancel my order. What? Didn't know if he can cancel my order?? So he said, "I'd get an email if I could cancel, and if I can't cancel, I have to send them back."
The web says there is no shipping to return BUT, hidden under the "Help" it lists you have to pay a RESTOCKING FEE!! I'd never, ever, ever order again. Order from Zappos or Amazon instead, where you're keep up-to-the-minute on our order from the moment you hit "Enter." Ordering from Shoebuy is like going back in time. I bet they still allow orders by fax machine!!! Read the other reviews here if you don't believe me.

Consumer beware!!!! I ordered Dr Martens boots size 8. I called Shoebuy only to have the rudest customer care specialist ever. He didn't give his name but this is the conversation. I stated that I needed to return the boots I ordered size 8 and they had mistakenly sent size 10. He said "NO you are the one that made the mistake. All Dr Martens come in *UK* sizes. It's on the website. You should have read it. We sent you what you ordered." As I was getting ready to say I need to return them, he had already hung up the phone. I called back and got a different customer service specialist, she emailed me a return label. Hopefully all goes well. I will keep you updated but again buyer beware. You only get one time to make the 1st impression!!

Well paid the money but the shoe never arrive. They said the UPS drop off the front door. I don't see it. Been with the for over 3 week and no shoe. They got my 55.00 and I got nothing. How is that fair. The customer service don't send you email to let you know what going on. This is poor service. I want my money back and buy the shoe somewhere else. The second pair got there but not the first one. I am on my feet 12 hour a days. Do need shoes. Was going to buy more but now I don't know.

1st off let me say, if I can give less then 1 star for this site I would. This site does not even deserve 1 star. Their service is the most horrible and unprofessional I've ever dealt with. I ordered a pair of sneakers at a good price believing there will not be a problem (Too good to be true). The 1st time I ordered a size 7.5 and when it arrived I realized I needed a size bigger so I called customer service to exchange for size 8. When the order was completed the sales rep went over the whole order with me including the size, sent me the return slip for the size 7.5 and charged my credit card a 2nd time.
The next day I saw that the order was shipped, I reviewed the order and they sent me a size 5 instead of 8. I called again and asked if they can send me the right size while the 1st return was already in process, dropped off and scanned for pick up at UPS drop-off site. She said NO and stated my card will be charged a 3rd time if I want the right item shipped. I told her just send me the packing slip for this wrong item and I will never deal with this site again. Oh and also, the site will not let you complete an order online so that you yourself can make sure the order is right. The only way to order is to speak to a rep.

I make shoes, so I know how to size a shoe or two. Shoebuy does not. I called this co. before I ordered a pair of boots to see if they were in mens or womens size and was told they were a womens size! The next day I called and ordered the boots, and they sent me... wait for it... mens size 10 when advertised as a womens!!! WTF!!! I will NEVER recommend this co. to anyone, EVER!! The manufacture size states these are a mens size product, but Shoebuy didn't get the memo. Do yourself a favor and click the hell off Shoebuy as fast as your finger can hit the ** mouse!!! There are PLENTY of other sites out there to do your shopping. RUN as fast as you can from Shoebuy.com!!! Very bad business.

The only reason that I bought 3 pairs of shoes from Shoebuy.com is because it is pasted all over their website that shipping is free, easy return. Well they charge a $6.95 restocking fee for each pair of shoes you return. Their sizes are not accurate. I asked them to waive the fee and they said no. Well they hide the restocking fee under HELP! I will never ever purchase shoes from this company again.

I requested return labels several times. The company failed to send them each time and when I emailed customer service they advised it was past the date allowed for returns and exchanges (even though my first and second requests were not). They suggested I ship the items back at my own cost and they would consider issuing a refund minus restocking fees. Don't buy from this company unless you're certain you won't have to return or exchange. If not for their poor customer service, they'd be a good choice for all my shoe purchases. I think I'll just donate the shoes.

Bad Customer Servicing: I spend from $120 - $170 on shoes. I spent $130 on a pair of the OrthoFeet Shoes in Oct. 2015. The sole on my left shoe is now flapping off after only 11 months. So after mailing the shoes back to the company I asked them if the could re-sole the left shoe. They sent back my shoes in 4 days saying: "We are unable to accept the merchandise back for credit ..." They obviously couldn't read my letter and I have Payless shoes which are years older than 11 months. Bad Customer Servicing Shoebuy.

Have always had a great interaction with Shoebuy. This is the only place I ever get shoes from. I just placed an order for two new pairs of running shoes. I accidentally forgot to apply their 20% code. So, I called customer service right away and the guy said the code didn't apply to the shoes I had ordered, but gave me 15% off anyway. The only thing everyone on here seems to complain about is returns for $7, which to me, online is pretty standard. Their website doesn't say "free RETURNS", it says "free EXCHANGES". Love Shoebuy.

PLEASE do not waste your time or money shopping from this company. I ordered dansko shoes on september 9, 2016 and paid the $20 extra for next day shipping. I never received an email stating my order had went out. I called and a lady was nice and told me that although you pay for next day shipping. It may take 1 to 5 day for the order to even process. I asked, "If that was the case could I cancel my order, being that I needed these shoes by next Monday on the 19th for my nursing program." She told me that she couldn't cancel the order. She said that she could look and see where the shoes was coming from, supposedly they were coming from Pennsylvania. Others had ordered around the same time that I ordered and their orders had been shipped already, so she assured me I would get the shoes in plenty of time.
Monday the 12th I call because I still hadn't received a email. Talked to another person, she gave me a run around and did the same thing. Told me that my order would definitely arrive in time and that I should get a email soon. She also looked and said yes I show them going out tomorrow making it Wednesday September 14, 2016.
So as of today at noon I still had NOT received an email. I called, another female gave me the same ole story just a different ship out time. She said they went out today September 15, 2016. They should arrive Tuesday September 20th. REALLY!!! I may not be the smartest person by all means, but if the shoes left today then shouldn't I receive them Friday possibly no later than Saturday. She said weekends don't apply. So obviously FEDEX in their state doesn't work on Saturday. Where I live FedEx and UPS both delivers on Saturdays. The $20 to them does not apply to next day shipping like we see it.
So I asked to speak to her boss. Geez!!! Another female comes on the phone and says a bunch of BS just like the others. Lies after lies, needless to say, she said they were going to refund me the $20, that isn't the issue here people. Your website is misleading and when a person pays extra for next day shipping. There is a reason why they want to pay $20 so they can get them the next freaking day.
I will NEVER EVER EVER order anything from this company. I read the reviews and gave them the benefit of the doubt. I am here to tell anyone shopping from this company is setting yourselves up for disappointment. Do not do it!!! I could have drove down the road, threw my $119.00 right out the window and been in the same boat. $99 for the shoes and $20 more so they would arrive next day.
I told the lady I would be sending the shoes back because I would be buying some different shoes this weekend before Monday. Causing me to be out more money. Oh if you send them back you have a shipping fee and restock fee. However, being that they are sooo nice they will override the shipping fee so I can send them back free of charge. Still be charged a restock fee??? I am not happy. I should have known by the reviews, it is 50% my fault and 50% shoebuy.com. I just don't want anyone else to be mislead by this company. You are better off avoiding this company if at all possible. Spend your well earned money where customer satisfaction matters. It means nothing to these people. I honestly don't know how they stay in business.

While the "Free Shipping\Free Returns, No Worries" are plastered all over every page of their site, what they really mean is, "Unless you read the fine details, in which case, if we don't have the shoes that you ordered in your size, we'll charge you $7 if you return them to us". Significantly different from what their ads suggest. And don't bother calling to ask them to honor their ads. Yet another agency that'll do anything to get your order except for honoring their ads.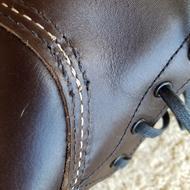 I ordered a pair of Red Wing Beckmans from this website during a sale along with an extra code for an extra 20% off. When I received my boots, I noticed there was a defect in the stitching on the vamp of the boot. I decided to call and ask for an exchange. They said they were out of my size in the color I had ordered but said there was a lighter color available, so I said that that was fine. I just wanted something without defects. The customer service rep then told me that the new price was around $80 more expensive than it was when I first bought it and I would have to pay that difference. The website explicitly states that you pay the same price on exchanges. Absolutely disgusting business practice. They sell you defective products cheap then make you pay extra to get something without defects. Definition of bait and switch, should be illegal. Do not buy from this site.

I bought shoes from Shoebuy.com in the past a few times and returns and exchanges were all free. Decided to buy shoes from them recently and when I called about returning them, I'm just now informed of a $7.00 restocking fee! I've returned shoes in the past and ordered these on the phone but there was no mention by the rep that took my order or anywhere I saw on the site that mentions a restocking fee. This is a change only in effect a year but they hide the fact of this change from the customer. Bait and switch. Their sizing is also defective: 9.5 too small, 10 too big... I will tell everyone I know DO NOT BUY ANYTHING from SHOEBUY.COM!

This company is absolutely terrible. They never sent a Christmas gift and didn't let me know until too late. Now I just had an AWFUL customer service issue in regards to their $7 restocking fee!! The "supervisor" is snide and rude and how they get away with this service is beyond me. Don't waste your time. Use Zappos or any other reputable company.

Make sure when you try to order an item and have it shipped next day air (which is a charge of $20) that you check with them before ordering. As they say, some items can be shipped next day air and some CAN NOT. They do not tell you that on the website as you are ordering your item. I also called after placing order and was told it would be shipped out that day. THAT WAS A LIE. Called back next business day and next customer service rep said no, the shoes I ordered can not be expedited. These were $149.00 shoes. So after the website makes you believe that it can and a call to customer service told me it would be. It is a lie. So please be aware.
They did refund my $20 after I complained, but the whole reason I ordered from them was to get it shipped next day air like they advertise. Even talked to a supervisor. Was told he would check into and personally e-mail me, but again I was lied to. He did not and I had to call in to find out the status of my order. So in all I will receive my shoes a week after I ordered them. I believe for my time and inconvenience they should have offered more than a refund of my expedited shipping cost. As it was free shipping to begin with. I just needed them expedited as my husband was leaving and going out of town. WILL NEVER DO BUSINESS WITH THEM AGAIN!!!

ConsumerAffairs Research Team
The ConsumerAffairs Research Team believes everyone deserves to make smart decisions. We aim to provide readers with the most up-to-date information available about today's consumer products and services.
Shoebuy was established in 2000 and became a subsidiary of IAC in 2006. The online retailer focuses on men's, women's and children's shoes but also sells clothing and accessories for the whole family. It offers a wide variety of styles, brands and sizes.
Low-price guarantee: Shoebuy guarantees that consumers can find the lowest price on their website. If, after making a purchase, a customer finds the same shoe at a different retailer for a lower price, ShoeBuy will refund the price difference. Consumers should review the full terms and conditions on the company's website.
Size options: Shoebuy prides itself on offering extended sizes in as many shoes as possible. Consumers can search the company's website for women's sizes between 4 and 13. The site also sells wide and narrow widths and wide-calf boots.
Shipping: Shipping is free on all orders shipped to the United States. No minimum amount is required to qualify for free shipping.
Returns: If an item doesn't look or fit as expected, customers in the United States can exchange it for free. Returns for store credit are also free, but money-back returns will incur a restocking fee. Those outside the United States must pay for return shipping.
Best for Shoebuy carries adults' and children's shoes and is best for those looking for a wide variety of shoes in all sizes, including hard-to-find fits.
Shoebuy.com Company Profile
Company Name:

Shoebuy.com

Website:

http://new.shoebuy.com/