FlowerDeliveryExpress.com
Consumer Complaints and Reviews

Gave company a second chance since they messed up my first order by not delivering at all. I had to call them and ask them why my flowers. When they finally delivered the flowers were not even the flowers that we had ordered. But they issued us two $50 credit which at the end became $30 credits that you could not combine. Figured I would use at least one and send the flowers to a friend, trying to give them a second chance.
Well will not order from this company ever again. Read guard list of credits or what they give me. I ordered a bouquet that had six roses with a bunch of other flowers to make a beautiful. Pay $10 more to get something more better and she only received a dozen plain roses. Yes the roses are beautiful but that's not what we ordered. This company needs to fix their issues, work with the people that they work with for deliveries. This is sad and embarrassing when you are trying to send somebody something special and they don't receive it. I'm sorry that they are still in business!!!

Purchased roses for my wife for an advertised price. At the very last window of the check-out process the price spiked to 50% more than advertised price. I requested a refund for the difference. They refused & tried to explain the bait & switch tactic. They attempted to get me to make further purchases by offering a credit on future purchases instead of refunding my money. So if they were unethical on the first transaction, why would anyone do business with FDE again.

On the 20th of July I ordered a flower arrangement for my wife. I chose this company because they sent out an offer to me thru an email message stating that they owed me $34 from a previous purchase where I had them send my daughter flowers for the Mother's Day. I assumed the $34 dollars was because they were several days late delivering them to her but she was just happy that her daddy didn't forget her even though he was away in Afghanistan. That incident angered me but she eventually got the flowers. This time my wife was feeling distraught due to the death of a close friend. I ordered the flowers on a Wednesday and arranged for a Friday morning delivery. Friday, Saturday, and Sunday all passed and then on Monday that they delivered her flowers they delivered them dried out and dead in a box. It was supposed to an arrangement with a vase.
To make matters worse she showed the flowers to the delivery guy and he too acknowledged that the flowers were dried out and dead. He said that she could take a picture of the dead flowers and then the company would send her new ones. I sent 3 emails to their customer service none which were answered. What makes me extremely upset with this company is that they do not seem at all concerned that we agreed a delivery which they had 2 days to plan for and make happen. They completely took advantage of me ordering those flowers for her when they knew I was out of the country. They finally delivered her flowers in a box when the arrangement I purchased was clearly in a vase more than 3 days late and act like we are supposed to be happy about that. After a long argument with their customer service, they agreed to refund my money after trying to bribe my wife with more flowers.
If you are a soldier or a contractor that is trying to surprise your family members, do not trust this company. They send out flowers that they charged you an arm and a leg for and look like the bouquets that you would find at the entrance of Walmart after they were completely dried out. What bothers me the most is that you cannot get the moment back that they missed, and it makes those that the flowers were intended for, think that you totally forgot an important event. From now on what I will do is call my local florist back home on Yadkin Road in Fayetteville, NC. Her name is Kelly and she always makes beautiful arrangements for reasonable prices. Another great thing about Kelly's is that she is always on time and makes you feel proud of your purchase.
Go with anyone other than Flower Delivery Express, they send out emails all the time stating that you have an amount of money that they owe you and that it can be deducted from the cost. Once you see the final amount on your bill however, they have already added that amount right back in and label it shipping and handling. They are by far the worst Florist service in the US and they do not honor the soldiers that are deployed. They just take their money and hope you won't complain for their piss poor service. I would like to see the BBB take them off of the internet, make them pay a huge fine for all of the customers that have spoke out on their poor performance. You will actually find nicer bouquets in Walmart, and you will save enough money to take her to dinner.

My husband attempted to surprise me with a plant/gardenia delivered to my work. The gift NEVER arrived. He called the company while I was still at work and was told the flowers would be delivered... 5 pm rolled around and still no flowers. He arranged for the flowers to be delivered to our home... still nothing delivered. Now Saturday... still no flowers.
My husband and I called the 800 customer service number and were connected to various people. Supposedly we were finally dispatched to a manager. The manager "Naurice" - whom stated, "N as in I'm not dealing with you" (YES, the CUSTOMER service manager stated this to me). Refused to not only refund the $129, but also refused to cancel the order. Naurice had an EXTREMELY sassy and attitude while speaking with me when I attempted to confirm the address and instructions given. She refused to speak with me and would only speak with my husband (whom was standing next to me; he did speak with her as well).
She stated that 3 attempts were made to deliver the flowers, which is a blatant LIE. My husband gave specific directions for delivery to the STATE building I work in, with detailed directions to get to my office. I explained to her that everyone knows where this building is because it's the state health department building directly connected to the building where everyone pays their taxes, registration, tickets and so on... She then stated, "Our drivers are not from that area, or state." The manager refused to provide a regional or CEO address or number. THIS COMPANY IS FRAUDULENTLY CHARGING FOR SERVICE AND PRODUCTS NOT PROVIDED. I will be filing a complaint with the state district attorney and BBB.

If I could give this company no stars, I would. However, it requires me to give at least 1 in order to submit a review. A coworker of mine experienced a loss in their family and our entire team pulled together a donation of about $80 to purchase flowers for them to have as they returned to work. I ordered this bouquet in its BEST (if you can see in the description, "Best featured above" in the pictures attached) condition, as stated on my order summary and, as you can see on the website, that costs extra. I also needed "same day delivery" as required by the timing of the loss. They did deliver that same day, however the bouquet that was delivered was not AT ALL what I ordered. While they did use the same flowers, there are not nearly as many flowers and they didn't even use the same vase. This is a gross misrepresentation of what I received.
Upon speaking to customer service, I was informed that the order went through on their end as simply the "BETTER" option (which is still an upgrade, but I would hate to see what the lesser of that is)--a glitch in THEIR system that is no fault of my own. They told me that they can refund me $15 since I did not get the upgrade that I paid for and $30 off my next order (which I will not be using because I do not plan to order from this company again). I do not feel that this is compensation enough because I still ended up spending $65 on this very poor product and I had to go out and purchase new flowers. Everyone who donated towards this is very upset at what was delivered. I work for an organization that purchases thousands of dollars worth of flowers a year and this is a total outrage. Myself, my organization, and our partners will not be ordering from this company and suggest you do not as well.
How do I know I can trust these reviews about FlowerDeliveryExpress.com?
672,188 reviews on ConsumerAffairs are verified.
We require contact information to ensure our reviewers are real.
We use intelligent software that helps us maintain the integrity of reviews.
Our moderators read all reviews to verify quality and helpfulness.
For more information about reviews on ConsumerAffairs.com please visit our FAQ.

SCAM Alert. Placed an order with this company for same day delivery. Still haven't received delivery more than 24 hours later. Called and they refused to let me speak to a supervisor. So I checked out reviews... and immediately reported to Bank of America's fraud unit. SKETCHY! Invoices don't add up. Services aren't rendered. And as you can see from the litany of other complaints on here, these guys are clearly frauds. Avoid like the plague.

In reference to the order number in the subject headline above. I put in this order on the 12th and immediately got a confirmation email. Then the order was not delivered and the reason you gave was that the address was "not there." No one bothered to call or tell me even though you asked for my phone number at the time of the order. When I called to complain about the order being late and my wife already home was when I finally found out it wasn't delivered. You said FedEx said the place was nonexistent, despite it having been there for 10+ years. You'd think all the cars and people would have alerted the driver to this!
Now I receive an email where you say you will keep my $61+ for another "3-5 business days" and offer me a $30 coupon. Please! I tried to use the 60 dollar coupon you sent me in the mail and my order still cost over $60 with the discount. I bet ** is cheaper to order than your flowers!! This is unacceptable. If you hold my money for this time period I will begin charging you interest and we can settle this matter in small claims court.

I recently ordered sympathy flowers to be delivered to my beloved aunt. Flowers arrived after she was already buried. They confirm a date for you telling you when they will arrive. I believe they sent it by DONKEY. Lesson learned. Never again will use these guys. You call them, they give you attitude and refer you to their email department whom never gets back to you anyway. I can recommend two thumbs down. If I had more thumbs on my hand I would use them too.

I ordered a last minute delivery for a Saturday delivery which they said they could do and paid 35$ extra for the service. Not only did the flowers not arrive for my mother's 85th birthday at the nursing home, the person I spoke with "Christian" wouldn't let me talk to a supervisor. This person was rude and when they hung up on me I called back and got the same person. I think they only have one person answering the phone. Very scammish. I will call my credit card company to cancel the bill.

Well I still will never order from them again. I had flowers sent to my cousin, when my Uncle passed away. They delivered them to her home. No one was there - so they left them on her front porch. Well it was 100 degrees, and I don't have to tell you what the flowers looked like when she did arrive home. I'm glad she called to tell me that my intentions was good, but sorry to say the flowers were all dead! SO I called FlowerDeliveryExpress. I had to leave a message, as no one was available to talk to me.
I then proceeded to call the flower shop in Lancaster to complain. She was very nice, and was very sorry, and told me that they would send out more flowers today. Which they did do... and I might add they are very pretty - but here's the problem. I received a call this morning from FlowerDeliveryExpress today. And was also told that this was unacceptable - that they have a reputation of sending flowers and wanted it to remain Very Exceptionable. He told me that he wanted to offer to me a special credit that I could use online at PROMO CODES. Four $50 Credits. Which I must admit I was really surprised that they would go to that great of lengths to do this, but was very appreciated of the fact they wanted a very happy customer.
So this afternoon I thought my daughters birthday is tomorrow, so I would also send her some flowers, since I had this credit coming to me. WELL DON'T BE FOOLED BY THIS!! First thing they will not let you do - is order the cheapest flowers (they have 3 prices on the flowers). BELOW IS THE PRICE I PAID - As you can see - the $50 credit really isn't a good deal. I have 3 more $50 credit - which I will be throwing in the trash! Thanks but no Thanks. If I am fooled first time - shame on them - If I am fooled the second time - Shame on me!! Stunning Smiles Bouquet $69.99. Your savings -$50.00. Sale price $19.99. Shipping/Service: $19.99. Handling: 4.99. Total savings: -69.99. Sales Fee: 9.13. Transaction Total $47.10.

Besides saying the flowers were on sale that day (and then adding enough fees to the order to basically result in it costing the full price), they did not deliver the teddy bear that was part of the purchase price. When I called and asked that they deliver the missing bear, they said they would but never did. A partial credit or discount on a future order (do they really think that has any value to a dissatisfied customer) does not make up for the embarrassment of what looked like a cheap flower arrangement (since the bear was missing) or for saying they are going to make it right, deliver the missing bear, and then don't.

I ordered flowers for a birthday party the morning of June 29, same day delivery was offered. I got a call from the florist that he might be able to get them off today. After I expressed my dissatisfaction, and specifically asked for some compensation, he grudgingly gave me a $100 credit, which was decreased to $50 in the confirmatory email he sent me. I will not do business with them again.

I was totally disrespected after my Debit card was so swiftly negative $68.00 for a next day birthday delivery. After calling back seven times to discuss the non-delivery, my calls were terminated by customer service personnel. I would tell anyone to RUN, RUN, RUN! SCAM SCAM SCAM. I will be closing my debit card, waiting 10 days for a new one. I WILL BE VISITING THEIR OFFICE TO BRING IT TO THEIR FACE NOW, WHEN I FIND THE TIME.

After purchasing a same day delivery order, I received an email at the end of the day saying it could not be delivered. Then, I received another email saying it was en route and would be delivered. Today, I got another call asking how I would like to proceed, either rescheduling my order or cancelling. First of all, I find it very unprofessional to wait until the end of the day to notify someone that their same day delivery order could not be delivered. I NEEDED those delivered yesterday and had I been informed earlier that the delivery could not be made I could have gone elsewhere that COULD make a same day delivery. My order was placed around noon and it took 4 hours to figure out that they could not be delivered? I think not. I would NEVER recommend this business to anyone... At least not if you need a reliable company that will complete orders as expected. I am still not sure if they were delivered or not.


I ordered a bouquet of flowers from FlowerDeliveryExpress.com on May 8th, 2016 Mother's Day. I knew without a doubt that even though it said same day delivery that they probably wouldn't be delivered till the next day, which I was OK with since I foolishly waited till the last minute!! I emailed them TWICE on the 9th after calling and having to leave a message for callback, to make sure they were going to be delivered that day, but never got a response through either method!!
The next day, on the 10th, I received a call that said unknown number so I didn't answer, so they left a voicemail. The lady did not leave her name or callback number but she said she was from "the flower delivery company" and that she apologizes but they were busy and couldn't deliver my order that day (the 10th) but it would go out first thing on the 11th and I would get a free upgrade and a $100.00 credit on my next order for my trouble!! I knew that sounded a little too good to be true!! Here it is almost a month later and still no flowers and still no response to numerous emails and phone messages I have left!! But they were sure quick to charge my credit card on May 8th, the date of my ORIGINAL order and still haven't refunded me one penny!! DO NOT BUY FROM THESE PEOPLE. They are running a phony business and they're nothing but scam artists. I'm reporting them to the Better Business Bureau which I should've already done!!!

I ordered flowers to be delivered for a funeral for a family member. This was extremely important to me that the flowers be beautiful and present at the funeral. I even had the delivery sent a day earlier so I could ensure there would be no issues. The flowers never arrived. I called Flowers Express on the day of the funeral and they could not help take care of their mistake. If you really care that the flowers you want delivered will actually be sent I would suggest NEVER use Flowers Express. Call a local florist to ensure delivery. At least this way you have a person who is helping you and not some call center that is across the US.

I ordered flowers for one of my patients at work who has Huntington's disease and received a very decent price. However, the next day I realized they charged me 3 times for the same purchase and the first person I spoke to was repeating themselves like a robot. Finally they transferred me to "customer service" and the person on the phone was very understanding and fixed the issue in 24 hrs.
When the flowers went to be delivered I apparently put the wrong zip code in and the flowers weren't able to be delivered so I got another "customer service" person after talking to someone who didn't understand me and she fixed the issue and got the flowers out 5 days later due to the holiday and I asked if they could just leave them on the porch so my patients husband could get them and she not be bothered. Well I came into work today and my patient's husband told me how beautiful the flowers were and they left them on the porch for her and how they made her day so special. Very grateful for such a wonderful service received for someone special. :-)

Order flowers to send to my wife for our 37 year anniversary. Never received them. Have to dispute charges at my bank and fight to get a refund. Felt ashamed for falling for this scam. Seems like everything you do is waste of time. Thousands of complaints on this company and no one does anything. Every social media sight says this is a fraud and a scam and yet nothing happens.

I ordered flowers from this company to honor my uncle, a beloved WWII vet. Because he was so special to me, I picked out a beautiful spray arrangement and then upgraded it to make it the very best. I then paid extra to have it delivered the next day for the viewing. All in all, I paid a total of nearly $200. Needless to say, I was completely disgusted and heartbroken that this company sent such a horrible arrangement to my family in their time of grief. I called customer service to complain, but no one spoke English. I then wrote an email, and have yet to hear a response, even though nearly a week has passed.
It is sad that people would be so willing to take advantage of others in their time of sorrow. This company claims to be 100% satisfaction guaranteed, and yet their arrangements end up looking like a child has thrown them together. I wish that I could take this order back and stop the pain that it brought myself and my already grieving family, but the funeral has already come and gone... along with the chance to make it right. I just hope that others will see this review before purchasing from these scammers.

Ordered for same day delivery service and the delivery took place two days later. Customer Service wouldn't resolve the problem. Next I'm calling my credit card so that payment to this vendor is not made. Customer service didn't care, said they could give me back $20 of the $100 order.

I ordered a plant for a co-worker for the passing of her mother on behalf of my office. The order was never delivered. I called and emailed a number of times for months; however, no one ever called me back or addressed my issue. Shame on them!!! Whatever happened to customer service being important? Guess they don't care about their customers!! I will never recommend them or order from them again!!

They never delivered the flowers I ordered for a friend's funeral. They never refunded my money or acknowledged my multiple complaints despite talking to a customer service representative who clearly did nothing. I am sick to my stomach over letting down a friend. Shame on them. Seriously a disgusting organization.

I ordered my flowers online for Mothers day and what she received was a few half dead flowers. I ordered the "Perfectly Purple Bouquet" and what she received had not one ounce of purple. I have spent the past five days fighting to get flowers sent to my mother and a refund neither of which I have gotten. The customer service representatives can not speak English and are not helpful at all. I have been hung up on and told "I am sorry for that" so many times I could puke! I will NEVER, EVER order from this company! Worst Experience EVER! STAY AWAY!!!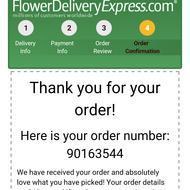 THIS BUSINESS FLOWER DELIVERY EXPRESS sounds exactly like 1800-flowers. I am probably sure that the things everyone has discussed prior, falls into the same exact line of behavior I experienced over the last 3 days. Is there any help for example customer against this? I am out of 80.00, offered 100.00 band aid credit towards the next purchase?? I made the same day order, which has not arrived as of yet... smh. Everyone above, has the SAME EXACT STORY I HAVE WITNESSED FOR 3 DAYS... how much more can I tell. I even wrote the company, the alleged CEO of the company, a letter explaining my disappointment.
He wrote me back telling me that he is truly sorry, but when I went to respond to his last communication but my email came back as failing permanently, which to me means that this company has definitely done something shady and they are shutting down the operation because I was getting too close to something. This may be Hasty generalization but there is something definitely not correct with Flower Delivery Express. Do not use this company by any means. Their lack of professionalism and lack of Candor has caused a major distrust.

I emailed this company a picture of the flowers I ordered and a picture of the flowers my mom got from them. What a let down. Your service didn't actually deliver them to her. They were delivered to the incorrect address by this company, then the party that got the flowers put them on my mom's front porch on Tuesday. The card was open and the flowers looked horrible. Obviously I put the right address in my order, or the person that received them wouldn't have know where to take them. What a disappointment. I've called, left messages, been hung up on twice, and had no response at all from your company. I will never use this service again, and will make it my life's mission to post every bad review I can think of about this company on line. Hopefully, no one else will have to go through what I've been through. What a joke... I paid a total of $81.00 for something that looks like it was pulled out of a field somewhere on the side of the road.

My $55 purchase became a $98 purchase at checkout after all the hidden costs. That's the least of the problems since they didn't even deliver my "same day" order after being strung along for several days. My fault for not reading reviews on this company before I placed an order. Many, many people with the same bad experiences that I had with this company. They should be put out of business and prosecuted, but they are not located in the U.S. I'm not sure how they sleep at night taking advantage of people that are trying to make someone's special day, or tragedy, a little better. The "customer service" people barely speak English. The $50 store credit for screwing up an order is a scam. You will get lost in pop-up ads and I challenge anyone to successfully spend the $50 store credit. DON'T USE THIS COMPANY!!!

I ordered flowers for both my mother and my mother-in-law using the 'same day service guarantee' on the Saturday before Mother's Day. The site warned me that due to volumes, the flowers may not arrive until Monday, so I expected the 'same day delivery' to take three days. However, on Monday night neither order had been delivered. I received an email about one of them saying it got delayed & offering me an upgrade. I took it so I didn't have to place another order. They finally delivered those on Tuesday, without the upgrade. The second order still has not been delivered.
I've emailed, sent in a web complaint, and called. I got someone when I called that simply kept repeating they were 'en route & would be delivered today' but they weren't. He was just repeating what I could already see on the website. Awful service. I hope she gets her 'same day' flowers that I ordered on Saturday by Wednesday. If not, I'll be taking time out of another day to try calling and hope I get a different rep.

I placed an order which originally was 39.99 and they would not present me with a total amount but only 39.99, and then the order was placed at 10am and I placed order, but I told them that I needed the order to be deliver before 4pm. The order was never deliver on time and throughout the day I kept calling to make sure these flowers were delivered. And bad customer service and every time I had to give my order number and repeat twice and sometimes 4 times my email and they refused to give out the phone number for the florist and now they are refusing to give out the-the people who will refund the money back.
My day was bad cause of this place. Poor customer service help and they don't delivery on the same day and neither do they deliver to business because the delivery don't get there. I would never place another order thru this site. They are really bad!!! And now hopefully I will see if they are honest to give me my money back. I want fresh roses not deliver the same roses the following day, non-fresh. So people buy roses in person. Better.

I ordered flowers to be delivered. First there was a handling charge which was not mentioned when the order was placed. Second what I ordered and paid for was substituted without my knowledge or approval. Third, I have emailed them twice for explanation and to have the proper flowers delivered that I paid for. No response both times. Not the way to run a business.

ConsumerAffairs Research Team
The ConsumerAffairs Research Team believes everyone deserves to make smart decisions. We aim to provide readers with the most up-to-date information available about today's consumer products and services.
Flower Delivery Express is an international clearinghouse that uses local florists to fill orders worldwide. Flower Delivery Express prioritizes customer service.
Discount pricing: New orders, same-day delivery orders and birthday orders can all receive a discount.
Same-day delivery available: Order in the morning and your flowers will be delivered later that evening.
Platinum-level arrangements: To make a big statement, sometimes you need a big bouquet, and platinum flowers are designed to say a lot.
Corporate gift arrangements: This florist caters to business companies with an entire category of arrangements at a variety of price points.
Fill up a basket: In addition to flowers, it also sells cookies, candies, balloons, stuffed animals, fresh fruit and other extras to make a stunning gift basket.
Best for Suitors, husbands, modern women and companies.
FlowerDeliveryExpress.com Company Profile
Company Name:

FlowerDeliveryExpress.com

Address:

2985 Haggerty Hwy

City:

Commerce Township

State/Province:

MI

Postal Code:

48390

Country:

United States

Website:

http://FlowerDeliveryExpress.com/