Compare Reviews For Electronic Signature Software
An electronic signature is a digital version of an individual's personal written signature. Electronic signature software is a tool used by professionals to send, sign and track important documents when obtaining a written signature is inconvenient or impossible.
In most countries, electronic signatures are legal, enforceable and binding for contracts and other documents. Electronic signature software eliminates the need for paper documents and the tediousness of a paper trail, allowing all parties to sign at their convenience without mailing or faxing documents for signatures.
Top 11 Best Rated Electronic Signature Software

RightSignature
Read 6 Reviews

RightSignature is a company offering an easy-to-use platform for electronic signatures through robust digital documents. The company behind the software is headquartered in both Santa Barbara and San Francisco, California.

HelloSign
Read Reviews

With HelloSign, people are able to have legally binding eSignatures that are secure and fast. The companies features include team management tools, templates, custom branding, in-person signing, notifications and an audit trail.

DocuSign
Read Reviews

DocuSign is one of the world's most popular online electronic signature solutions, dedicated to keeping companies' processes 100% digital. The company was founded in 2003, and has headquarters in both Seattle and San Francisco.

Adobe Document Cloud
Read Expert Review
Be the first one to rate this company

Adobe Document Cloud allows users to access the features of Adobe Acrobat online, in addition to facilitating online signatures. The company offers both standard and pro versions for media and marketing solutions.

AssureSign
Read Expert Review
Be the first one to rate this company

AssureSign is an electronic signature company offering services for mid- to large-size companies. They use both SaaS and on-premise deployments, and have facilitated more than 300 million signatures since their founding in 1999.

Sertifi
Read Expert Review
Be the first one to rate this company

Sertifi is a company that offers integrated electronic signature and payment solutions that are dedicated to speeding up sales by making closing processes easier. The company's headquarters are in Chicago, Illinois.

e-SignLive by Silanis
Read Expert Review
Be the first one to rate this company

e-SignLive is an app created by Silanis that allows users to sign documents using their preferred deployment method (SaaS or on-premises) without compromising on security or functionality. The company is based in Montréal, Canada.

eSign Genie
Read Expert Review
Be the first one to rate this company

Founded in 2014, eSign Genie is a company that provides easy-to-use, secure and collaborative electronic signature solutions. It is part of the larger organization, AccountSight, which is based in Cupertino, California.

inkdit
Read Expert Review
Be the first one to rate this company

Inkdit is an electronic signature software company that offers a range of electronic signature services. They are based in Edmonton, Canada, and focus on making the distribution and collection of signed documents easier.

SkySignature
Read Expert Review
Be the first one to rate this company

The goal of SkySignature is to break the "print-sign-scan" cycle and make the paperless signature process simple and easy. The company offers two versions of their program, the free version and the professional version.

SignNow
Read Expert Review
Be the first one to rate this company

SignNow is an electronic signature software designed for teams that frequently require signatures on documents. It allows teams to share templates of common documents to make acquiring signatures simple.
Thank you, you have successfully subscribed to our newsletter!
Enjoy reading our tips and recommendations.
Unsubscribe easily whenever you want

Shelley Elmblad
Financial Software Contributing Editor
View Profile
Shelley Elmblad is a freelance writer with years of experience covering small business, personal finance and tax software and mobile apps. Shelley's goal is to help others choose the best software to run a small business, track personal finances and save money.
Important electronic signature software features
Software Type
Electronic signature software companies utilize a variety of software to send and track documents.
Cloud-based software: Businesses that use cloud-based software offer signature solutions via the cloud rather than downloadable software.
PC-based software: Some electronic signature companies utilize software that users can download and use on their desktop.
Combination of software types: Many electronic signature software companies use a combination of technology that can be used via computer or the cloud.
Services
Usually, electronic signature software companies offer products with a range of features in addition to allowing for electronic signatures.
Basic signature software: The most basic type of electronic signature software simply allows for people to sign documents electronically.
Signature and sharing software: More advanced types of electronic signature software allow users to sign documents and share them with others as well.
Signature, sharing and tracking software: Some electronic signature software allows users to track and store documents in addition to having them signed by multiple people.
Security
Signed documents can often be private or confidential, and electronic signature companies use a variety of security methods to keep information safe.
Basic security: Companies that use basic security measures offer little or no protection to hackers who want to view or tamper with documents.
High-security digital signature software: The most advanced kind of security an electronic signature company can use is called a digital signature, which comes with a tamper-evident seal that shows if it has been altered after signing.
Secured log of events: Companies that utilize a log of events with an electronic document can take advantage of technology that automatically logs any activity in a document, which can show if any unauthorized activity has taken place.
Signature type
Electronic signature companies rely on a variety of signature types for document signing.
Hand- or stylus-created signature: Some providers have technology that allows users to sign their real signature via a stylus or fingertip on a touchpad or mobile device.
Typed signature: Some electronic signature companies allow for a signature that is simply a person's name, typed.
Saved signatures: Many electronic signature companies allow a user to sign their name once, then simply access their signature again via a click of the mouse.
Cost
Electronic signature companies are accessible to users via a range of prices - from free software to premium paid software.
Free software: Many basic types of electronic signature software are free to users.
Pay-per-document software: Some charge customers a fee for each time they use their electronic signature software.
Regular fee software: Some companies charge customers a regular fee to access electronic signature software as often as it's needed.
Storage options
Documents that are sent and signed via electronic signature must be stored somewhere digitally. Brands differ in the amount of security and access they can provide.
Company's server storage: Customers are often required to store their documents on the electronic signature software company's file servers. This can limit access for some who need to retrieve documents after the document is closed with all signatures.
Cloud storage: Some companies allow customers to send, sign and store documents via the cloud. This often offers the most versatile sharing options.
Customer server storage: There are some companies that allow customers to retrieve and store signed documents on their own servers, often offering the highest level of security possible for customers.
Types of electronic signature software
Document management software
Document management software allows users to not only sign and send documents but also to track and store the documents as they are in the process of being signed.
Basic electronic signature software
Basic electronic signature software offers simple software solutions for signing a document via finger, stylus or mouse click.
Digital signature software
Digital signature software is a type of software that uses a digital fingerprint to link to a user's identity, offering the most sophisticated level of security.
Mobile signature software
Some companies offer electronic signature software that works specifically on mobile devices. This software allows people to collaborate by viewing, remarking on or signing documents on the go.
Who uses electronic signature software?
Green businesses
Companies that are concerned about the environmental impact of using a lot of paper might take advantage of electronic security software. This software allows them to lessen their effect on the environment by eliminating the need to use paper.
Companies that do business overseas
Electronic signature software is convenient for companies that do business overseas because it allows them to sign documents without traveling, faxing or mailing contracts.
Professionals who often travel
Professionals who travel often may not have access to an office to sign documents in person. Utilizing electronic signature software allows them to sign contracts while they are on-the-go.
Real estate professionals
Real estate professionals work with contracts day in and day out. Electronic signature software can make their day-to-day operations easier and more convenient and can help with closing deals quickly.
Expert reviews for electronic signature software

Founded in 2003, DocuSign is one of the most popular electronic signature software companies. DocuSign is committed to keeping the document signing process 100 percent digital and has over 150 million users. Docusign pricing runs from $10 to $125 per month per user depending on features required.
Read More

RightSignature is a simple and straightforward way to have documents signed electronically. The company is run out of two California locations, Santa Barbara and San Francisco. Pricing is $14 per month for an individual and $39 per month for businesses with up to five senders.
Read More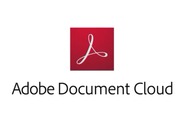 Adobe is one of the leading digital media solutions company in the world. Document Cloud is an online PDF document management service that can be used with electronic signatures.
Plan options: Customers can choose from a variety of plans. A Creative Cloud subscription ($9-79 per month) automatically includes Document Cloud services at no extra charge. Others can buy a Document Cloud individual subscription for $9 per month for individuals or $30 or $45 per seat per month for businesses.
Ease of use: The interface has been updated to make searching for documents and creating documents much easier. PDFs can be edited, and triggers like invoicing, a new order or a new customer, can be set to alert of the next steps in the business process. Documents are tracked along the way, indicating who has signed and who still needs to sign. Audit trails can be viewed, and you can be alerted at specific times in the transaction process.
Signatures in the right order: Sometimes it's necessary to have one person sign an agreement before another does. The order of signing can be designated so that signatures are collected at the right time.
Device compatible: Adobe Document Cloud is compatible with both iOS and Android devices, which means it's a convenient option for people using it on smart devices on-the-go.
Free trial and app integration: The company offers users a free trial of Document Cloud eSign Services, which integrates with many business apps like Salesforce, Xero, Sharepoint, Workday and Ariba.
Best for: Green companies, companies that do business overseas, professionals who often travel and real estate professionals.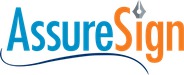 Founded in 1999, AssureSign is a web hosted service offering two electronic signature services: Inscribe for small business and Assuresign for medium to large business. Cost for Inscribe is $1 per document or $20-$30 per seat per month. Enterprise pricing is $250 and up.
Easy to integrate: AssureSign easily integrates with a range of popular business technology options, including Windows Azure, Microsoft Applications, and Salesforce. AssureSign has a very flexible and adaptive API to allow businesses to create a safe, ad-free electronic signature solution.
Accessibility options: Clients can access AssureSign to sign and manage documents three convenient ways: on your own file server, via the cloud and via a SaaS (software as a service) platform. No hardware or software is required for the last two options. Signatures are acquired by typing or using a stylus. Android and iOS companion apps are available.
Secure: The company boasts the highest level of security possible when it comes to electronic signature software, including certifications from the FDA, ISO, SSAE and more.
Referral program: AssureSign allows users to become partners of the company to be compensated for new customer referrals.
Reputable clients: Many reputable clients trust and depend on AssureSign, including AAA, McGraw Hill and Colorado State University.
Best for: Green companies, companies that do business overseas and professionals who often travel.

Based in Chicago, IL, Sertifi is an electronic signature solution provider founded in 2005. The company's mission is to help businesses close deals more quickly.
Tracking and management: Sertifi includes an easy-to-use and clear tracking component so users can see how far clients are in the signing process. Automatic reminders can be set up to go off at various stages of the agreement process.
Free trial: Sertifi offers a 30-day free trial to allow users to test the service.
Payment requests and documentation: Include up to 300 different file types with agreements including Word, Excel and PDF. You can add a one-time or recurring payment request for product and services while setting up your signature request.
Customer collaboration: Sertifi's collaboration feature allows customers to post comments or questions in a central area with all activity being stored in the audit trail. This prevents back and forth emails and calls. Other people can be added to the conversation to review and sign documents and/or submit payments.
Multiple plans: The company offers a $150 per month plan with electronic signatures and electronic storage, and a $250 per month plan that adds a payment solution with a gateway. Nonprofits get discounted pricing, and tailored plans can be created.
Best for: Green companies, companies that do business overseas, professionals who often travel and real estate professionals.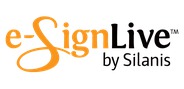 eSign Live was created by Silanis, a company dedicated to developing e-signature solutions, and was acquired in 2015 by VASCO, a global leader in authentication, electronic signatures and identity management. The Pro version is $20 per user per month. A sales rep must be contacted to discuss pricing for the Enterprise version. There is a 30-day free trial.
Access options: eSignLive can be accessed via the cloud or on site at a business. Since signers e-sign using a standard web browser, they can sign on any computer or mobile device. eSignLive supports click-to-sign, handwritten signature capture, fax-back signing and more.
Workflow rules: Use rules to define the order of signers and documents, to ensure disclosures are reviewed and accepted in advance of signing and stop incomplete documents with missing signatures or data from being returned.
Customizable branding: Users have the ability to customize their documents so they match their company's branding.
Embedded audits: eSignLive's digital signatures and audit trail are embedded in each document and stay with the record. Documents can be indexed, stored and retrieved easily on a file server or another system of record.
Huge capacity: eSignLive is trusted by some of the largest banks and government entities and has the capacity to handle at least 3 billion documents per year for a single installation, which makes it ideal for companies handling many documents.
Best for: Green companies, companies that do business overseas and real estate professionals.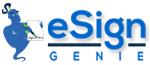 eSign Genie is a relatively new electronic signature solution that was founded in 2014 by AccountSight, a company located in Cupertino, California. This software was created to be easier to use than their competitors' and pricing is from a flat fee $2 per document through a $20 per sender per month subscription. There is a 30-day free trial, and enterprise pricing is available.
Collaborative: eSign Genie has multiple features that make it easier for groups of people to use at once including collaborative edits, a precise document history, an address book and more.
Reusable templates: The program allows users to create templates for forms and documents, which they can reuse again and again. eSign Genie comes with dozens of templates to get started with.
Simple software: eSign Genie was designed with ease of use in mind, and it requires 30 percent fewer clicks to send and sign documents compared with most other e-signature companies.
Storage compatibility: eSign Genie is compatible with popular storage solutions Google Drive and Dropbox so documents can be shared and edited seamlessly between platforms. eSign Genie also integrates with Microsoft Office.
Top level security: eSign is 100 percent UETA, HIPPA and FINRA compliant and complies with other security standards.
Best for: Green companies, companies that do business overseas and professionals who often travel.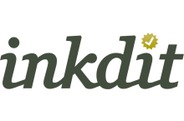 Inkdit provides ultra-light e-signature services with no apps or scanners required. The company is based out of Edmonton in Alberta, Canada. Inkdit is a low priced option and is free to individuals and businesses with up to four employees. The cost is $20 per month for 5 employees ($4 for each additional user), and enterprise pricing is available. Nonprofits get a 15% discount.
Convenience: Inkdit is mobile-friendly and can be used on nearly any mobile device. Put forms on your website and you and your signer will be able to download completed forms and access them through Inkdit.
Autocomplete features: The software offers convenient autocomplete features, which allow users to complete forms and documents more quickly and with less effort.
Payment options: You can receive payments with documents by using Inkdit with Stripe. PayPal will soon be an option.
Software integration: Inkdit integrates with a range of software solutions that many companies already use including Harvest, Google Apps, Stripe and more.
Daily summary reports: The program generates and sends daily summary reports for each document so users can be regularly reminded of the state of the document until it is complete.
Best for: Green companies, companies that do business overseas, professionals who often travel and real estate professionals.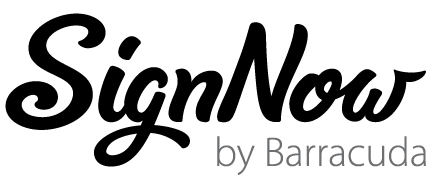 SignNow by Barracuda is an e-signature service that allows people to sign documents remotely. Their packages are available for businesses of all sizes, starting at $5 per month per user.
Templates: Templates make it easy to recreate the same document over and over again, such as a work order or other document your business frequently uses. SignNow allows users to share templates with teams, allowing for easy access to the right documents that need signatures.
Audit log: See who took which steps and when using SignNow's audit log. This feature ensures transparency along with the secure knowledge of exactly who is viewing your documents. This also ensures every step is taken with important documents.
Sign on any device: SignNow's software is optimized for mobile and desktop, making it easy to sign documents on any device, from anywhere. You can upload a signature or sign it on your device.
Assign order on documents: SignNow allows users to assign an order of signatures on the document, so the signatures automatically go in the correct spots. This means you can request and receive signatures in any order.
Premium features: SignNow has several premium features available for business and enterprise users, including Salesforce integration, private cloud, company logo on documents, HIPAA compliance and more.
Best for: Green businesses, sales teams and businesses that do business overseas.

SkySignature is an online service founded in 2013 that's designed to be easy to use, available to anyone and very affordable. Its headquarters are in Toronto, Ontario, Canada. The free version allows for 10 stored documents. The Professional version is $1 per month or $10 per year and can store 10,000 documents and offers archival storage.
Secure storage: Documents are encrypted in cloud-based storage on Amazon, which is very secure and reliable. You can view and sign your documents from any remote location on any device.
Helpful tools: When sending a document to a recipient, you are able to add "sign here" stickers to help the recipient locate the necessary signature spaces.
Convenience: SkySignature offers the ability to combine multiple documents into one PDF.
Safe and secure: When a recipient has signed the document, a verification report is sent to inform you that the signature is complete.
Professional document format: The PDF format that SkySignature uses is the same format used by most attorneys for legal forms.
Best for: Small business owners, administrative professionals, attorneys, real estate agents and anyone else who regularly requires document signatures.
Disclaimer
Information in this guide is general in nature and is intended for informational purposes only; it is not legal, health, investment or tax advice. ConsumerAffairs.com makes no representation as to the accuracy of the information provided and assumes no liability for any damages or loss arising from its use.