Consumer Reviews and Complaints

We own a vacation rental. Daily/weekly fraudulent posts come up highlighting our property. The scammer advertises for 1/5th or less of our asking price. Every time we contact Craigslist and never get a response. I find myself daily spending hours trying to find these fraudulent ads and pull them down only to find them again the next day. Most come from overseas IP's which should be a very easy mark for the programmers at Craigslist but they absolutely don't care.
It's impossible to reach them and when you try they have a third party advertisement that costs a minimum of $25 to attempt to fix your problem. Impossible to reach anyone on the phone. Extremely frustrating! Craigslist should take more responsibility, I'm not posting this stuff and the ads are always the same. They should never be posted! Craigslist start looking out for those of us that don't even use your service! Once an ad is prohibited once look out for the 2nd, 3rd and in my case almost 100 of the same post.

I have been using this site for quite some time now mainly for selling things like cars, clothes, furniture and other misc. items, and for the most part I never had an issue with that part of it, no removed ads, no scams, nothing but good business, but it wasn't until I decided to spice up my sex life with my wife and add others in the bedroom that I ran into issues...
I started out posting in the proper category and with correct pronunciation and grammar... Well to the best of my knowledge anyway, and nothing that was said in any of my ads was distasteful or raw, it was pretty straightforward and to the point, but one after another after another every one of my ads would get flagged for removal, so I sent emails to the staff with no response until I began to get pissed off and then I told them that if I can't voice my opinion on the site itself, that I would make a video talking as much trash about the site as possible and post it on YouTube...
After that I got a reply from someone that was about two sentences telling me they were looking into it and would shortly get back with me, that was 3 years ago and I'm still waiting for a response. The fact of the matter is Craigslist is dangerous in many ways as far as meeting someone. People have been hurt, robbed, raped, and even killed and the people that run or own this website take no responsibility for anything pertaining to this website or the actions of the people they allow in it. There is no real way of screening them so anyone at any time can get on with a fake email address and enter fake info and place ads with fake info and if you meet them you are putting yourself at risk...
As for me and my ads and that whole thing, well me and the wife enjoy browsing the ads and pretending to look for others but to be honest, after seeing the females that are on there and seeing how desperate the men are I don't think there is any way that we would actually ever meet anyone from this site. When men are desperate for sex they tend to let the dogs out and sleep with anyone at any time regardless of hygiene or morality, so in essence they will sleep with the biggest fattest whores that are out there, and won't think twice about it, and in this day and age no sex is really worth having because of that reason, so all I can say further is if you have something to sell, then by all means use Craigslist and be safe while doing it, meet in public and take someone with you, but as for the other sections like the personals, do not waste your time...
Oh and by the way I counted how many ads I posted that were deleted from the personals section, and it was 56 ads flagged for removal with no explanation of why, and the only way to even ask why is through the forum which is the dumbest thing I have ever seen, it looks like something my 13 year old came up with to talk to his nerdy friends, so as I said, don't waste your time because Craigslist is a huge joke.

I keep getting flagged for trying to sell fabric pots. This craigslist ** is a joke. You get no response when you send them an email. You call and just a damn computer directs you nowhere. I really hope someone comes up with a better Buy sale and shuts this ** hole down. ** CRAIGSLIST!

I contacted a seller through Craigslist after seeing iPhone 7 plus for sale advertisement from Miami. The guy negotiated the price and gave me the phone, as it was on iPhone cover and look exactly like Apple phone. Without second thought I gave the money and trust the guy. The phone was fake and the guy vanished. I contacted the Apple about the fraud, but they say they can do nothing about it as it was not their mistake or product. So I request each and everybody do not buy anything unless otherwise you are fully convinced. As I got this phone when I was staying in a hotel they do have videos. But money is lost. Have no time to deal with it.

I want to warn people about scam. On craigslist a car for sale, emailed lady. She contacted me back with a story her son killed in bike accident. Must sell car, memories... The car was packed up to ship through eBay motors in St Louis, MO. $1000.00 was to be loaded on eBay cards then downloaded on the computer somehow. Well I didn't know that process. Because of ConsumerAffairs. After reading some exact stories. It saved me. I will go to Fraudulent/FBI or contact us to see if this will help more people involved. FBI will get them. Her Eva. Very bad thing to do.
How do I know I can trust these reviews about Craigslist?
881,173 reviews on ConsumerAffairs are verified.
We require contact information to ensure our reviewers are real.
We use intelligent software that helps us maintain the integrity of reviews.
Our moderators read all reviews to verify quality and helpfulness.
For more information about reviews on ConsumerAffairs.com please visit our FAQ.

I had a very bad experience with a recent scammer whom had advertised himself as a roommate, using my rent amount paid for illegal drugs and put me through dire hell. I am an older Senior. He never did put me on his lease but later I filled an application out and had talked to the manager few times. The roommate gathered my rent money, then changed the door locks in the dead of winter and refused to give me my belongings, brand-new furniture, and much more. It involved the Police, Justice Family Court, Etc.
I am severely disabled with a social security check monthly. He had advertised on Craigslist for a roommate situation. The mobile home is nice but he wouldn't take care and maintain everything needed for in the trailer. Referring to Housekeeping and more. His name is; David **. I have his D.O.B. and more info. in my storage unit. I am a very simple, kindhearted, and otherwise type of person so too much is very undeserved to have had happen. It was when the snow was thick and freezing cold when he did it to me too. Please make sure to 'Flag' any ads that he may again place on you site, OK? Thanks!

The community moderators on craigslist are a bunch of people who don't work for craigslist but are allowed to flag and remove your post for any reason they want to regardless of whether your post violates craigslist terms of use. I buy and sell houses throughout the country and my posts get flagged and removed even though they are in the correct category and are completely legitimate. These are people who have nothing worthwhile to do with their lives. I believe they are losers in life who can't stand to see others succeed so they spend their lives in front of a computer doing their best to prevent others from doing what they have failed at. Craigslist needs to stop these people from destroying their site. I used to like craigslist but now I hate it. Either craigslist needs to stop these idiots or someone else needs to come up with a good alternative advertising site.

Craigslist has no protection against getting your ad removed by competition. I have my doubts about what Consumer Affairs can do to get craigslist.org to behave in a civilized way towards those who depend on their services. Craigslist people just can't be bothered to do the right thing. I have repeatedly submitted a variety of ads online on craigslist and the ads have repeatedly been flagged for removal -- by competitors. Anyone in the world can come onto craigslist and remove anyone else's ad.
I have come to the conclusion that this has been done to me as I have suited all the advert posting criteria that craigslist imposes, and still my ads get flagged for removal. It seems nobody from the craigslist staff reviews any complaint against a submitted ad. In less than a few minutes after posting it for publication, my advert is "flagged for removal" and it never appears where the public can see it. I offer writing services and I am well qualified to do so. I depend on advertising my skills. I wonder how many people are getting shafted by competitors in their fields of work. What we need is free online advertising services that knows how to do the right thing. I hope my time here has not been wasted. Thank you for this offer to state my case. Craigslist.org for me is a disreputable service.

Craigslist used to be a good site to look for pretty much anything used. I was previously looking for a vehicle and got the whole "if you send me the money I'll send you the car". Get out of here with that crap. Now I'm looking for a house or an apartment and they want money but won't show the places first. I wasn't born yesterday! I will not ever get on their website again. Find somewhere else. You won't get a free with this site.

Service was excellent when using Craigslist but that was the only good part of the experience. Dealing with the general public has been totally disheartening. Just two of twenty people were honest and trustworthy.

I think the only thing left on CL that's legitimate is the jobs section, since companies have to pay to post there. The housing ads are mostly credit ck scams, where you pay for a credit ck for a house or apt that isn't even for rent. Or they copy and paste a real estate listing and list it as a rental to lure people to prepay a deposit or rent on a property that is owned by someone else.
NOW, because I've found it SO hard to find a car being sold by the person who drove it, instead of a dealer, I decided to try Craigslist. I used their mileage filter to pull up only those cars with fewer than 30,000 miles. CL lets the seller input the EXACT amount in the "odometer" field. I got 400 listings!! Out of that 400, only ONE actually had fewer than 100,000 miles!! Why? Because ALL of the sellers (most are small-time dealers posing as private sellers) post numbers without using zeros. Some even posted numbers like "22,000" when they "meant" 220,000. I'm amazed at how many car dealers don't know how many zeros there are in numbers from 100,000 and up. SHEESH.
Oh, and if you're a low-skilled and uneducated person seeking a job on CL, don't even THINK about the "gigs" section. In household gigs, most of the jobs are males seeking to dupe females with "jobs" like "personal assistant" into sex, or pretending to be professional photographers so they can get females to pose nude for them, and THEN have sex. In the labor sections, you'll find people wanting an electrician and plumber who'll work for $8/hr. Forget about EVER finding anyone who works for CL to care one bit about any problems with their site.

My girlfriend and I was looking for a bird for my birthday. We found the one we really wanted so my girlfriend made a contact to this guy named Kyle ** who sell the bird for $400.00 but adding travel cost fee $137.00 which it is $537.00. From my experience, I've seen and heard people traveling for pets to be delivered so I thought this is legit and honesty. Kyle and my girlfriend have been texting since the day we wanted the bird. Until then, after the money is being transferred from MoneyGram, everything went goes wrong. Kyle stated that he went to USDA to do some paper works then drop off the bird to the agent that will be delivering to my house even worst part is we gave them our personal address!
Kyle refused to give us specific answers from what we asked is what is the name of place that will deliver to us, send us a proof that the arrangement to be made, etc. Kyle text me with an email address that I can get a hold of the agent, never heard from them. I received an email from the agent, the email address is ** and the "flyer" document have so many misspellings and the logo are traced from international airline which means it is fake. I asked Kyle to cancel everything and get my money back or I will go to see the law enforcement. Everything seems to be so real til at end of the day, it rip you apart. I filed report and hopefully I'll find a way to get my money back. Lesson learned. Do not go on cragislist.org to purchase something. I'd stick with eBay, Amazon or anything that are 100% legit. If you hear this person named Kyle **, please report. He is still actively out there scamming people since I am still waiting to hear from law enforcement for a result.

On the Men for Men personal ads against HIV people, **, Asians, fats, femmes etc. I am sick seeing most ads discriminating and claiming it is their preference. Let them do the work and have people contact directly. HIV people on meds post no risk of infection and people should be using condoms. Period.

I had wood delivered Tues, 11/01/16. According to the ad, it was (SEASONED FIREWOOD) split, stacked, del (half cord)-$105. Was informed by the Wood Guy, as he is called, that sale was cash only. He delivered wood later than he said that evening. I put the "seasoned wood" in a glass enclosed sunroom that night. Left a complaint to him the following morning, as seasoned wood was damp enough to steam up sealed glass storage room... and still hasn't even begun to burn. Last time I ever buy from him again. The Wood Guy never bothered to return my call. I called my contact from last year, who will be delivering another 1/2 cord this Monday.

I have been posting on Craigslist for years mostly automobiles and got flagged as most do. Been through ghosting and all that. My account page has been all pink. But now I'm posting in pets section for about 2 years. Same ole same ole flagged even more. My account whole page is pink. So I make new account new phone number and use only my cell phone to post. Things were ok for a week or 2 then my ads started getting deleted by staff before posted. Now I try to post and Craigslist is blocking my post. I think by me changing accounts and only using my cell phone to post, it would have been hard for Craigslist to make the connection that it was me. I think a very jealous friend is telling/reporting lies to Craigslist and making it even harder for me!!! Is that possible or is it Craigslist?

I tried meeting some women on CL personals because I just got a divorce and thought I would see what's out there. Well, I had 2 girls show interest very quickly. They both sounded like caring, sensitive and mature women seeking a long term relationship. Cool right? Wrong!! These sneaky ** both told me everything I wanted to hear and even promised to let me make all the decisions in the relationship. But they were from Ghana, Nigeria. That's where all of those damn lottery scams and royalty wanting to transfer funds to your account for a payment to you came from. Nigeria is the WORST! And they were both from there. 1st red flag. 2nd red flag was they spoke weird broken English that sounded very cerebral. Big words all over the place. 3rd red flag they made all kinds of promises to gain your trust. 4th and final red flag was when they revealed their true intentions.
The first said that if I loved her I would support her fully. Which means buy me a plane ticket to Atlanta from Nigeria! Oh, that's not suspect! I kept trying to ask her what her plans were for us if we both decided to get married. I wanted her to tell me step by step how this was going to work and how she planned to get here. But she just kept spouting pretty relationship crap about love and trust and support. BS. So I spelled it out for her and she said "yes, I need you to pay for a plane ticket." That's where the scam was revealed. She wants money. Hmmmm. Nope. Not gonna happen. She gets your money and I bet all of the sudden she is gone and you can't get your money back because she lives 2000 miles away on a whole different continent. I'm not stupid. I just play one on tv. Lol.
The other one wanted money for a ticket also. But, claimed her uncle worked at the airport and could take care of it for me. BS again. She just wants your money. As soon as I called her out they both acted all surprised like they didn't know what scam I was talking about. I mean, who gives several hundred dollars to someone you just met on the internet based on promises that can't be backed up anyway? Stupid people I guess? So of course after being exposed they stopped talking to me. Big surprise! And they all listed on their profiles that they lived in the US. Another red flag, they don't live where their info says.
And after reading the reviews of other sites like eHarmony, Plenty of Fish and OkCupid, I am furious. I'm so mad I think my brain is gonna pop. Why can't vigilante superheroes be real, like the punisher? It all just makes me sick. Don't get tricked. Don't give money to someone you haven't met ever!! And if that isn't bad enough. There are tons of girls responding to my post saying they want to have sex right now. But they want me to do this little favor first. 1st red flag. And they want you to verify you're over 18 and not a sexual predator by going to this site and filling out some info. Sounds legit at first. And they tell you it's free. And then they promise all kinds of sex when you get their cell number from the site. BS.
You go to the site, fill out the info, and then they want your credit card. So I tried it. Then my bank called about suspicious activity on my card. Those bastards charged my card $39 and lied to me. So the guy from the bank helped me out and was friendly and canceled the charge. Cool. 2nd red flag. She keeps emailing me after I told her this was bs, saying "here, now try this site. They don't ask for CC". But they asked for my card. Of course. She is still sending emails with the same story each time. Each time, bogus.
I have been looking for a week on CL personals and haven't found a real girl yet. One girl even posted a pic of a woman at her desk wearing a dress green military uniform with 3 gold stars on her shoulders. It was so obviously fake as soon as I read her info. She said she was a sergeant in the army. I laughed because I was in the army NG field artillery. Sergeants have 3 chevron stripes, not 3 stars. Stars means general. That's the highest rank you can get besides being the President of the US. You are more likely to get hit by lightning than to find a real girl on CL. I hope this info helped someone.

I was looking for a RV to buy. When I came across one that stated for sale 1994 winnebago that was got in a divorce and didn't want it or use it for $2000 buy. Had to use ebay gift cards for $500 each. Well l sent them the money like told then had to send $1500 more for insurance. Well it was supposed to be ebay motors which turned out to be a scam. I contacted ebay and craigslist with lady's name address and also contacted craigslist and attorney general but nothing and I'm out 3500 dollars. Called tv stations but no one was interested in a disabled veteran and senior citizen being scammed out of $3500. Why haven't you reported it to people to watch out for these RV. Scams.

Someone has lifted photos of me from Facebook and put them on 4 different CraigsList. They have said many horrible things about me and said I live in a filthy home and breed various animals for sale. They listed my full name and full address, including a map showing my home. I have neutered dogs and no other animals. They said I sold them a bird for $300 and it died the same day. I do not have any birds. They said I am a scammer and many other terrible things. I am now afraid and my business is being put at risk. I am bullied by someone and they are hiding behind an anonymous name. CL will not let me know who is bullying me. They have done this before and CL always protects their identity. CL cares nothing about them tormenting me. It is obvious that a person can cause a lot of damage to someone they don't like if they want to use CL as their means.

Craigslist blocking my incoming messages. Posted resume in the job section. Now I don't get emails. It's called (ghosting). Another thing if you are experiencing this horrible acts on a person you might want to look up gang stalking. I pray the day these people get noticed by the public. Warrantless surveillance. Wastes taxpayer's money cause there's no return on investment.

The handyman was knowledgeable regarding many things - plumbing, electrical, etc. and explained what was wrong where I could understand.

For the last number of months now, I can't seem to use craigslist at home due to my IP being blocked. This only happens from my home, and none of my ads are impacted. I get a message with an email stating to contact them to find out about my IP being blocked, though I have yet to ever get an email. I have emailed them so many times that it is ridiculous at this point. I have not broken any of their service rules that I know of, and they don't seem interested in telling me anything about it.
Main issues: They block my IP without giving a reason. They refuse to respond to any email I send them at the email address they gave me regarding the block. They post no information online that allows me to figure out what is wrong with my IP. This blocks me from properly managing my various posts on their site. This kind of customer service is basically non-existent. Horrible experience.

I just made my sister's life very hard with purchasing a puppy from craigslist. She cries and kids cry all the time. We got the parvo puppy from someone on first of July. Real nightmare to us. Since then we don't have life and just fighting to keep him healthy but not working out. We spent a lots of money taking him to vet. We are feeling so unlucky. GOD please help us to identify this people because they can make anyone's life to nightmare.

People need to be a little more responsible. If someone ripped you off on Craigslist, then they would have ripped you or someone else off anyway. It means they have it in them. I have a great job with a great company. They got me by putting their job posting. I just got a car from a posting on Craigslist. I found my current car on Craigslist. There are a number of problems with this car. I had an accident from turning into a doctor's office, hitting a curb and knocking down a sign. Found out the breaks were really bad. So is that Craigslist's fault? No. That seller would have found another way to sell it. I have a great job because of Craigslist.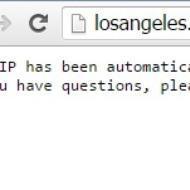 I've been using CL for a while most of the time buying stuff. Never had a problem. Sometimes I sold stuff as well. Again no problem. Lately, I've been using only to track possible gigs. I keep 3 pages open, each one with one subject. On the past 2 weeks, I've been blocked out of the blue. They send an email contact. I wrote back 13 times and I haven't received a single reply even for a lame explanation such "we don't like you and we don't want you to use our website". I think I would prefer that because at least I would understand why I've been blocked. By the way, the gigs I've been looking for are as translator/voice over artist and church musician. Nothing that can be described even close to a suspicious/malicious activity.

I was banned for posting an ad for clones. I am a valid patient and only sell to verified patients and state such. I was deleted and then my IP banned. Other ads by businesses are still up even though they do not say they only sell to patients. This is because the business pays for ads. I believe they are even the ones who reported my posts. If Craigslist is going to enforce a rule they have to apply the rules to everyone equally.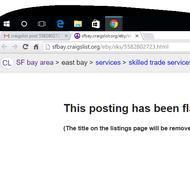 I am a Licensed General Building contractor and I post my ads on Craigslist, the Skilled Services section. The past few months, someone who has software that can flag off and delete ads is targeting me and has managed to wipe out my entire account of ads and have done the same with my employees' ads and their accounts. We have emailed Craig Newmark personally, time and time again only to get the same response "we're working on it, sent info to my team". This has been going on for MONTHS and nothing is done about it. My business is now tanking and I'm just about out of business!! Thanks for nothing Craigslist!!

Craigslist is a site that's used by the ones that just post information and it stays there forever. I doubt that they even regulate anything about the site anyway. I've sold things on Craigslist and tried to delete private information. Nope, can't do that. I've tried to post a few listings for free stuff, they were all over that one even if it's not at their expense. Why would Craigslist fund a non for profit site that abuses information.

No way to talk to a live human being. Voice recordings and emails with automatic responses seem to be the way to go with craigslist. They remove your ads with no indicators as to why. I have tried emailing them and yet my responses are automatic. The response you get when you call in to them is to email them. You are basically just are running around in circles getting nothing accomplished with them. When they remove ads they need to start giving explanations as to why. I have read through all of the rules and it makes absolutely no sense as to why my ads are being removed. I can spend hours compiling ads and trying to help my customers out. I used to love craigslist and lately it is just a huge hassle. I used to recommend everyone to them. I want everyone to know how terrible I think their customer service is. Thanks for nothing!

I have a serious problem with the search engine. After posting an ad about my car for sale, I put the info about my car in the filter but could not find my car & the others in competition with it. Repeatedly, unrelated misc. cars resulted. This leads me to believe that someone interested in my type of car would have the same problem. Wasted money.

There are a lot of women and men on Craigslist claiming to be licensed beauticians with fake websites and fake pictures. This lady scammed me with fake pictures of hair that she did not do. Her name is Cyn and she had a page in which she just shut down under **!! Now I know why she came up with that name! She did my hair and I wouldn't tell nobody!!! She is located in Sacramento and if you see this number (because she changes her name constantly) ** please don't call it!!! She is not a beautician and is a big scammer.
craigslist Company Profile
Company Name:

Craigslist

Website:

http://www.craigslist.org/