Amazon Local
Out of Business
Consumer Complaints and Reviews

On my new Kindle, Amazon keeps charging my debit card for apps downloaded on my Kindle. They say I need to block these charges by using parental control. Sounds logical??? I call them and get the runaround. While it looks like theft to me, they put it on me to block with parental controls. I was told the problem was fixed only to see it happen again and again. WEAK.

I have had Amazon Prime for years now and have always enjoyed the benefit of being able to order "prime eligible" items and have them arrive in 2 days. Within the past 6 months I have noticed that my "prime eligible" orders have started to arrive more than 2 days after placing the order. I confronted Amazon customer service and they said the new policy is that 2 day prime shipping means once the item has been shipped it will arrive in 2 days. Very frustrated and upset at such technicality, and feeling very misled by Amazon marketing. What good is the $100 membership if most of my items are "prime eligible" but take 4+ days to arrive and why have they made such a sly change, hurting their used-to-be loyal prime members? Might as well ditch the membership and save $100.

I place an order at Amazon for air compressor for Nissan Maxima 2000. It cost me $120. It works good. I even gave the company a good review and works good for a week. Now it doesn't work anymore. I got in touch with Amazon. Amazon is telling me that I have to get in touch with a seller and the seller doesn't respond. At the end they giving me the runaround and I gotta pay for another compressor which I'm not getting from Amazon and stuck with the one that doesn't work because everybody's pointing fingers. At this point you can order from Amazon but you cannot get your money back.

I joined the Subscribe & Save program. Everything was fine for the first few months. Then they charged me double for my order & refuse to provide a refund. Subscribe & Save is supposed to give you a discount on each order. This product is supposedly $9.99 regular price, after Subscribe & Save discount it's $5.98 each, yet I was charged $11.98. They claim that $11.98 is my discounted price. Discount means less, why am I paying more??? I was told by their customer service that I can refuse my order at time of delivery if I want. That's great, problem is the mail is delivered while I am not home.
I am unable to refuse the package. I now have to take time off work to go to the post office to have this returned, refunded less shipping. Now not only am I out money, but also have to go out of my way & waste my time. Have tried to leave feedback however Amazon has replied that seller feedback should be left on the seller feedback page. Yet when I try to leave feedback regarding this purchase on that page, this purchase from Amazon (the seller) is not an option. Seems that Amazon is happy ripping off customers & does not want any negative feedback.

March 24/04/2017, I ordered Vivo V5 plus in Amazon with Best offer seller & estimated date of delivery will be 29th March to 1st of April 2017. I requested to the customer care same-day itself, "We have occasion on 29 of March 2017. Please deliver the mobile handset Vivo V5 plus on or before" & Customer Care executive said "We will deliver it on 29th of March" but I haven't received it. Then I expected at least 1st of April but I haven't received the item. When I called to customer care several times on same-day (01/04/2017) their response was good and they placed complaint a to z guarantee claim on the best offer seller. And Today (03/04/2017) when I called to customer care and said I received the mail from seller stating on 7th of April I'll get the handset.
This is the case then why Amazon haven't informed in estimated date or at least a phone call or at least text SMS or else at least when I called several times to Amazon why not that time and then my statement to them for arrange alternative sellers who can deliver me on time, even that is also not possible. Then finally cancel this order and refund my money right now, then by listening this statement they disconnected the call. This is what their capabilities to serve their prime customer. Who are all reading this review my suggestion is please don't go for Amazon if you want gift or buy on any occasion.
How do I know I can trust these reviews about Amazon Local?
850,588 reviews on ConsumerAffairs are verified.
We require contact information to ensure our reviewers are real.
We use intelligent software that helps us maintain the integrity of reviews.
Our moderators read all reviews to verify quality and helpfulness.
For more information about reviews on ConsumerAffairs.com please visit our FAQ.

Malabar Gold & Diamonds 22k (916) Yellow Gold Nose Ring, arriving Monday, on time. 8 Jan 16 Jan, Preparing your order, Edit order, arriving Monday. Look above. I ordered a Nose ring on Amazon site online through Malabar Gold. To my surprised I order on 08Jan'2017, and today is 11Jan'2017, still said Nose Ring not prepare.for Delivery from Malabar Gold.
If after ordering, it takes 4 to 6 days just for preparing delivery, then how long will take the said ring to reach a Valued Customer of Amazon? Amazon should make clear agreement with such outlet, as outlets must prepares for deliver on same day after receiving ordered. Otherwise Amazon name will spoil. For more information, please refer the above-ordered reference from Amazon. With good day.

I had ordered the one plus 3 t 64 gb variant on 14 Dec order id ** also entering the contest for 100% cashback. After 3 days vendor canceled my order without my knowledge and now I have to wait for the refund to show in my account and also cannot take part in the contest I had entered. It is sad that Amazon service has gone down like this and the vendor is not answerable for such actions. Looks like either the vendor or Amazon cheated in this instance.

I have purchased a Redmi note 3 on 12th of September. Cost of rupees 11999, and have returned the product as I have received a damaged product but there is no response for the refund from almost 2 months, I have been calling Amazon numerous number of times, I have sent the Return authorization letter almost 5 times. First e-commerce company I have seen where there is no intimation to the customer nor any call backs from the seniors nor any initiative to the customer and the customer support is one of the worst service have been provided to me pathetic.
I would like to mention few names which have been trustworthy from Sachin, Prince and especially Lalith who have been so freaking rude with the customer and something surprises me is that they do not have authorized to tell their full names as well as their designations as well as their manager's name. Wow weird! And no customer support has the resolution. Everyone provides only one resolution to wait for 24-48 hours of time. Is it 24-48 hours of time or is it 24-48 months? Come on grow up being one of the most popular e-commerce site and providing these kind of pathetic service. One of the hopeless and worst online shopping. For further information: **.

Amazon is unbelievable. I paid extra for fast delivery, was on the phone half of the day with the courier person who was always telling he will come at the delivery date. Then one hour after "guaranteed delivery time" he said he isn't coming and stopped answering the calls. Now the best! Same moment I am getting an SMS from amazon "that customer wasn't available for delivery"! And even better - same time we are getting another package delivered and receiving it from amazon. Customer service said they are sorry and won't to anything about that! Amazon India is a company where lies and fraud is a regular base! We have all On record. Every single call.

I had ordered online from Amazon.In one Kundan NABL Certified 2gm 24 k (999.9) gold coin. After receiving the consignment from the courier when I opened the packet there was no gold coin inside. I am cheated!

This is regarding Order # **. This rating is basically not for product but for Amazon. This is my worst experience with Amazon. From here onward I will never, ever buy any product from Amazon. I ordered this product on 5th October and it was suppose to be delivered by 13th October. The item reached early to my city and it was "Out for delivery" on 11th October. I got the message that some Amazon agent is "Out for delivery." I tried calling him all the time but he didn't pick my call and at the end of the day he updated status that "Delivery failed since customer was not available."
Next day again same thing happened and I called Customer Care to enquire, to my surprise Customer Care person told me that "Delivery date is 13th October so why are you worried about status? It will be delivered by that time." I thought of waiting one more day. Again same thing happened and this time on 14th Oct. the delivery person updated the status that "Customer requested to reschedule the delivery." How can he update this status without even contacting me? And the fact is I was calling him daily all the time but he never picked my call.
I called the Customer Care person again and then the Customer Care person suggested me to get it deliver at home address if it is not getting delivered at office address. I gave him both the address and asked him to deliver at any address wherever they can deliver. Now next day the status is that "Customer requested for address change and it will take 2 working days to reroute the parcel." My home and office is just 2-3 km distance which lie in the same locality so rerouting of the parcel is not require at all.
Finally it was again "Out for delivery" and this time again same thing happened. The mobile number of Amazon agent who was out for delivery is switched off and could not be contacted. I called Customer Care again. The person told that the number was updated wrongly but he had contacted delivery person, and this parcel will be delivered by today for sure. And at the end of the day status was "Customer requested for rescheduling of delivery." Without contacting me wrong status is being updated everyday. And there is no proper channel in Amazon to investigate any issue.
I don't know why Amazon didn't want to deliver this product. But one thing is sure that all these status updates and wrong mobile numbers of delivery agents, and response of Customer Care was all pre-planned at least for this delivery. Finally I have requested to cancel my order, let's see how much time Amazon will take to refund my money. This is my ever worst experience with Amazon. Think twice before buying on Amazon.

I have been shopping with Amazon since the last 2 years and I received worst ever experience during the sale from 1st Oct. to 5th Oct. The MRP of the product on the website was Rs 959, and after discount of approximately 60% the product cost was Rs 389. This was very reasonable discount and I went ahead with the purchase. After delivery, I was totally surprised that the MRP of the product was Rs 400 (manufacturer product label) and I had paid Rs 390 (COD, change of Rs 1 not returned). I have brought this up with customer care department over two days and they have not responded which really confirms the quality of service they provide during this season. Website screenshot also attached for everyone use.

I have purchased a Brown jacket from Amazon.in. I have chose a correct product which I wanted but Amazon messed it up. I got email confirmation as Black color product. Asked Amazon to please contact their seller as product color is different in email sent by them. Amazon customer care executive tried to fool me saying I ordered wrong product and they even kept me waiting for 30 min on chat after giving them all the details. They said she is talking to leadership team but gave me no solution.
Closing my account in Amazon.in, going back to Flip-cart. At least their customer service is better. Worst experience with Amazon. Did not expected with world biggest eCommerce to treat customers like this and fooling. Maybe that the reason you won't success in India. Probably ask all my friends to not to purchase from Amazon.in or com. If required I will send all the emails and chat conversation I had with your rep. They literally hung up on me. They left the chat without my permission. That's absurd.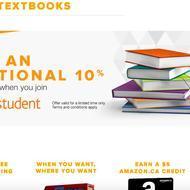 As a member of Amazon Student Prime Canada I was made aware of a discount on textbooks via the student portal of the amazon.ca website (a similar promotion exists on the .com website as well). The advertisement said "10% off textbooks" with the traditional "some terms and conditions apply." I reviewed the terms and conditions which stated: "This is a limited time offer. Offer only applies to products sold by Amazon.ca. Offer good while supplies last. Shipping charges and taxes may apply to discounted and free promotional items. Taxes, shipping and handling, and gift wrap charges do not apply when determining minimum purchase amount. Each customer can claim up to a maximum benefit of $100 in discount from this offer. Use the promotional code TEXT10 to receive benefit."
I had used the discount a number of times to purchase textbooks already, so when I needed a last minute textbook after a course change I figured I would use it again. It had been automatically applied to all my textbook purchases after the first use. Unfortunately, the textbook (Critical Thinking: A Student's Introduction by Gregory Bassham, 5th ed) was only available for shipment in 1-2 months and well beyond when I would need it. I clicked on the Kindle edition which was more expensive ($213.10 CDN) by about $20.
Thinking I would recoup the price difference with the promo code I purchased it with the 1-click option, the only option available. When I was sent the invoice moments later, I noticed the discount had not been applied. I immediately reviewed the terms and restrictions of the promotion and noted no restriction on the manner of delivery, i.e. digital vs. hardcopy. Following this, I contacted Amazon customer service.
Amazon Customer Service denied my request for the discount to be extended to the textbook after I chatted online with them and subsequently phoned. It was their contention that because it was digital the book I ordered was not a textbook. They also argued the language of the restrictions meant it only applied to hardcopies.
Further, they held that, because notice of the promotion only appeared underneath the hardcopy option that it meant it didn't apply to the digital copy. This ignores the fact the promotion was visible on other areas of the website and other pages that did not include textbooks, as well as the language of the terms and restrictions which clearly fail to limit the discount to hardcopy textbooks. In my first conversation I failed to bring this point up, in my phone call with the customer services representatives I did make this point.
Now, this might seem a lot of fuss to make over $21.31 CDN but the fact of the matter is that Amazon as a company is responsible for its promotions. I've been a loyal customer, purchase quite a bit from them and very clearly and politely requested that they honour their promotion. Business needs to be built on good faith - advertising to students that they can receive a discount on products and then changing the terms after purchase to exclude certain products is deceitful.
At this point, it seems to me it is intentionally so. No other large companies I've bought online with seem to struggle to write very clear terms and conditions in the fine print, nor have I ever had a store refuse to honour a promotion even when there had been a mistake - the company bears the cost for their own errors.. but not Amazon. The resolution in my favour would have cost less in cash than refusal has in trust and goodwill.

I've ordered 3 items on Amazon. Although I specifically requested to ship all items at once Amazon shipped them separately all 3 items! As always UPS missed my package. I was at home waiting, they didn't even knock my door! I am still waiting for my 3rd item. I placed an order on July 31 a pair of boxing glove. It's Aug 5th and they haven't shipped it yet! It has being in shipped soon status for 5 days! I placed an order on last Sunday and today's Friday. Clearly Amazon is doing this intentionally for those who are not prime members. I will never ever buy anything directly from Amazon. It takes 8-9 days to receive the package. The previous two items I bought them on July 23 and received on August 2nd! And another one on Aug 3rd. It was even more annoying because they used UPS and AMZCA; the shipping method is so unpredictable. Back then I would receive things within 2-3 days!

I ordered a TV and Amazon could not deliver it as per commitment... 1st day they said no one to deliver courier to. My mom is handicapped and at home 24/7. No calls were made or knock in door to deliver. 2nd day again no call and status updated as action from customer!!! What do they want us to pick it up ourselves. 3rd day customer service confirm a deadline of 12 pm. No call till 3 pm and finally we cancelled... CS raised a ticket for the issue on 3rd day. Absolutely pathetic. I don't know how long I have to wait for refund.

Amazon India is very bad return policies. I have return an item 10 day back but Amazon has no interest to return my amount. Reply of the customer service agents are illogical. If Amazon continues to do this kind of cheap business, definitely very soon, you will see it has closed its business in India. The seller they have involved for the item is an idiot so as Amazon. I will ensure this will be my last purchase from Amazon India. Does it seem logical... the place where Amazon can deliver the product doesn't have pickup facility while returning.

Have never been disappointed with Amazon purchases. They keep you informed of expected delivery dates and so far in at least a dozen orders it was accurate. As a Canadian it's advisable to order through Amazon.ca rather than Amazon.com because with the exchange involved, you could be very disappointed in what you pay compared to what you expected to pay. It's easy to order from the .com side without noticing you've done so, so again exercise caution before you purchase and only browse the .ca address.

I've had a great experience with Amazon here in Germany so far. It's now been about a year since I created an account, and 99% of the time everything goes without a problem, when things do come up (such as a defective product), they have always quickly and fairly resolved them. On more than a few occasions there have been delivery problems (some that went as badly as possible), but these can only be blamed on DHL, I'll save that for another review I need to write.
The products are packaged well, and despite some very occasional random downtime, the site works wonderfully. I always get exactly what I ordered and often for less money than anywhere else. Being an American in Germany, it also allows me to find products I want which I can't find in any brick and mortar store. When it comes to third party vendors, I think Amazon.de has done a good job of expectations, and by allowing open seller reviews, we can feel comfortable knowing who we are dealing with. So, all in all I can only review them positively, and hope it continues to stay this way.

I was billed for my purchase from Amazon Local for "3 man-hours of Cleaning Service" on July 28th. I have contacted the company several times only to be told they would get back to me, which they haven't! My voucher code: **. I am requesting a refund for $42 paid on the 28th.

I have order a product in Amazon india via Order No: **. I was informed the product is shipped within 2 days but has not reached even after 10 days. Till then nobody from amazon cared to inform me the status. When I complaint many times, I was assured for refund. ONE month gone. Still refund not received. Amazon India is an unreliable seller. I found FlipKart very prompt in delivery and communication. Price wise also Snapdeal and flipkart are cheaper than amazon india. Boycott amazon india.

Erin HuffstetlerDeal Websites Contributing Editor
Erin Huffstetler is the Frugal Living Guide at About.com, and the founder of MyFrugalHome.com. If there's a way to get something for less, Erin will find it, and tell you about it. More about Erin→

Local.amazon.com is the place to head for Amazon's deal site. It has been serving up local and national deals since 2011, so it's a relative newcomer to the market.
Accessible customer support: You can call, send an e-mail or request that they call you.
Use your Amazon login: If you already have an Amazon account, you can use it to login to Amazon Local.
Fair return policy: Unused vouchers can be returned within 30 days; event ticket vouchers can be returned within 24 hours.
Vouchers available immediately: They'll be e-mailed to you as soon as you complete your order.
Vouchers marked when used: When you redeem a voucher, Amazon marks it as redeemed in your account – so you don't have to remember to go back and do it.
Availability: While national deals are available to everyone, the local deals have only been rolled out to a limited number of cities at this time.
Gift cards: Amazon gift cards, Amazon store cards or store balances can't be used for Amazon local.
Best for Bargain shoppers, one-time users, occasional users, businesses
Amazon Local Company Profile
Company Name:

Amazon Local