Consumer Complaints and Reviews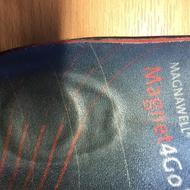 Purchased a pair Energetix Magnawell Magnet4Go! Insoles, whilst at show in South Wales last year. They have a two year warranty. But after less that year, the metal strip is showing through the insole in the heel. I have been unable to locate the seller and therefore contacted Energetix. They are unwilling to assist.

We would like first to apologize for the difficult time that you experienced, as described in your complaint. In your complaint, you mentioned that you had a product question that was not answered to your satisfaction as well as a negative customer service experience and we would like to address both of your concerns.
We received your email request on January 22nd, 2010 and our customer service representative sent a response to you recommending that you speak to your practitioner. We have conducted an investigation into this matter and this was done in error. We often receive questions about product usage which we refer back to the practitioners who recommended the products to respect the doctor-patient relationship. Our customer service representative was new and didn't fully understand that this was product ingredient question which is handled internally. We are always available and happy to answer ingredient questions about our products. As soon as we had realized this mistake was made, we sent an email to you on Monday, January 25th with the answer to your ingredient question and we hope this was to your satisfaction.
We also understand that you had a negative customer service experience. This experience has no doubt caused you some frustration and we want you to know that this is certainly not typical of our organization. Energetix takes great pride in maintaining a reputation for excellent customer service, and we will make every effort to ensure that your next transaction with us is handled efficiently.
Thank you for bringing these issues to our attention and allowing us to comment on them. I believe that your feedback will assist us in improving the services that we provide, and will be incorporated in our service review. If you have any other questions, now or in the future, you can contact me directly and I will endeavor to answer any questions you may have. We value your business. Please feel free to contact me at **.

I purchased two of this company's products through my health care practitioner. I had some questions regarding why the company made certain decisions with the combination of ingredients in their products. First, I emailed the company with my questions and received an email that had no identification of the person who was answering or that it even came from the company. I then called the company's customer service line and was met with a rude, clandestine, and ignorant tone and manner which further disturbed me about this company's practices.
At this time, I contacted my health care practitioner and asked her questions about this company and why they refused to give me the information I was requesting about their products. My practitioner then explained to me that she has also been in a battle with this company for an extended period of time. She is attempting to be able to distribute the required information about their products to her patients and the company is refusing her request. This is quite disconcerting and rather frightening, to say the least, that a company would refuse to release information about their products to consumers.
I was definitely angered by the treatment I received and frightened that a company would refuse to divulge rather important information about a consumable health care product. Also, I have had to take considerable time out of my day to report this company to both your organization and the Federal Trade Commission.
Energetix Company Profile
Company Name:

Energetix

Website:

http://www.goenergetix.com/