Some can help you establish good long-term habits; others provide a quick fix
01/22/2015
|
ConsumerAffairs

By James R. Hood
ConsumerAffairs' founder and former editor, Jim Hood formerly headed Associated ... Read Full Bio→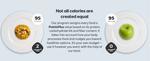 There's no shortage of advice on how to lose weight. You could take up triathlons, switch to a raw or paleo diet or begin counting calories and keeping track of every morsel that passes your lips.
Some of these might work for some people, some for others. But which one will work for you? And for how long? That's the 64-pound question. The answer, of course, is whichever program helps you eat fewer calories than you burn. The hard part is finding a program that does that a...
More
Joe is 13 pounds lighter and a lot smarter about dieting
10/25/2007
|
ConsumerAffairs
I'm on the final day of my trial of the NutriSystem diet and my conclusion is that it works and is not as terrible as many of our readers think, but it may not be right for everyone.
I think it's best to let you judge for yourself. I'll list all the pros and cons as I see them.
• Weight loss: I dove head first into this diet, only breaking from it once, and briefly, to celebrate at a birthday party which I helped plan. In total, I lost 13 pounds. In a 28-day period, that...
More
Sort By