---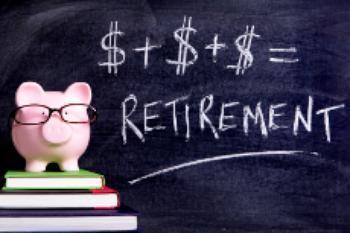 Americans are living longer. That's the good news. You'll probably need more income and assets in retirement to support yourself during those extra golden years. That's the bad news.
Before the financial meltdown of 2008, financial planners encouraged future retirees to be ambitious in their retirement plans, suggesting it would be necessary to set aside a large investment portfolio in order to have a comfortable retirement. But those expectations have changed somewhat as the Great Recession and its aftermath have changed the financial landscape.
Over the last four years consumers have concentrated more on paying down debt than accumulating savings. Some have seen big drops in household incomes. Others have diverted income to help support adult children who are struggling. So starting or maintaining a retirement plan has been something of a challenge lately.
Retirement timeline
In its advice about retirement planning, the U.S. Labor Department suggests starting with a retirement timeline. Plot out on paper the important milestones as you approach your "golden years." At age 50, for example, you should start making catch-up payments to your retirement accounts, which may have been neglected in recent years.
At age 59 ½ you can begin making withdrawals from your retirement accounts without penalty, but you should resist the urge. Leaving that money in a tax-deferred account to continue to grow will mean more money when you really need it.
At age 62 Americans are eligible to begin drawing Social Security benefits, but the monthly amount is less than if you wait an additional four years until you are 66. Keep in mind that if you start drawing benefits at age 62, not only is the check smaller, the amount you earn, if still working, can impact the tax you'll pay on benefits. Waiting until age 66 means there are no limits on additional income.
If you were born between 1943 and 1954 you will be eligible for full Social Security benefits at age 66. At age 70 1/2 you must begin making minimum withdrawals from your retirement accounts; otherwise you will face a heavy tax.
Measure assets
Without considering Social Security or other pension benefits, take a look at what assets you have that can be converted to cash at some point to help supplement retirement. If you own a home with a mortgage, that could be a liability going into retirement. While everyone needs a place to live, eliminating a monthly mortgage payment in retirement is almost like increasing tax-free income.
If there is a way to pay off your mortgage by the time you retire, it may be prudent to do so. The government's FHA program also offers a reverse mortgage option. Those with significant equity in their homes may be able to qualify for a reverse mortgage allowing them to live in their homes the rest of their lives without making payments.
How is your retirement money invested? You want to keep it safe but you also want a reasonable rate of return. Keeping it in certificates of deposit, for example, may not result in much growth at all. Here, you may need the advice of a financial adviser.
Stay diversified
Experts recommend that you spread your money among a range of investments so that your money is "diversified." In addition, most experts add that you should not only invest among categories but within each major category as well.
For instance, your risk of losing money is less if you buy shares in several mutual funds investing in various types of assets, such as large company stocks, small company stocks and bonds. Even investing in just one mutual fund will help you to diversify compared to investing in individual securities on your own, since mutual funds, by their nature, allow you to invest in a collection of stocks, bonds, and other financial instuments.
Financial planners believe that diversifying your investments helps reduce risk as markets move up and down. For example, in 1980 when some certificates of deposit (CDs) were paying 12 percent, stocks were barely holding their own; but in 1999 most stock prices were rising fast, and CDs were paying five percent.
Too much money in one type of investment is always a bad idea and puts your money at risk. For example, many American workers are holding a lot of their employers' stock in their retirement accounts. This ties both your current paycheck and your retirement savings to one employer's success...or failure. This can be risky.
Investments can make money two ways – through capital appreciation and through dividends. That means the value of the stock goes up while it also pays out a quarterly dividend, which can then be reinvested. Many financial advisors like dividend-paying stocks for precisely that reason.
Once you begin your retirement plan, consider it a work in progress and one that should be revisited on a regular basis.
---