---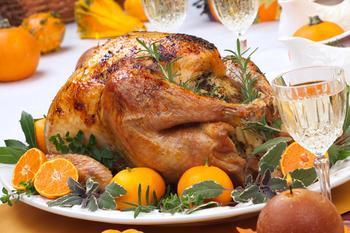 Thanksgiving dinner at Grandma's this year? Better check with Grandma again. The rising cost of food appears to have lots of people hoping to pass the buck instead of the mashed potatoes.
A new survey conducted by coupon site CouponCabin.com finds that more than one-in-ten consumers have said "no" to hosting a Thanksgiving dinner in the past because of the cost. In addition, 14 percent said they feel pressured to host a Thanksgiving dinner because others in their family and friends group don't want to spend money on hosting their own.
This survey was conducted by Harris Interactive survey was conducted October 18 – 22, 2012, among 2,082 U.S. adults aged 18 and older.
Biggest concern
What is it about Thanksgiving dinner that has would-be hosts ducking for cover? The biggest concern appears to be the cost. At a time when average household income is falling, food prices are rising. And as we all know, there's a lot of food at Thanksgiving.
Seven-in-ten who are hosting a Thanksgiving dinner this year said they are at least somewhat concerned that this summer and fall's weather will increase food prices for hosting Thanksgiving this year. Thirty percent say they are not at all concerned.
Of those that have already agreed to host a Thanksgiving celebration this year, 45 percent report they are at least somewhat overwhelmed with the cost. This is in line with last year's survey findings, when 44 percent said the same thing.
What makes a Thanksgiving feast so expensive? Both the types of food and the quantity. There's a turkey, side dishes and beverages. Side dishes are normally made from scratch and the ingredients can sometimes run up the costs.
What people are spending
Nearly one-in-ten consumers in the survey -- about seven percent -- said they plan to spend over $300 on the Thanksgiving meal this year, while 49 percent will spend between $101 and $300.
Others are planning a more frugal Thanksgiving, as 44 percent said they will spend $100 or less. Those hosting Thanksgiving plan to spend an average of $246 on the meal.
"While it's a time for celebration, the price tag that comes with hosting a Thanksgiving meal can be daunting for those hosting," said Jackie Warrick, president and chief savings officer at CouponCabin.com. "Many Thanksgiving hosts have gotten a jump on their shopping already, stocking up on non-perishables and frozen items to supplement their fresh purchases. By combining a head start with other savings strategies, hosts can trim their turkeys and their costs."
The best way to save money on your Thanksgiving feast is to go generic. When you have to buy so many different items to prepare a Thanksgiving meal, going generic means big savings. For staples like flour, sugar, spices, pasta, napkins, paper towels, vegetable oil and more, skip the name brands. Your guests won't even notice the difference.
Also, keep decorations simple. The food is the main event at a Thanksgiving meal, so don't waste time and money on elaborate furnishings.
---