---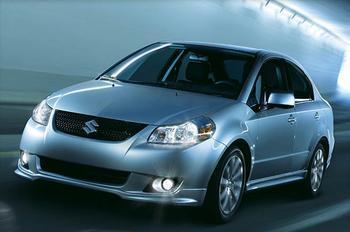 In early November, Suzuki Motor Corporation announced it was winding down new vehicle sales in the U.S. as the American subsidiary of the Japanese automaker filed for Chapter 11 bankruptcy protection.
The company acknowledged that it was facing a number of serious challenges, including low sales volume, a limited number of models in its lineup, unfavorable exchange rates and the high costs of state and federal regulatory requirements. So, where does that leave U.S. consumers who own a Suzuki or those who are considering the purchase of one as the company sells off its inventory?
Automotive site Edmunds.com looked into some of the most common questions submitted by readers and came up with some answers.
Are warranties still good?
Yes. Suzuki says all warranties will continue to be honored at Suzuki dealerships. Suzuki vehicles have a three-year or 36,000-mile basic warranty, three-year or 36,000-mile roadside assistance, a seven-year/100,000-mile powertrain warranty and a five-year corrosion warranty for the body panels.
Where do you go for service?
"All parts and service will be provided to consumers through our planned continuation of a service and parts dealer network," Suzuki said in a letter to consumers.
But in a separate FAQ, the company put some limitations on its position, saying: "We intend to plan to continue to provide parts and service, as long as there is consumer demand, for a reasonable period of time beyond the warranty period." Edmunds said it has been unable to get clarification from Suzuki on that point.
What happens to Suzuki dealers?
Time will tell if Suzuki dealers can afford to stay in business by relying on parts and service alone. Suzuki's network of 220 dealers is already down from 246 at the start of 2012, according to Automotive News. A search of dealers on the Suzuki Website found at least three dealers that already were re-branded and selling Hyundai and Kia vehicles. If your local dealer drops Suzuki, Edmunds recommends checking with the service department to see if it will continue to service your Suzuki vehicle.
Who collects the monthly payments?
If you financed your purchase through American Suzuki Financial, you should continue to make payments as you normally would. If for some reason American Suzuki Financial ceases to be the lien holder, it would likely notify customers by mail.
What about expiring leases?
Your lease agreement should indicate where to turn in your vehicle. It is often the same dealer from whom you leased the car. If the dealer is no longer around, Edmunds suggests calling the Suzuki customer hotline at (877) 465-4819.
Will it affect the value of my car?
Probably. Edmunds reports every Suzuki model had already lost value before the announcement. But the loss may be minor. That means if you are planning on buying a new Suzuki, you shouldn't plan on getting it at a fire sale price. But Edmunds analysts predict that Suzuki dealers will be willing to negotiate lower prices on their remaining inventory. As of October 2012, Suzuki still had more than 5,000 new vehicles on dealer lots. Edmunds analysts say that supply should last into early next year.
If you decide to buy one of the remaining Suzukis, a quick call to your insurance provider for a quote might be in order. Consumers have noted that insurance premiums tend to jump on discontinued car brands.
---