---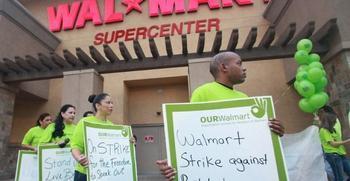 Reports of a planned job action at Walmart Stores on Black Friday, the busiest shopping day of the year, appear to have gotten the attention of company officials.
Attorneys for Walmart have gone to court to file a complaint against the United Food and Commercial Workers Union International, accusing the union of unlawfully disrupting business. Walmart says the union is behind a number of protests at some of its stores over the last couple of months.
Walmart has formally petitioned the National Labor Relations Board for an injunction preventing the union from sending pickets and flash mobs to its stores.
The union has responded with a stinging statement of its own.
"Walmart is grasping at straws to try to stop a groundswell of voices from associates and their supporters who are protesting the company's unlawful attempts to silence workers," the UFCW said. "Associates are exercising their freedom to speak out in protest of Walmart's unfair actions against their coworkers.
"Supporters like UFCW members, religious leaders, community members and other activists are taking action to support Walmart associates and demand the company listen to its workforce to improve working conditions. There's nothing in the law that gives an employer the right to silence workers and citizens," the UCFW said.
Organized effort
A group called OUR Walmart, which is said to represent disgruntled Walmart employees nationwide, is calling for a Thanksgiving protest at Walmart stores across the nation.
"Have dinner with your family, then join us for a protest against Walmart's illegal activities," the group said on its website.
OUR Walmart says it is protesting low wages for workers, poor working conditions and inadequate healthbenefits. It has been most active in stores in the Los Angeles area and in other California cities.
Then the announcement last week that Walmart, along with many of its competitors, would open on Thanksgiving night appears to have set off a backlash. Many store employees, at Walmart and elsewhere, expressed anger that work was encroaching on traditional holiday time with family.
Even some consumers have said it is too much. Target employees set up an online petition against the Thanksgiving night opening and quickly drew more than a quarter of a million signatures.
Black Friday walkout
The OUR Walmart website contains stories from Walmart associates who have decided to walk out on Black Friday and urges other Walmart associates to do the same.
"Members of OUR Walmart are coming together from across the country and are refusing to work on Black Friday in protest of Walmart's continuing retaliation against Associates who speak out for better pay, affordable healthcare, improved working conditions, fair schedules, more hours, and most of all, respect," the group said on its website.
It's not clear exactly how many employees at which stores are planning to take part in the action. Walmart's complaint to the NLRB lays responsibility for the organized action at the feet of the union, which in the past has tried to organize Walmart employees.
Meanwhile, the company is trying to head off a public relations misfire on the biggest shopping day of the year.
"We have a great group of associates at Wal-Mart," Fogleman said. "We'll have more than one million associates working throughout the holiday weekend, and they're excited about our Black Friday plans this year," Walmart spokesman Dan Fogleman said in a statement to Fox News. "This is the Super Bowl for retailers, and we're ready."
---