---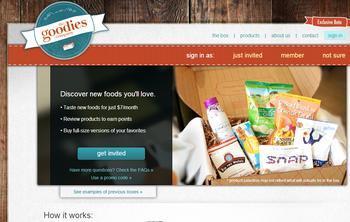 Consumers may be familiar with the "fruit of the month club" concept. Once signed up for membership, they receive a monthly shipment of a different fruit for one monthly price.
Walmart is borrowing the concept for the launch of its new Goodies Co., a monthly food subscription service for consumers who want to sample new or gourmet products. The membership costs $7 a month and entitles the member to receive a gift box with five to eight food samples. The cost of shipping is included in the $7.
3,000 test users
Walmart says it has been testing the concept for the last few months with about 3,000 users in the U.S. The food arrives in a gift box with an information card that describes the food items in detail.
"With Goodies Co., subscribers have the pleasure of opening a box filled with delicious treats every month that they like or may never have tried before," said Ravi Raj, vice president of products, WalmartLabs. "Great value combined with a community of food lovers and the sheer surprise of what a box might hold makes Goodies Co. a compelling offering."
Besides being a product, Goodies Co. is also a marketing program. Walmart gets to distributes new samples of food product lines to consumers who, the company hopes, will like what they get and become regular purchasers.
Is it worth it?
But should consumers be spending $7 a month in order to participate in this marketing program? Yes, the company says, because it's not only fun, but a bargain.
Walmart says Goodies Co. is the first to offer a large assortment of products for a total price that is almost half of the total value of the items if they were purchased separately. The total price for all of the items in the November box would be approximately $15 compared to the Goodies Co. $7 price, the company said.
When subscribers discover a product they like, Walmart hopes they will purchase full-size versions from the Goodies Co. website.
Users can sign up for the service online. After they sign up their name is placed in line to receive an invitation to join the Goodies community. Once an invite is received and the user completes the subscription, they can receive their first Goodies Co. box within weeks.
---