---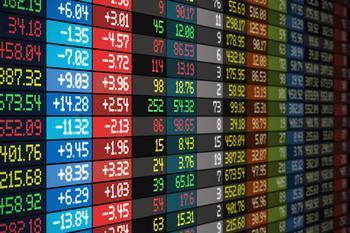 The day after election day, which saw Barack Obama returned to the White House for another four years, Wall Street swooned. The Dow Industrials plunged 313 points. The S&P 500 dropped 2.37 percent.
Were investors reacting to Obama's re-election or were there other reasons for the mighty sell-off? Yes and yes.
It's not that the markets recoiled in horror at the thought of four more years of Obama. In fact, the stock market hasn't exactly suffered under the 44th President of the United States.
Since Obama took office the S&P 500 has risen more than 75 percent. The NASDAQ is up 128 percent. The president's election to another four-year term, by itself, shouldn't be enough to trigger that kind of selling.
Out of favor stocks
That said, market analysts suggest heavy selling Wednesday of coal, oil and gas stocks may be because Obama has been unfriendly toward fossil fuels. Now that it is clear there will be no roll-back of financial regulations or health care legislation, investors bailed out of those sectors as well, although hospital stocks bucked the market trend and surged. Hospitals expect to be more profitable under ObamaCare.
There were two other factors that may have influenced selling. Worries about Europe's debt crisis -- which seem to crop up every couple of months -- again spooked investors on Wednesday.
And now that the election is over, investors have suddenly focused on the so-called "fiscal cliff," when tax rates are set to rise and spending is to be slashed at the end of the year. These two recession-inducing actions are automatically set to go into effect without Congress and the President agreeing on an alternative course, something that has eluded policymakers so far.
Looming tax hikes
Assuming there is no agreement, taxes will go up, not just on those making over $250,000 but on low-income taxpayers as well. For example, the current 10 percent tax bracket is eliminated and replaced by a 15 percent bracket, a significant tax hike on modest wage-earners.
More significantly, the 15 percent tax rate on capital gains and dividends -- the kind of income primarily earned on Wall Street -- reverts to the higher rates in place before 2002. For investors, the thinking goes, better to sell before the end of the year, and better to sell before other investors do and drive down the stock price.
However, there may be a ray of hope that the fiscal cliff can be avoided. Late Wednesday, House Speaker John Boehner said Republicans in the House would accept a deal that increased government revenue, "under the right circumstances."
Boehner said Republicans might accept a package that increased revenue while lowering tax rates but eliminating some deductions and loopholes. That may or may not fly at the White House but investors may be looking for any reason to be hopeful at this point.
What should you do about stocks in your retirement account? Nothing, until you talk to a trusted financial adviser. No one has a crystal ball when it comes to the market's performance but a hasty decision is usually a wrong one.
---