---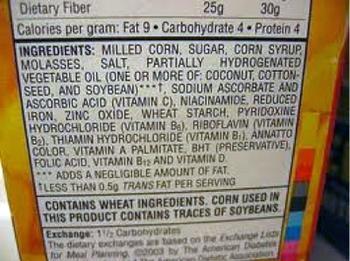 As food manufacturers and health groups argue over what is to blame for the rising obesity epidemic, another factor has entered the debate. It's not just that people are putting on unhealthy weight, many are developing diabetes.
Researchers at the University of Southern California (USC) and at Oxford, in the UK, have produced a study that is likely to fuel the debate further. In their report they say countries using high fructose corn syrup in their food supply have a 20 percent higher prevalence of type 2 diabetes.
That, they say, may be one reason for rising levels of type 2 diabetes and resulting higher health care costs.
High fructose corn syrup, or HFCS, undergoes enzymatic processing to make it sweeter. Food companies like it because they don't have to use as much and save on the cost of producing food.
You find HFCS in a wide range of food and beverages, including bread, cereal , soup and condiments.
Comparing countries
The study reports that countries that use HFCS in their food supply had a 20 percent higher prevalence of diabetes than countries that did not. The analysis also revealed that HFCS's association with the "significantly increased prevalence of diabetes" occurred independent of total sugar intake and obesity levels.
"HFCS appears to pose a serious public health problem on a global scale," said principal study author Michael I. Goran, a professor at USC. "The study adds to a growing body of scientific literature that indicates HFCS consumption may result in negative health consequences distinct from and more deleterious than natural sugar."
The paper reports that out of 42 countries studied, the United States has the highest per capita consumption of HFCS at a rate of 25 kilograms, or 55 pounds, per year. The second highest is Hungary, with an annual rate of 16 kilograms, or 46 pounds, per capita. Canada, Slovakia, Bulgaria, Belgium, Argentina, Korea, Japan and Mexico are also relatively high HFCS consumers.
Germany, Poland, Greece, Portugal, Egypt, Finland and Serbia are among the lowest HFCS consumers. Countries with per capita consumption of less than 0.5 kilogram per year include Australia, China, Denmark, France, India, Ireland, Italy, Sweden, the United Kingdom, and Uruguay.
Countries with higher use of HFCS had an average prevalence of type 2 diabetes of eight percent compared with 6.7 percent in countries not using HFCS.
Drawing conclusions
"This research suggests that HFCS can increase the risk of type 2 diabetes, which is one of the most common causes of death in the world today," said study co-author Professor Stanley Ulijaszek of Oxford.
The article speculates that this link is probably driven by higher amounts of fructose in foods and beverages made with HFCS.
As you might expect, HFCS producers take a different view. On its Website, Sweet Surprise says much of the criticism of its product is media hype.
"In the case of HFCS, the media often demonize it specifically, compelling consumers to focus on this one ingredient instead of looking at their overall diet," the company said on its Website. "This is a dangerous trend. As a consumer, you need to be objective about the science you read or hear, be it about HFCS or another food fear."
But the study authors cite what they say is growing evidence that the body metabolizes fructose differently from glucose.
"If HFCS is a risk factor for diabetes -- one of the world's most serious chronic diseases -- then we need to rewrite national dietary guidelines and review agriculture trade polices," said Tim Lobstein, director of policy for the International Association for the Study of Obesity. "HFCS will join trans fats and salt as ingredients to avoid, and foods should carry warning labels."
---