---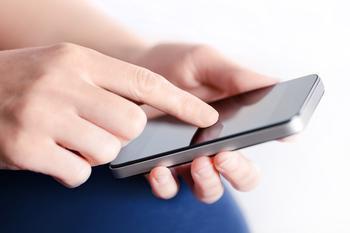 If you own a smartphone, you have a very handy tool when you go shopping. If you're in a store and find an item you'd like to buy, you can very quickly learn whether that merchant has a competitive price or if you can do better elsewhere.
Retailers hate it but for consumers, it saves both time and money. You don't have to physically visit a competitor's store, you simply go to its Website and find the price for the item.
Not surprisingly, more of us are now shopping with our phones. A survey by Aprimo, in collaboration with Forrester Research analyst Sucharita Mulpuru, found that one in five consumers is now "showrooming" -- the practice of visiting retail stores to try products -- but then checking a mobile device for the best price online.
A third of showroomers buy elsewhere
Of those consumers already showrooming, 33 percent say they ultimately used the information to buy elsewhere. For retailers, that means they've wasted the advertising money to get consumers in the door. Because consumers can quickly learn their price is higher, they lose the sale.
The trend is only expected to continue growing, too, as 96 percent say they plan to use their smart phone to research prices the same way or more in the future.
"This research confirms what many in the retail industry have suspected -- showrooming is here to stay," said Sucharita Mulpuru, vice president and principal analyst for Forrester Research, who helped develop the survey questions and analyze results. "Retailers must seriously consider ways to avoid losing sales this way by using strategies such as price matching, personalized in-store service and loyalty programs."
In other words, retailers have to be more competitive. But that may present challenges for brick and mortar stores, who must maintain vast areas of retail space while their online competitors just need a warehouse.
Advantage, consumer
The advantage, of course, is all on the consumer's side. And for that reason showrooming as a trend may just be getting started. One third of those who have not used their smartphones for in-store research haven't done so simply because the idea hadn't yet occurred to them.
Showrooming isn't just for big-ticket items. While consumer electronics are the most popular items price-checked in store at 39 percent, groceries are the second-most researched and apparel/footwear came in third.
The question is how are retailers going to respond to this? Are they going to make shoppers check their smartphoness at the door? Probably not.
Instead of getting defensive, Aprimo believes stores can turn this trend to their advantage. This means that in order to preserve sales and sustain pricing levels, today's physical-store retailers need to become more customer-centric, giving consumers good reasons, in addition to price, to spend their money there.
If that happens, both the retailer and the consumer win.
---