---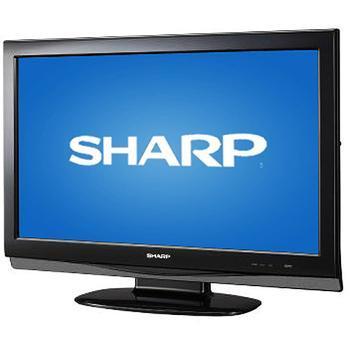 In a warning to investors today, electronics manufacturer Sharp said there is "material doubt" about its ability to keep its doors open.
The company, a mainstay of the Japanese electronics industry, said it expects to end the fiscal year with a net loss of $5.6 billion -- a bigger loss than it forecast back in August. Sharp blamed the losses on investments that didn't pan out but analysts say the company is also suffering from a strong yen and plunging prices for flat screen TVs.
Sharp revealed its doubts about its future in a brief statement to the Tokyo Stock Exchange.
Sharp, in recent years, has banked on a growing market for big screen TVs as its ticket to prosperity. And when it comes to TVs, the emphasis is on "big."
Size matters
Back in June, Sharp introduced what it said was the "world's biggest LED TV." The90-inch AQUOS LED TV model LC-90LE745U measured nearly four feet tall and spans six feet, eight inches wide.
The AQUOS LED is not only the world's largest TV, it might well be the world's most expensive. Sharp said it would be sold at select retailers for a suggested retail price of $10,999.99, meaning not every consumer is going to be rushing out to buy it. And therein may lie part of Sharp's problem.
With an emphasis on large sets, the products are, by their very nature, expensive. And when there are problems, as there are with most flatscreen TVs after a while, consumers are not happy.
"We have had our 63-inch Sharp TV, and it went out about three weeks ago," Louise, of Maryville, TN, wrote to ConsumerAffairs. "I had it in the shop and was told it would need a board and would cost $685.00 plus tax. They called today and said it needed another board and it would cost $386.00 with the total being $1,028.60. I told them to just bring it back. We are very disappointed that it didn't last longer than that."
Customer service
Jenni, of Marion, IN, is also an unhappy Sharp TV owner, who also finds Sharp's customer service lacking.
"Customer support is a joke -- a bra is more supportive," she wrote. "TV was about $650, less than 2 years ago. It has vertical lines in the screen. It will cost about $300 to fix."
Other Sharp products have also come in for some less-than-stellar consumer reviews.
"Sharp Carousel microwave caught fire while heating a cup of water," McNeill, of Santa Fe Springs, CA, wrote in a ConsumerAffairs post. "Popcorn was made the night before. In the morning, went to heat a cup of water and the thing just started buzzing and sparking. It's less than a year old."
Meanwhile, Sharp is not the only Japanese electronics manufacturer that is struggling. Also this week Panasonic warned investors it expects to lose almost $10 billion in the current fiscal year.
---