---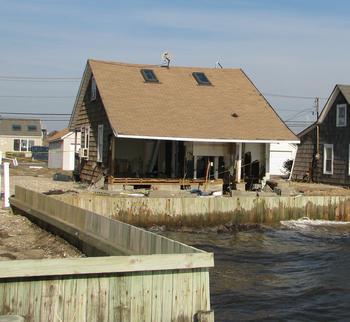 Superstorm Sandy destroyed countless thousands of modest oceanfront homes in her rampage up the East Coast. New insurance rules may see to it that the homes are never rebuilt.
Whether their homes were damaged by Sandy or not, many homeowners in coastal areas will be facing ruinous increases of 20% or more per year in the premiums they pay for flood insurance, thanks to new legislation intended to prop up the National Flood Insurance Program.
And that's in addition to increases in homeowner policies that are nearly certain to hit most homeowners living within reach of the hurricanes that many scientists say will be more damaging as global warming continues to upset weather patterns.
Many homeowners are also running afoul of local building codes and zoning ordinances that may prevent them from rebuilding or repairing homes near the water. That's the experience of the owner of this beachfront home on Long Island's South Shore.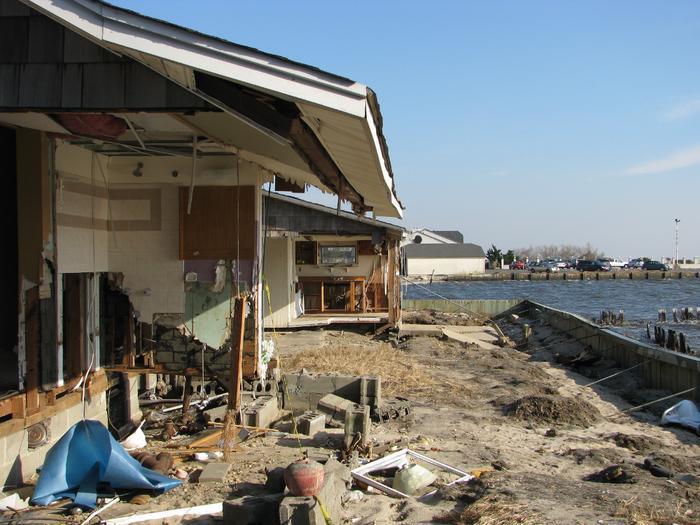 This home and one adjacent to it were heavily damaged when a Sandy-driven storm surge came over the seawall and ripped the fronts off the modest homes.
The homeowner, who asked that her name not be used, said she has been whipsawed between her homeowners policy and her flood insurance policy, with each company claiming the damage was caused by conditions not covered by the policy.
"The homeowners people say it was flood damage, the flood people say it was wind-driven water, which isn't covered," she said, adding that local officials have told her the homes can't be rebuilt in their present location because they're too close to the water.
She said the cost of demolishing the damaged homes and removing a non-functioning septic system will eat up most of her insurance proceeds.
"So that leaves me with a lot that I can't afford to building anything on," she said.
Deficit-driven
Unfortunate though the results may be, various officials say the higher flood insurance premiums are needed to keep the federally-underwritten program from running an even bigger deficit. And private insurers say they must raise premiums to more accurately the reflect the cost of living by the sea in an era of changing weather patterns.
Federally-underwritten flood insurance has typically cost from $1,100 to $3,000 per year with coverage topping out at $250,000. Those premiums will double for new policyholders and existing policyholders will see their premiums rise steadily at 20% to 25% per year until they reach double their current level.
Businesses and second homes already pay higher premiums and will also see steep increase. Many existing discounts will be eliminated and buildings that are "grandfathered" for one reason or another may face sharply higher rates.
Homeowners who choose to do without flood insurance may find the choice is not theirs to make. Mortgageholders will require homeowners to maintain flood insurance if they life in flood-prone areas.
Somehomeowners may be able to remain in risky areas if they raise their homes on stilts -- an expensive proposition and one that may not even be successful or that may run afoul of revised building and insurability standards that will not be finalized for a year or more.
What it comes down to -- although no one likes to hear it -- is that residents of Iowa are now subsidizing, through the flood insurance program, the lifestyle of those who live by the sea, which some would say is unfair. Of course, this raises the question of why Long Islanders should subsidize the costs of emergency relief when Iowans get hit by tornadoes. But that's a question for another day.
---
Staff photos
---