---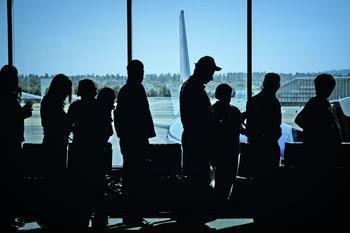 More of us plan to travel for Thanksgiving and Christmas than last year, but we'll pack less to save money and stay closer to home.
According to HomeAway, Inc., an online marketplace for vacation rentals, about a quarter of Americans (26 percent) say they'll travel over Thanksgiving , compared with 17 percent last year. The number of people traveling in December for the holidays is expected to nearly double, increasing from 22 percent in 2011 to 40 percent this year.
"From our survey (HomeAway Vacation Rental Marketplace Report), it seems people feel optimistic about the economy and are starting to travel more, but our research shows they're still cost conscious," says Brian Sharples, chief executive officer of HomeAway. "In an effort to save money, many travelers are driving instead of flying and looking for ways to avoid all the extra fees -- from checked bags and in-flight meals, to fees for being able to sit next to one another -- which can quickly add up, especially for families."
Shorter trips
While more people are traveling during the year-end holidays, they aren't traveling as far as they did last year. The percentage of people traveling more than 250 miles for Thanksgiving is expected to drop to 52 percent this year from 61 percent last year, with three quarters (75 percent) traveling by car.
The number of people traveling more than 500 miles over the December holidays is expected to fall from about 58 percent in 2011 to 51 percent this year, with slightly more traveling by car (54 percent) than by plane (45 percent).
Where to stay
When they get to their destination, 44 percent of people plan to stay at a friend or family member's house for Thanksgiving; 38 percent have the same plan for the Christmas holiday. Others seek alternative accommodations, including:
Thanksgiving

December Holidays

Vacation rental

18%

31%

Hotel or resort

18%

20%

Personal vacation home

10%

5%

Bed-and-breakfast

1%

1%

Cruise ship

1%

1%

Campground

1%

0%

Other

7%

5%
Travelers take a stand
According to the HomeAway report, travelers will spend an average of $434 per person for Thanksgiving-related travel and $926 per person for travel during the December holidays. Contributing to the cost of holiday travel is the rise in additional fees charged by airline companies and others in the travel and tourism industry, which has left many travelers frustrated.
In fact, about half of travelers (48 percent) think airline fees for checked luggage are the most unfair of all travel fees, followed by:
Parking fees at hotels and attractions (18 percent)
Fees for in-flight services such as food, headphones and pillows/blankets (11 percent)
Fees for wireless Internet access (11 percent)
Fees to reserve a specific airline seat (10 percent)
Fees to ensure priority boarding on an aircraft (1 percent)
Mini-bar fees (1 percent)
With the rise in fees associated with traveling, many people are changing their travel habits to take a stand against travel fees. Nearly a third (31 percent) of travelers pack less to avoid airline luggage fees; 30 percent fly on different airline carriers every time to get the best deal; and about a quarter (25 percent) drive rather than fly. Almost one in five (18 percent) stay in alternatives to hotels, such as vacation rentals, where fees aren't as prevalent.
While 35 percent of travelers refuse to pay for any conveniences, some people may shell out some extra dough for additional space. Twenty-one percent of travelers say they'd pay more for roomier accommodations, and 20 percent would pay more for additional space on a plane. Access to a kitchen (21 percent), pool/hot tub (12 percent), and laundry facilities (11 percent) were also among the perks people say they'd pay extra for when traveling.
"The great thing about vacation rentals is that the perks are all included," says Sharples. "Families can be together under one roof with access to more bedrooms, a kitchen, laundry facilities and a host of other amenities for no additional charge. Togetherness doesn't cost extra in a vacation rental."
Cramped quarters a no-no
While 36 percent of travelers enjoy staying with friends and family during the holidays, 64 percent aren't overly thrilled. In fact, 29 percent feel the worst part of staying with family and friends over the holidays is the lack of personal space, and 28 percent say the lack of comfortable sleeping arrangements. Five percent say the worst part is their actual relatives, two percent say the noise levels are unacceptable and one percent say they aren't fond of their host's cooking.
While most people say they would prefer to host the holidays at their house, when asked to name the relative for whom they'd most like to find separate accommodations, about one in three (29 percent) say they'd send their sibling packing while 22 percent said their grown child could stay elsewhere.
Fathers and fathers-in-law were the most welcome during the holidays, with only 6 percent saying they'd want to find separate accommodations for dad and only 4 percent naming their father-in-law as an ideal candidate to stay somewhere else.
---