---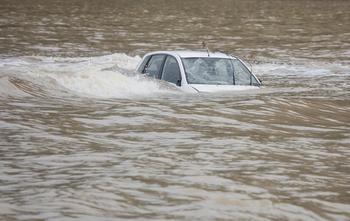 As part of the clean-up in the wake of Hurricane Sandy, crews have had to remove thousands of automobiles destroyed by the storm's wind and flood waters. Aside from the impact on insurance companies, the carnage has implications for the automotive market as well.
The National Automobile Dealers Association (NADA) projects prices of used cars, up to eight years old, will go up between 0.5 and 1.5 percent between now and the end of the year.
"The loss of used-vehicle supply and the increase in replacement demand after Hurricane Sandy will have the greatest impact on used-vehicle prices in December," said Jonathan Banks, executive automotive analyst with the NADA Used Car Guide.
Where will they come from?
The car lease transfer Website Swapalease.com projects that when the clean-up is complete, more than the 600,000 vehicles -- that's the number lost in Hurricane Katrina -- will need to be replaced. With already tight supplies threatening to drive prices higher, where will affordable replacement vehicles come from?

The Website says vehicles from Florida, Texas and Ohio may represent the largest number of affordable units that make their way into New York and New Jersey. Swapalease.com studied vehicle transfer patterns since January and identified those three states as representing the most frequent origination of leases transferred into New York or New Jersey.
In fact,18.5 percent of all vehicles transferred into New York have come from Florida so far in 2012. Other states feeding into New York and New Jersey on a smaller scale have included North Carolina, Illinois, Minnesota and Alabama.
While driving up used car prices, Hurricane Sandy may also drive year-end new car sales. Those who lost vehicles in the storm may decide to buy or lease a new car, particularly if the vehicle they lost was nearing he end of its useful life.
Five steps to replacing a vehicle
For storm victims in the market for a new car, here are five things that may smooth the process of getting a new set of wheels:
Make it easy for your insurance company to handle your claim. The automotive website Edmunds.com has a tool to generate an appraisal of your car to present to your insurance company, whose claims adjusters may be too busy to get to you anytime soon. Also, indicate to your insurer what it will take for you to replace your car.
Decide whether you will buy a new or used car as a replacement vehicle. There are pros and cons to each choice, especially given that many dealerships suffered great losses during the storm. New car buyers will likely find favorable credit conditions with interest rates at near-all-time-lows. Those in the market for a used car may want to hold off if they can. Remember, used car prices are likely to climb for a few months.
If you choose to buy a new car, check with the automakers of interest to determine if you are eligible for one of the many incentives available to storm victims. Good national incentives may also be available.
If you need to buy a new car quickly, work the phone and the Web to find the right car for you. Be sure to ask for an "out-the-door" price that includes all taxes and fees. To save even more time, you can also ask the dealership to deliver a new car to your home or office.
If want to buy a used car, make sure that it was not one of the many damaged by flooding. Look for discolored carpet, dirt build-ups and unusual odors. Also make sure to run a vehicle history report on the car to make sure there was never a flood or salvage title placed on the car.
---