---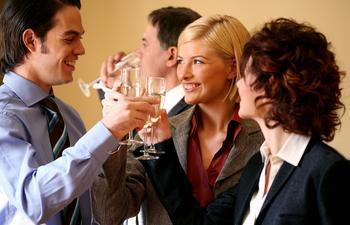 Although companies continued to hire at a less-than-stellar rate this year, strong corporate profits are giving them plenty of reason to celebrate -- and more of them are doing it. A new survey shows that more than 83 percent are planning year-end holiday parties this year -- up 15 percent from 2011.
In its annual survey of human resources executives, global outplacement and workplace consultancy Challenger, Gray & Christmas, Inc. not only found that more companies are hosting holiday parties, but 17 percent said more money is being budgeted for the festivities.
Despite the increase in holiday parties from a year ago, the percentage of companies holding year-end functions remains shy of a pre-recession 2007, when about 90 percent of companies surveyed held holiday festivities.
Change in policy
In the non-scientific survey of approximately 100 human resources professionals, 10.3 percent said their companies were holding a holiday party after one or more years without parties as a result of the economic downturn. The other 72.4 percent of respondents said their companies held year-end parties throughout the downturn.
"For many companies, 2012 probably feels like the first time in a while that there is reason to celebrate," said Rick Cobb, executive vice president of Challenger, Gray & Christmas. "The economy and job market continued to make strides this year. While employment did not grow as fast as many had hoped, company profits did increase due to increased sales as well as cost-cutting initiatives. And, despite ongoing uncertainty related to fiscal cliffs and European debt crises, consumer and business confidence are on the rise."
Building morale
With hiring still relatively weak, employers are basically asking existing workers to do more with less. Strong profits and rising productivity numbers suggest that workers are in fact delivering on that request. What better way to reward this hard work than with a holiday party?
"Holiday parties are a relatively low-cost morale builder. For smaller companies, the holiday party is simply an extension of a more family-like relationship that often exists between these employers and their employees," said Cobb.
"The nice thing about holiday parties is that they do not have to be full-blown extravaganzas to be meaningful to employees. A small company on a tight budget can easily host a potluck lunch, where employees bring in a favorite dish to share with co-workers," he added.
Watching the budget
About 83 percent of those surveyed said their companies were planning to spend the same as last year on the holiday party. Perhaps in an effort to keep costs in check, 55 percent said holiday parties would be hosted on company premises, versus 30 percent who said parties would be on-site a year ago. However, the costs savings related to keeping the party in house appears to be going toward improved food and planning costs.
Nearly two out of three companies plan to use a caterer, event planner or other outside service to ensure a successful party. Last year, only 45 percent of companies relied on outside vendors. Additionally, nearly half of companies plan to serve alcohol and 36 percent will allow employees to bring a guest.
"For workers whose companies are holding parties this year, particularly those where alcohol is available, it is important to remember that there is a fine line between having fun and having too much fun," said Cobb. "The economic recovery is still very fragile, so it is not the time to draw attention to oneself with embarrassing conduct at the holiday party."
However, employees should not simply stand in the corner in an effort to stay off the radar, Cobb noted. "It is equally important to remember that these events also offer great opportunities, such as socializing with senior executives whom you do not interact with on a daily basis. Make an effort to break away from your comfort zone and introduce yourself to those who might help your career," he advised.
---