---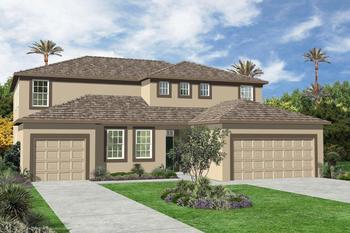 The American household is changing. While the empty nest is not exactly a thing of the past, it is being supplemented by "boomerang" kids and even parents moving in with their children.
While you might think the economy is shaping this trend, it isn't entirely. In fact, the trend began in the early 90s and has increased 60 percent since then, according to the U.S. Census Bureau.
But the economy undoubtedly plays a role. Baby boomers are living longer and are faced with deteriorating pensions, a questionable Social Security system and ever-increasing healthcare costs.
At the same time, college debt and the increased cost of living mean that many children move back home after college and stay for several years. Multigenerational living is becoming the new normal.
Homebuilders respond
So as the homebuilding industry slowly recovers, not all builders are going back to turning out cookie cutter tract houses in sprawling subdivisions. Some are beginning to incorporate multigenerational living into home design.
In Tampa, Fla., homebuilder Lennar has created a concept it calls Next Gen - The Home Within a Home. It includes a separate suite with its own entrance, eat-in kitchenette, bedroom, bathroom, laundry room and living room. These homes are being built in a number of subdivisions around the Tampa area.
The idea is actually an old one. Until the middle of the 20th century parents often lived with their adult children, assuming active roles in the family. The idea seems to be coming full circle.
Return to interdependence
"We are seeing the nuclear family going back to the interdependence of the extended family," said John Graham, Professor of Marketing and International Business at University of California Irvine. "For the last 50 years the American ideal was the nuclear family living independently, but with the economic changes of recent decades that no longer is the solution of choice."
In fact, multigenerational living is still the norm in most countries. Graham thinks the fact that it's regaining popularity in the U.S. is a positive development.
"I am happy to see progressive builders like Lennar addressing this change," Graham said.
Sherry and Timothy Biggs of Tampa say they considered resale homes but in the end selected one of the Lennar homes because, they said, it not only cost a great deal less but also gave her parents, who were moving in with them, a sense of privacy.
"My parents are in their 60's and this home design appealed to their needs as well as ours," Gibbs said. "They have their own separate entrance and suite which allows them to enjoy their independence."
---