---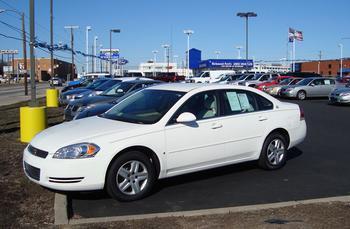 If you're in the market for a used car you can expect to pay more, especially if you live in the eastern half of the U.S.
The National Automobile Dealers Association (NADA) projects prices of used cars, up to eight years old, will go up between 0.5 and 1.5 percent between now and the end of the year. You can blame Hurricane Sandy.
"The loss of used-vehicle supply and the increase in replacement demand after Hurricane Sandy will have the greatest impact on used-vehicle prices in December," said Jonathan Banks, executive automotive analyst with the NADA Used Car Guide.
Katrina experience
While no two storms are alike, NADA points out that the flood damage caused by Hurricane Katrina, which cut a devastating swath across the Gulf region in late August 2005, offers insight into the impact that Hurricane Sandy could have on used-vehicle prices.
The reduction in the supply of used vehicles and increase in demand resulting from Katrina led to used-vehicle prices increasing by as much as three percent or $309 over the four month period following the storm's landfall.
"Although Sandy's reach encompassed an area with a greater population density than Katrina, the number of vehicles damaged by flooding doesn't appear to be as high as the number lost to Katrina," Banks said.
This is supported by initial damage estimates for Hurricane Sandy, which place insured losses for the storm between $10 and $20 billion, according to EQECAT, Inc., a catastrophe risk analytics company based in Oakland, Calif. The total loss is projected to be between $30 to $50 billion, according to EQECAT.
Lots of vehicles
New York and New Jersey rank in the top 15 U.S. states in terms of overall vehicles in operation and new-vehicle dealerships. In addition, both states have large populations and high population-density ratios. Each state also has a larger population of cars than trucks and import brands comprise a significant share of overall vehicle sales.
"Regionally, the concentrated damage that occurred in New Jersey and New York mean that used-vehicle prices, particularly for import and luxury cars, will most likely increase beyond NADA's national level expectations," Banks said.
Banks added that prices for large pickup trucks should also increase towards the high end of NADA's predicted range as contractors and other service-related professionals will need to replace vehicles required to support their livelihoods and because supply for the segment is already constrained.
Avoiding flooded cars
Because of Hurricane Sandy, consumers shopping for a used car must exercise caution against being sold a flood-damaged vehicle. Unscrupulous sellers often clean up vehicles exposed to flood waters and resell them to unsuspecting buyers.
Exposure to flood water can cause some parts to corrode, leading to expensive repairs later on. Most flood-damaged cars are totaled and destroyed, but a few always end up on the used car market.
Your nose can often tell you if a car has been in a flood. If you smell any trace of mold or mildew in the interior, it's best to keep looking.
Also, look for signs of rust under carpet or around metal fixtures, such as where seatbelts are attached to the floor. Finally, look for water stains on carpet and upholstery.
---