---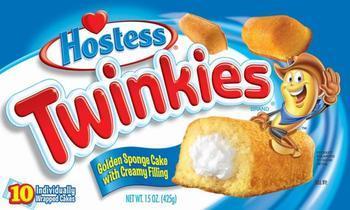 Hostess Brands, maker of the venerable Hostess Twinkie and other pastry products, says it will liquidate and lay off its 18,000 employees because of a strike by its bakers.
The company, attempting to reorganize in bankruptcy, said it had agreements with all of its union employees on a package of wage and benefit concessions. But the bakers union, which represents about a third of Hostess' employees, balked and called a strike instead.
"We deeply regret the necessity of today's decision, but we do not have the financial resources to weather an extended nationwide strike," Hostess CEO Gregory F. Rayburn said in a statement. "Hostess Brands will move promptly to lay off most of its 18,500-member workforce and focus on selling its assets to the highest bidders."
Little bargaining room
Later, in an interview with cable channel CNBC, Rayburn said bankruptcy gave the company little bargaining room. He said he is hopeful the company can sell its 30 brands and that its products, many of which have been around for decades, will continue to be produced.
The company's liquidation means the closing of 33 bakeries, 565 distribution centers and 570 bakery outlet stores. It has filed a motion with the U.S. Bankruptcy Court seeking permission to close its business and sell its assets -- including its brands and facilities. Bakery operations have been suspended at all plants. Delivery of products will continue and Hostess Brands retail stores will remain open for several days in order to sell already-baked products.
The company said it moved quickly to wind down operations to preserve and maximize the value of the estate.
Shut down began this week
On Monday Hostess Brands permanently closed three plants as a result of the work stoppage. On Nov. 14, the Company announced it would be forced to liquidate if sufficient employees did not return to work to restore normal operations by 5 p.m., EST p.m., Nov. 15. The Company determined on the night of Nov. 15 that an insufficient number of employees had returned to work to enable the restoration of normal operations.
On Thursday, Hostess' largest union, the Teamsters, publicly called on the Confectionary, Tobacco and Grain Millers International Union to hold a secret ballot vote to determine if the workers want to continue their strike of the company and force it into liquidation. Rayburn told CNBC today that it is now too late for that.
In addition to dozens of baking and distribution facilities around the country, Hostess Brands will sell its brands, including Hostess, Drakes and Dolly Madison, which make cake products such as Twinkies, CupCakes, Ding Dongs, Ho Ho's, Sno Balls and Donettes. Bread brands to be sold include Wonder, Nature's Pride, Merita, Home Pride, Butternut and Beefsteak, among others.
---